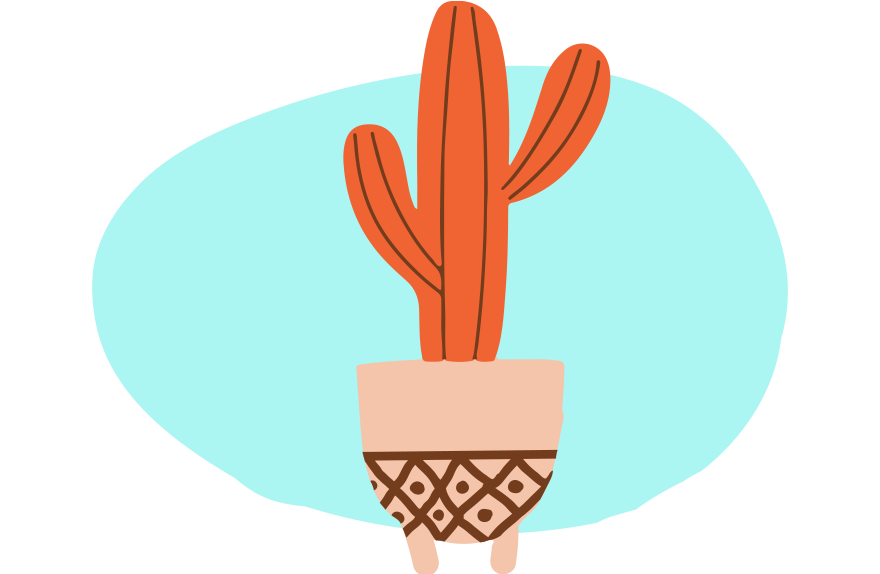 Kitchen style ideas
We offer a diverse range of kitchen styles, enabling you to design a space tailored to your style. Understanding the different style options available will give you the freedom to make the exact statement you want to make.
It's important to have a solid understanding of what each style can offer. Each of our classic, modern and handleless kitchens can be accompanied by clever storage solutions and innovative design features to achieve a truly bespoke look. Allow us to show you some different kitchen style ideas to help you achieve your dream kitchen.
Contents
The Classic Kitchen look
You can achieve the quintessentially British look in your classic kitchen by coupling shaker cabinets with traditional design features. Classic kitchens have lots of character and charm, but retain a truly timeless feel.
What storage solutions go with the classic look?
What design features go with the classic look?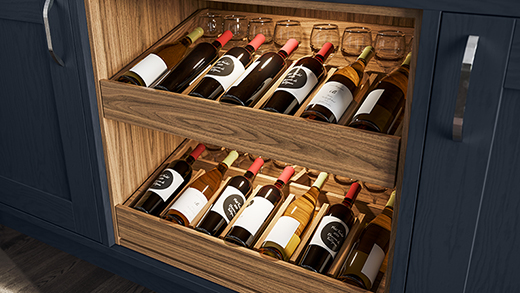 Our Wine Drawers are perfect for proudly displaying your wine within a base unit of your kitchen. Their warming wood finish means they work really well in a classic setting.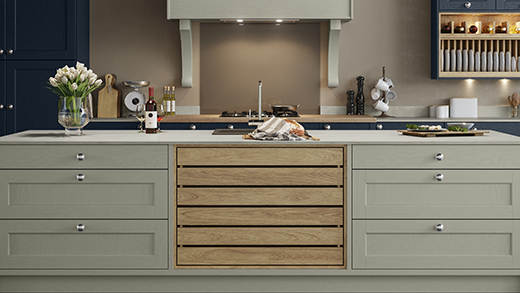 Our Crate Drawers are stylish storage units that complement a classic kitchen well by tying the traditional design together.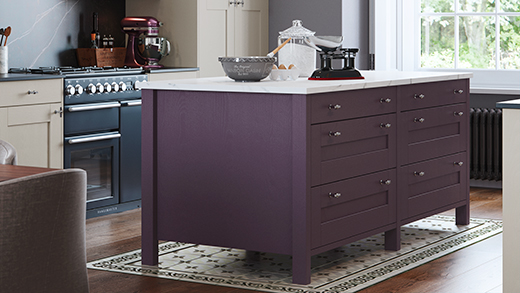 A Freestanding Island or a Table Island is a great way of adding a stylish centrepiece with lots of character to your classic kitchen.
The modern kitchen look
Our modern kitchens epitomise minimalistic design. Their flat slab doors and streamlined appearance achieve a truly luxurious look in your home. If you really want to stand out, then opt for a handleless kitchen - they feature sleek, clean lines and are a sure way to achieve an ultra-modern finish.
What storage solutions go with the classic look?
The MAGNASPACE is a highly versatile and flexible pull out larder unit. It's the perfect storage solution for your modern or handleless kitchen if you have a large family and lots of food to store.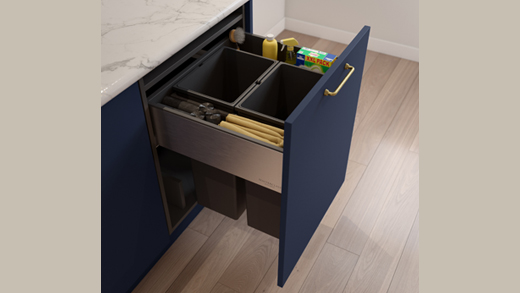 The VELABIN is an integrated bin that will make light work of your kitchen waste. Designed to be sleek and discreet, it works seamlessly within a modern or handleless kitchen design.
What design features go with the classic look?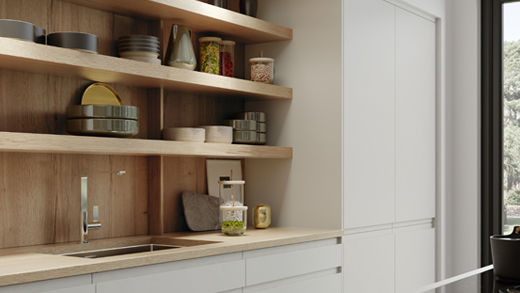 Open Shelving gives you limitless storage possibilities and is a great way of displaying your personality in your kitchen. Utilise open shelving in your modern or handleless kitchen to add a unique contrast to your flat slab doors.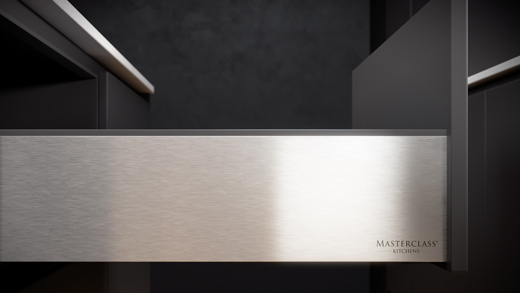 Our LEGRABOX R DESIGN modern drawers have a weight capacity of up to 70kg and are available in 9 width options. They use Blumotion technology for effortless operation, and are finished in brushed stainless steel. This finish ties in beautifully with the sleek look of modern kitchens and handleless kitchens.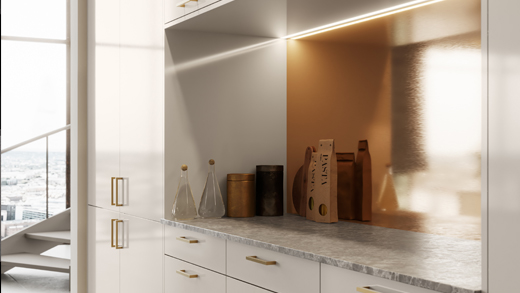 Our Metallic Feature Splashbacks are available in 5 beautiful finishes and create glamourous accents in modern and handleless kitchens. For a look that truly oozes luxury, go the extra step and match your splashback with metallic handle rails and plinths in your handless kitchen.
Start your journey with us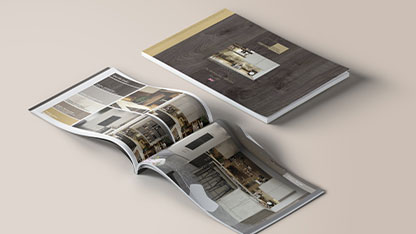 Find your inspiration
Explore our wide selection of beautiful brochures and magazines, plus get access to exclusive offers.
View Free Brochures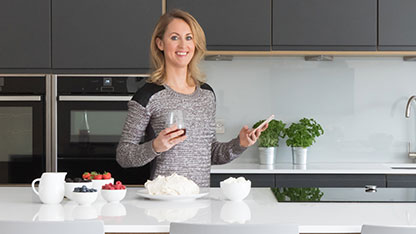 Book a free consultation
Our designers can create a space that matches your design, budget and lifestyle requirements.
Book Now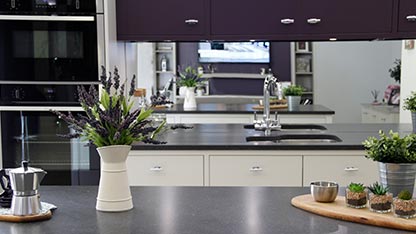 Visit your local showroom
Pop in to your local Sigma 3 Kitchens showroom to view beautiful displays with a nice coffee.
Find A Showroom
Our customers love their Sigma 3 Kitchens
Don't just take our word for it - watch all the latest kitchen stories from our happy customers throughout Abergavenny, Cardiff, Esher, Newport and Swansea.