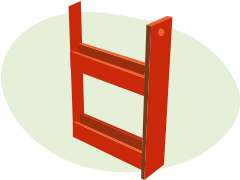 Kitchen storage and organisation ideas
Here at Sigma 3, we understand that you don't just want your kitchen to look beautiful – you want it to function beautifully too. That's why we've created The Signature Collection; to provide you with kitchen storage solutions that will make everyday life run just that little bit smoother.
Our collection of kitchen storage is designed to let you stand out from the crowd. Let us walk you through our kitchen storage ideas, and how each storage piece can complement your own kitchen and lifestyle.
Contents
Storage for small kitchens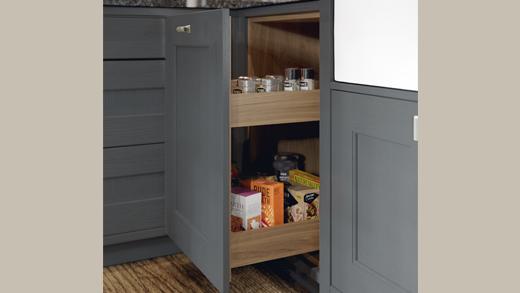 Our MagnaSpace base cabinet is a strong, versatile and flexible pull-out storage unit. Available in a compact size, MagnaSpace will suit the storage needs of even the smallest of spaces.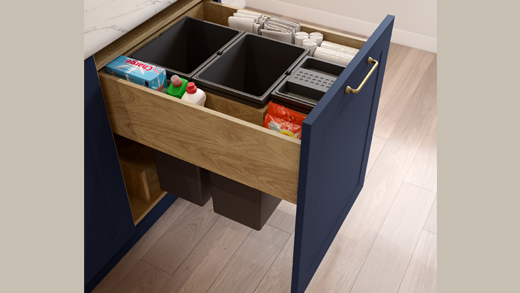 The VELABIN is an integrated bin with the largest capacity on the market. Designed to be discreet, it works seamlessly within a small kitchen.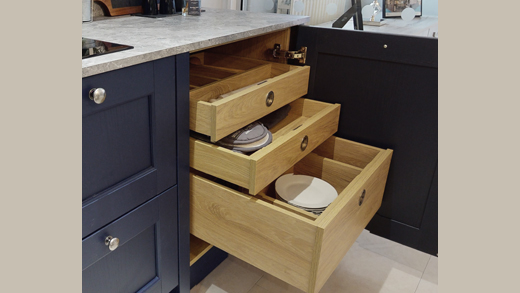 Our Internal Drawers can be perfectly tailored to suit your small kitchen as they are available in a broad range of sizes. They have a generous weight capacity of up to 60kg, meaning you won't have to compromise on practicality in your small kitchen.
Storage for kitchen islands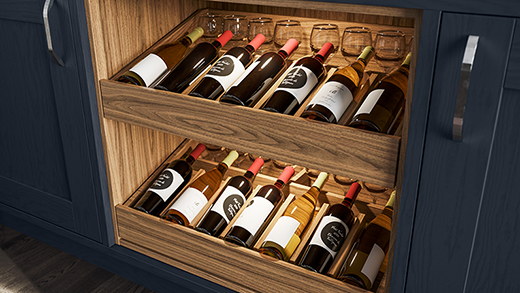 Our stylish Wine Drawers instantly achieve the bespoke look and have been created to proudly present your beverages. Where better to display them than centre stage in your kitchen island?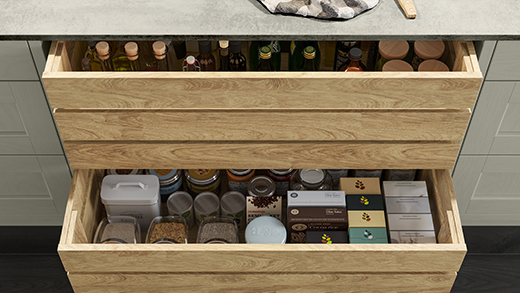 Our new wood effect Crate Drawer units are a stylish new storage solution that work seamlessly within kitchen islands. Available in warming Portland Oak or Tuscan Walnut, these stunning drawers are perfect for getting the bespoke look in your island kitchen design.
Storage for busy family kitchens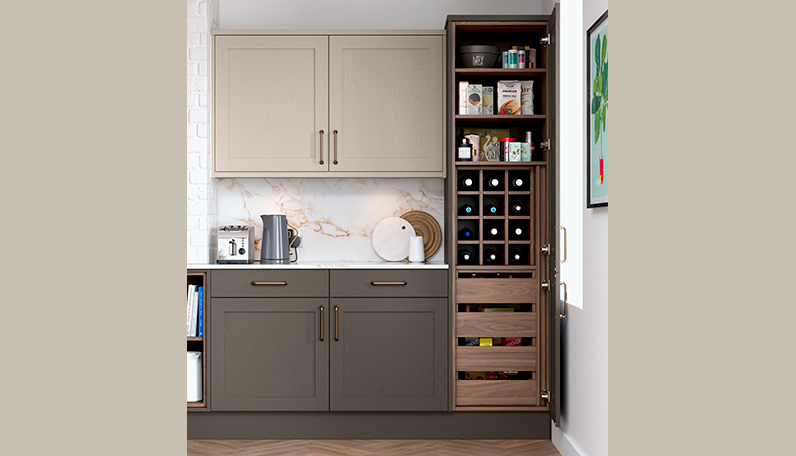 The Hathaway has the ability to house any manner of items, from food and beverages to household cleaning products. It's a great way to optimise storage space and meet the needs of your busy home.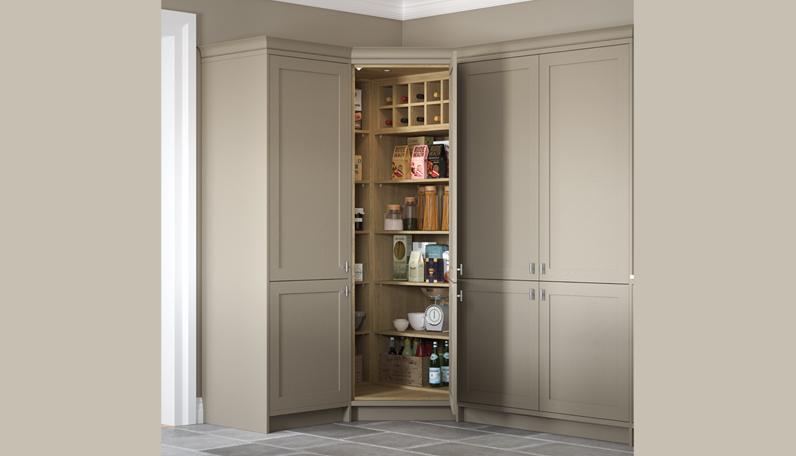 The Lansbury is a twist on the classic corner pantry. It utilises those tricky corner spaces and provides that extra bit of storage for a larger household.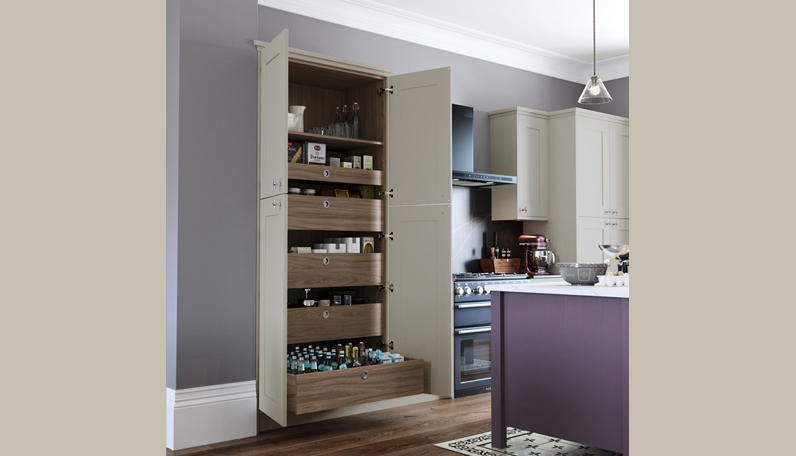 The SPACETOWER larder unit boasts easy access and ample storage space. It makes everyday kitchen use easier by providing a dedicated place for your large family's food and beverages.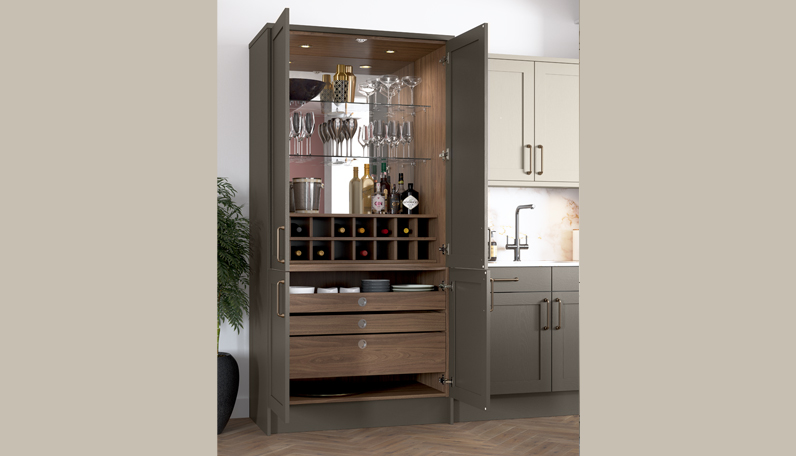 The Connery will bring elegance to cocktail hour time and time again. Its sense of glamour and occasion make it perfect for entertaining company.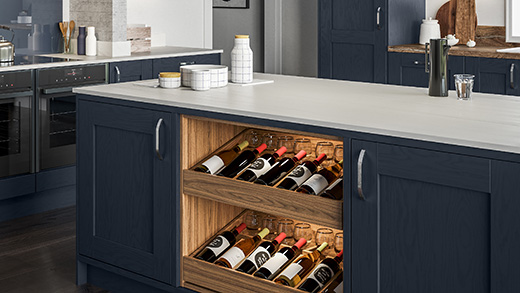 Add our Wine Drawers to your entertaining space for the perfect finishing touch. Proudly display your wines to your guests whilst also maximizing your storage space.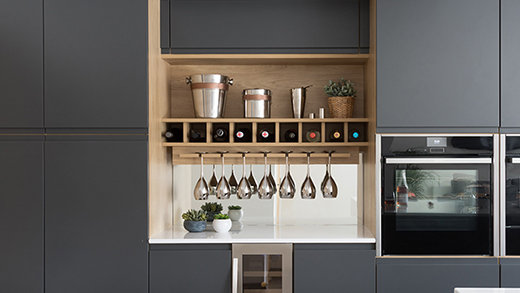 Create a dedicated open shelving area for your wine, spirits and glasses using our beautiful open shelving. An easy way to add flair and personality and create a unique kitchen design that fits your lifestyle perfectly.
Start your journey with us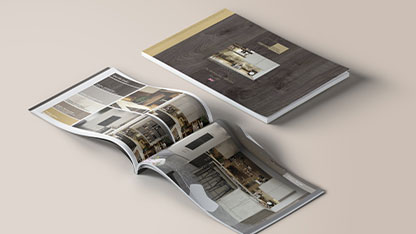 Find your inspiration
Explore our wide selection of beautiful brochures and magazines, plus get access to exclusive offers.
View Free Brochures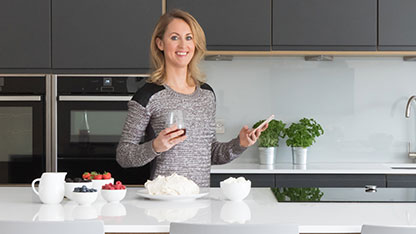 Book a free consultation
Our designers can create a space that matches your design, budget and lifestyle requirements.
Book Now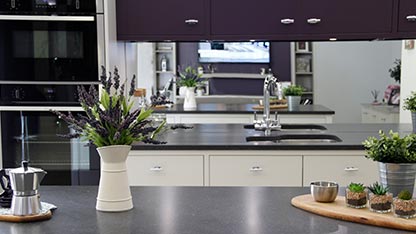 Visit your local showroom
Pop in to your local Sigma 3 Kitchens showroom to view beautiful displays with a nice coffee.
Find A Showroom
Our customers love their Sigma 3 Kitchens
Don't just take our word for it - watch all the latest kitchen stories from our happy customers throughout Abergavenny, Cardiff, Esher, Newport and Swansea.