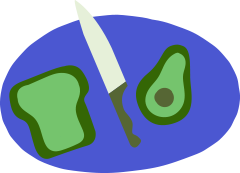 How to choose the right kitchen worktops
You've spent lots of time mulling over the perfect kitchen cabinets and storage solutions for your space.
Next, to give your kitchen that perfect finishing touch, you need to decide on the kitchen worktop that's right for you. Allow us to use our expertise to show you how to choose a worktop. We have lots of different kitchen worktop ideas to suit your lifestyle.
Contents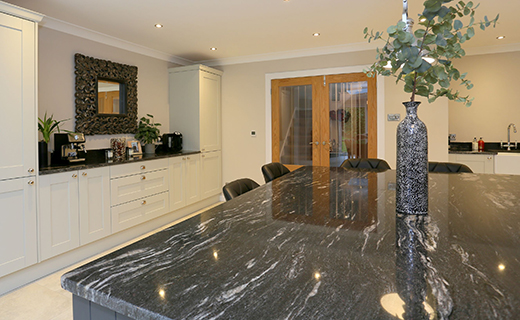 Granite worktops
Granite worktops offer a lot of durability. They're heat resistant, hard wearing and are extremely easy to clean. They therefore provide a lot of reassurance to high functioning families who live busy lifestyles and who favour the classic look.
Are granite worktops right for you?
However, it's important to bear in mind that granite worktops come with a substantial price tag attached. If you're a young family who are just starting out, they may not be the perfect fit for you.
Quartz worktops
Like granite worktops, quartz worktops are also hard wearing and easy to clean. They're most suited to the modern look and complement our sleek handleless kitchens really well.
Are quartz worktops right for you?
Due to their cost, quartz worktops would be a great option for an on-the-go family who are in a secure financial position. You can also get a quartz look for amazing value with our laminate worktops.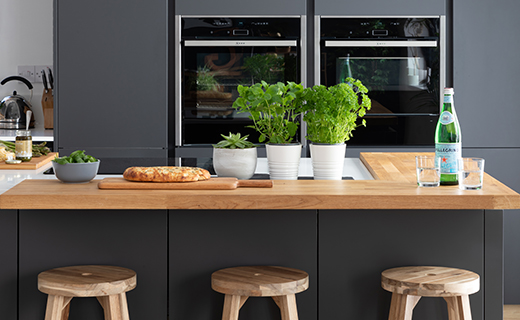 Solid wood worktops
Wood worktops are a lot more cost-effective than stone, and many consider them to be better value for money. They age well and are a versatile option due to being available in a variety of colours and grains.
Are solid wood worktops right for you?
If you purchase wood worktops, it's essential to bear in mind the maintenance required to keep them looking pristine. They're relatively easy to scratch and stain, so need to be handled carefully and treated with care. They're great for achieving the traditional look in your classic kitchen but are best suited to more relaxed households.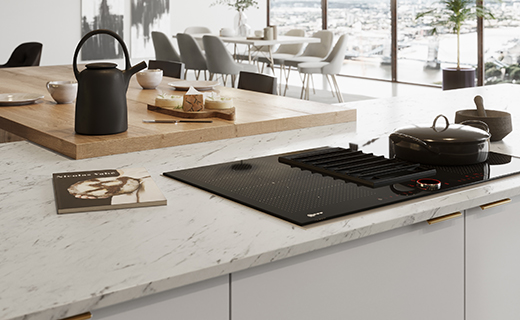 Laminate worktops
Available in a selection of life-like stone and wood finishes, our range of laminate worktops are great for achieving the bespoke look in your new kitchen. They offer superb value for money but are also an extremely high-quality product. It's important to ensure that you protect your laminate worktops from hot items, but with their scratch resistant surfaces and hardwearing nature, you can rest assured that their top-quality appearance will be easy to maintain.
Are laminate worktops right for you?
Laminate worktops complement all kitchen styles really well including classic, modern and handlessless. No matter what kitchen style you opt for or what kind of lifestyle your family lead, we have the perfect laminate worktop for you.
Start your journey with us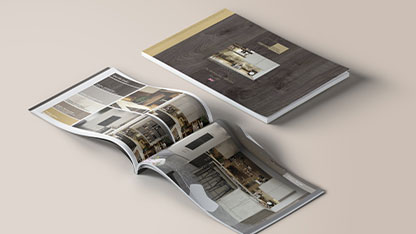 Find your inspiration
Explore our wide selection of beautiful brochures and magazines, plus get access to exclusive offers.
View Free Brochures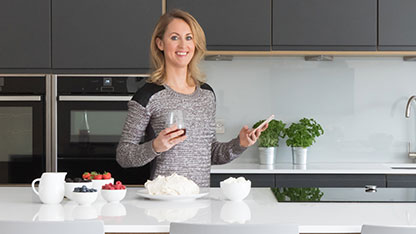 Book a free consultation
Our designers can create a space that matches your design, budget and lifestyle requirements.
Book Now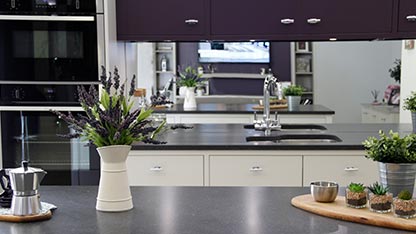 Visit your local showroom
Pop in to your local Sigma 3 Kitchens showroom to view beautiful displays with a nice coffee.
Find A Showroom
Our customers love their Sigma 3 Kitchens
Don't just take our word for it - watch all the latest kitchen stories from our happy customers throughout Abergavenny, Cardiff, Esher, Newport and Swansea.