Kitchen Ideas & Inspiration
Drinks cabinet ideas: design your dream home bar on a budget
Ideas & Inspiration / 20 Apr 2021
Are you looking for drinks cabinet ideas to make you the party host of the summer season?
We're all looking forward to entertaining family and friends in our homes again. With this in mind, now is the perfect time to create a luxury entertainment space for hosting guests in your kitchen.
We'd love to help you design your dream home bar that is truly personal to you. We have plenty of drinks cabinet ideas and drinks storage ideas for when you're ready to welcome visitors. So sit back, pour yourself a glass of wine, and let us show you how to really impress your guests.
Drinks cabinet ideas for shaker kitchens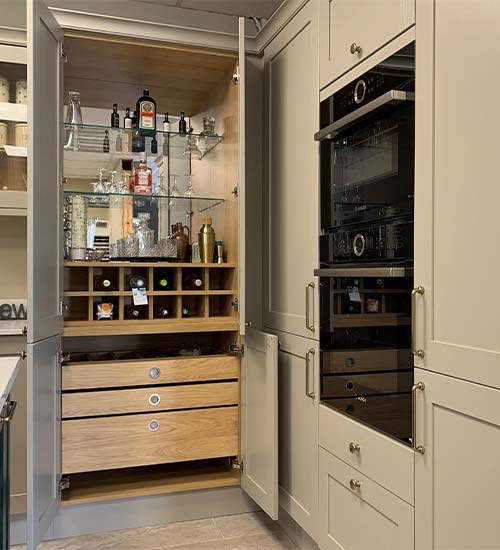 Hardwick Farringdon Grey with Portland Oak
The Connery cocktail cabinet comprises of a mirrored back panel, a wine wrack, glass shelves and internal drawers. It's available in our Portland Oak, Tuscan Walnut and Anthracite Linen finishes, as well as a range of width options.
The Connery looks instantly at home in a classic kitchen. The drinks cabinet's bespoke interior perfectly complements classic shaker cabinets, and its warm wood cabinetry helps to achieve a quintessentially British feel. An evening with friends in your traditional kitchen would not be complete without this timeless drinks cabinet idea.
Whatever your budget, our variety of options means you can design a drinks cabinet that suits your individual needs.
Home bar ideas for open plan spaces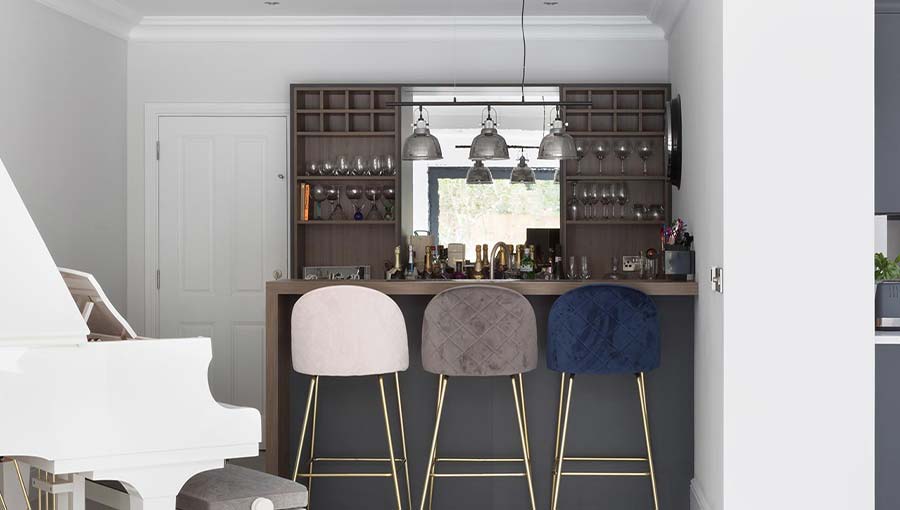 Shelford Graphite and Tuscan Walnut
What better way to entertain guests in your home than with your own dedicated home bar? If you're on a budget, consider this intimate setup a worthy investment – because from here on out, your kitchen will be everybody's favourite place to unwind on a Saturday evening.
A home bar is a great drinks storage choice for an open plan space as it helps to effectively zone the room. The addition of a mirrored back panel can make the room feel even more spacious.
Opt for a bespoke shelving display to present your liquors in style and a peninsular island to serve cocktails across the counter. Choose elegant bar stools that complement the colour scheme of your living area for a cohesive feel.
Drinks cabinet ideas for modern kitchens
Hampton Farringdon Grey
If you want to achieve a premium feel without the premium price tag, adding this drinks cabinet idea in a modern finish to your kitchen design is an absolute must.
Our glamorous cocktail cabinet is discreetly concealed behind closed doors so that your seamless design is able to flow. Complement the sleek feel of your modern kitchen with our Anthracite Linen drawers, or opt for our oak internals to introduce a sense of warmth to the design.
Drinks storage ideas for dark kitchens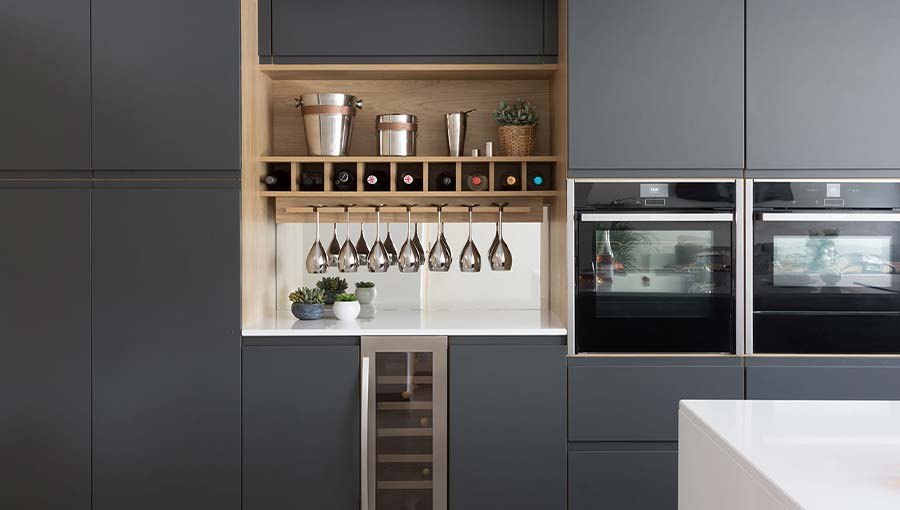 H Line Sutton Graphite and Portland Oak
At Sigma 3, our products are truly versatile. We can mix and match our different design features to create a bespoke kitchen that's truly personal to you.
This unique drinks storage station pairs our wine wrack with oak shelving and a mirrored back panel to create an integrated kitchen drinks station. By introducing warm wood tones against a dark and dramatic backdrop, this glamorous design feature truly demands attention.
Drinks cabinet ideas that work throughout the home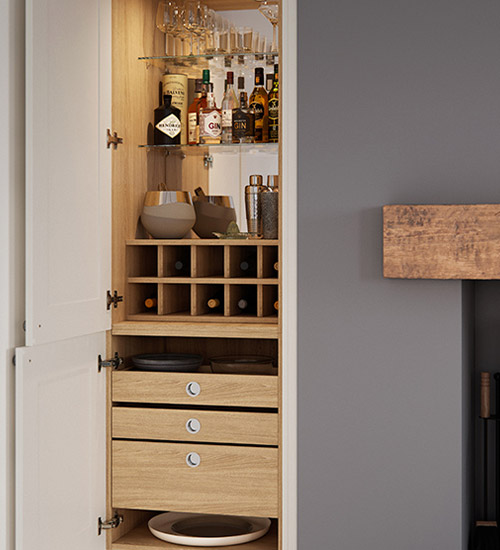 Solva Scots Grey and Portland Oak
Our luxury kitchen cabinet ideas are not exclusive to the kitchen. They also make a truly elegant addition to other social spaces in your home. If you're on a budget and can't commit to designing a whole new kitchen, this drinks cabinet idea is available as a stand-alone unit in a slimline finish.
It can be placed snugly in a corner or alcove in your living room, and the Portland Oak internals can complement a social space perfectly with their warming wood tones.
Don't forget that The Connery's mirrored back panel also reflects light around the room, making the room feel spacious and open.
Drinks storage ideas for large kitchens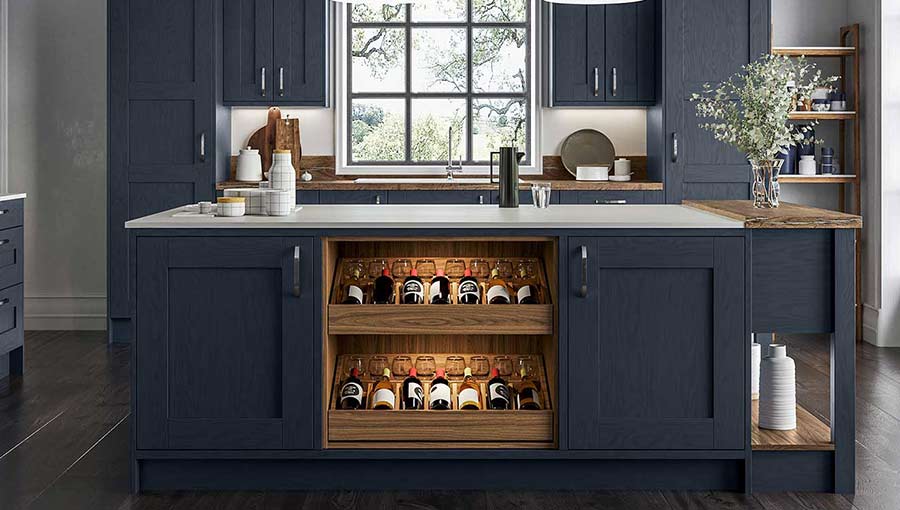 Wimbourne Inkwell with Tuscan Walnut wine drawers
Our elegant new wine drawers are the perfect choice for your large kitchen. If wine is your drink of choice, make your kitchen island the focal point of the room with this beautiful drinks storage idea.
Our wine drawers provide easy access to all your bottles and include a dedicated section for storing your glassware. Opt for our wine drawers in a warming Tuscan Walnut or Portland Oak finish to contrast them with the rest of your kitchen design.
Drinks cabinet ideas that are multifunctional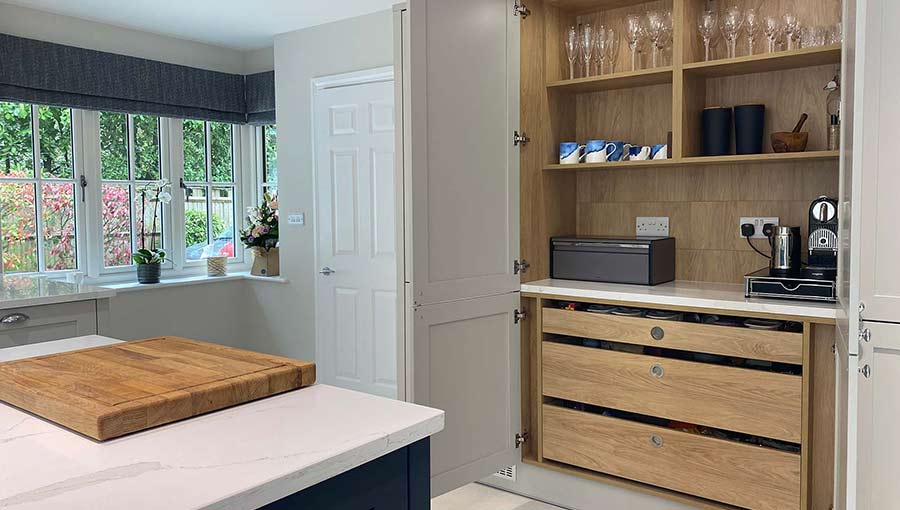 Hardwick Highland Stone and Oxford Blue
You can make your drinks cabinet whatever you want it to be. So why limit this stand-out feature to just your drinks accessories? Utilise the shelves and drawers in your drinks cabinet for the other prize possessions of your kitchen - your herbs and spices collection will feel right at home here, and your coffee machine deserves its pride of place. With Sigma 3, the choice is yours.
Are you ready to start your kitchen journey with us?
So what are you waiting for? Get ready to entertain your guests in style and book your free design appointment online today. Our expert designers can create a design that meets your requirements and budget – with no obligation to take things further!
If you're not ready to speak with us just yet, download our inspirational kitchen brochures today.
Book your free design consultation online today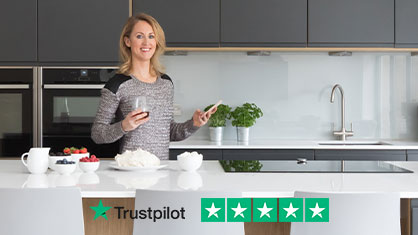 Have fun creating your wishlist, get a free 3D design & quote and talk about Finance Options. We'll give you an amazing experience.
Book now
View our free brochures, magazines and offers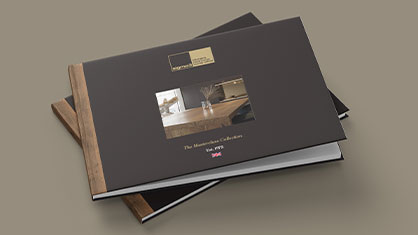 Explore ALL our kitchen and bedroom ranges, plus get exclusive access to our latest offers.
View our brochures
We are here to help you on your kitchen journey