Kitchen Ideas & Inspiration
How to Create a Stylish Dark Kitchen
Ideas & Inspiration / 15 Jan 2020
Dark kitchens are considered a brave choice among many, but it looks like they're going to be at the forefront of kitchen design in 2020. While light and airy white kitchens remain continuously popular, it seems that more and more people are opting for a darker style.
Dark shades can make a kitchen look warm and cosy or create an alluring, intense aesthetic, but due to the intensity and complexity of the colours involved, dark kitchen's are not easy to pull off.
Whether you want to make a bold statement with completely black cabinetry or just want to add some dark design features to your kitchen, these tips will help along your way to creating a dark kitchen design that suits your style. Here are some things to consider when planning a dark kitchen...
Natural Lighting
The first and arguably most important thing to consider is natural lighting. Natural lighting is your best friend when it comes to dark kitchen designs. Darker shades naturally absorb more light and your dark kitchen may end up looking small and gloomy without enough natural light available, but with good lighting, it can make a real showstopper. There are other ways you can add more light to your kitchen which we'll get onto later...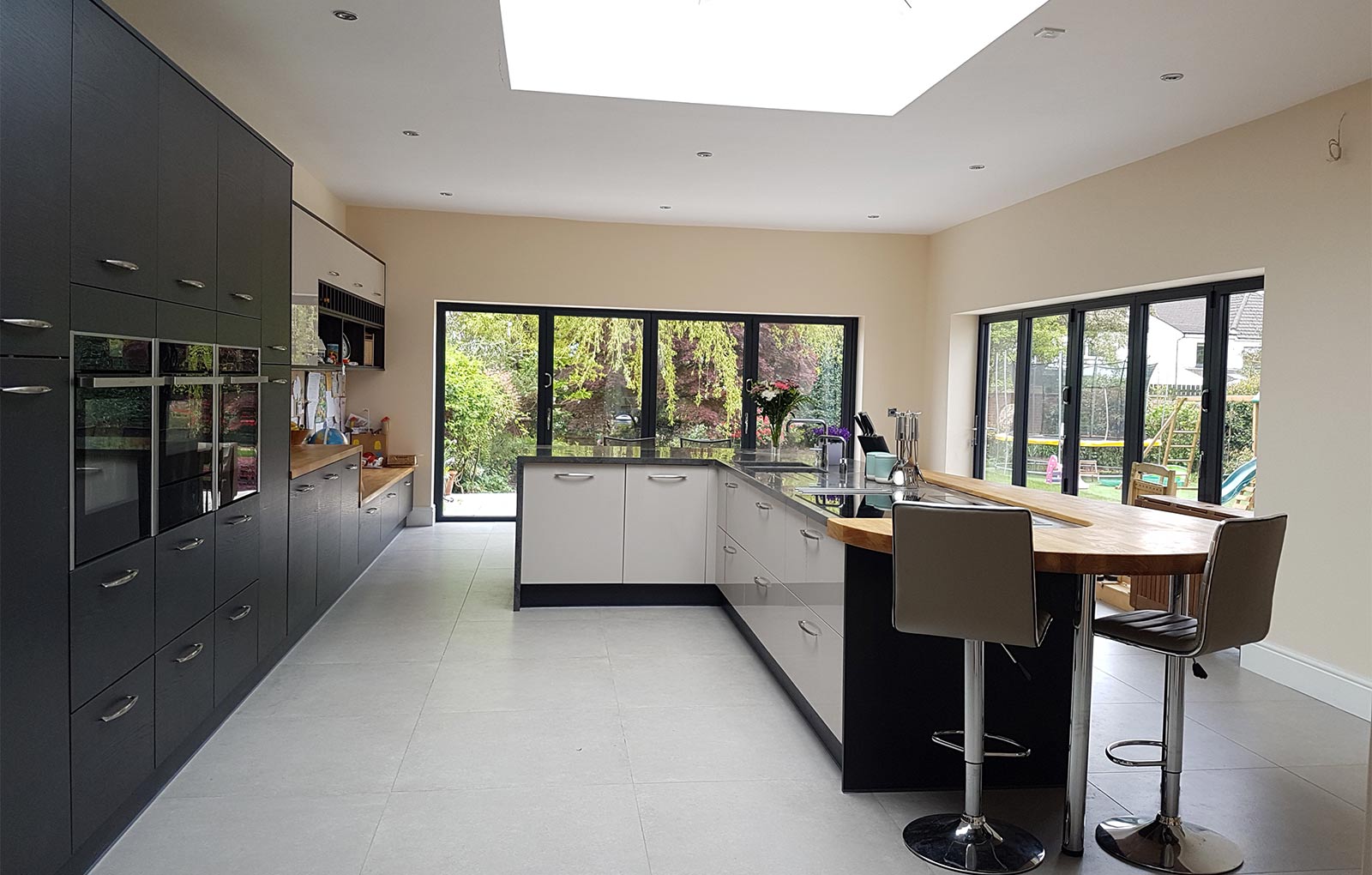 Hacienda Black with Light Oak and Lumina Heritage Grey. Designed by Lisa Foggon, Sigma 3 Cardiff Colchester Avenue showroom.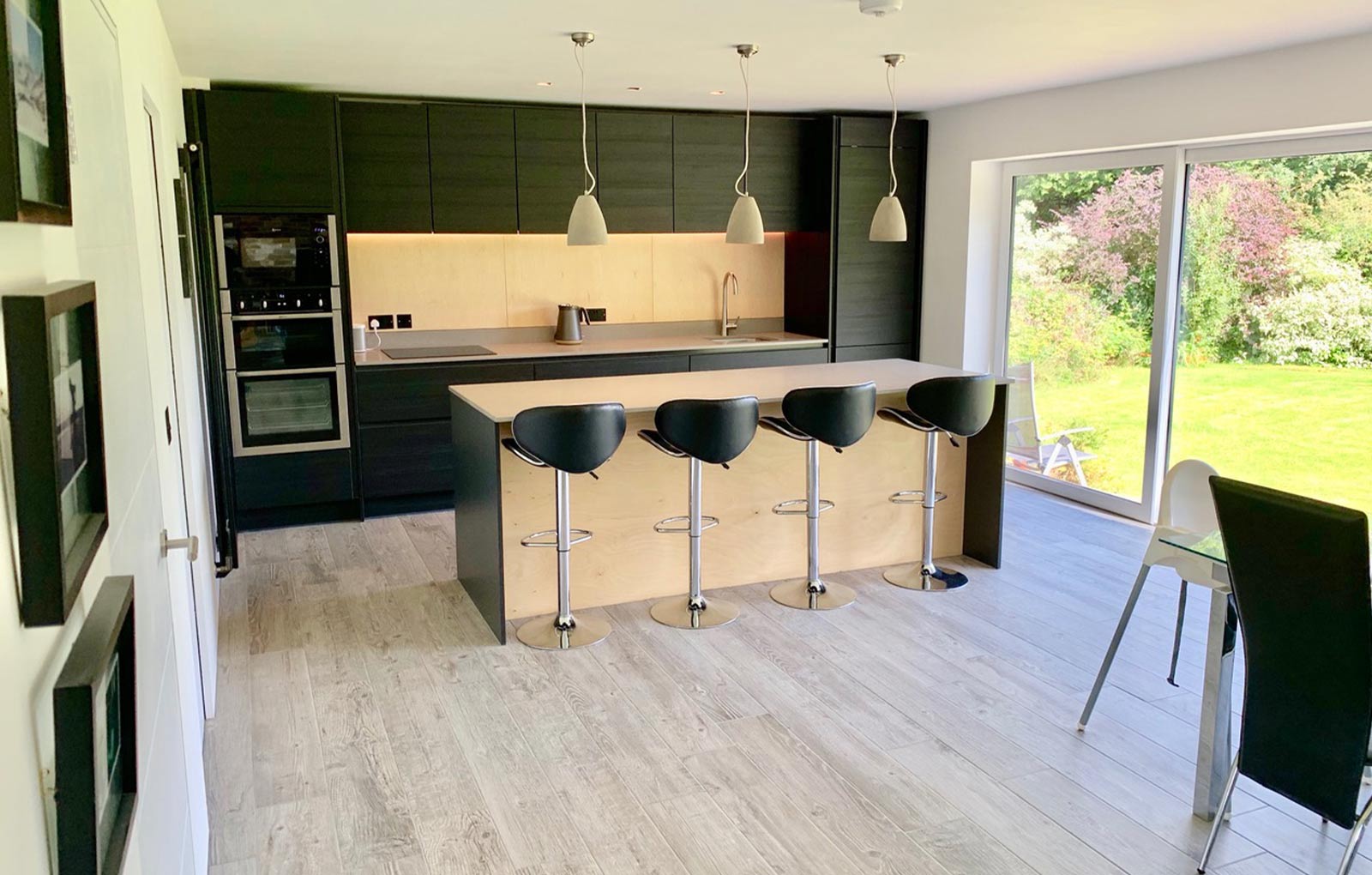 H Line Larna Graphite. Designed by Dave Campbell, Sigma 3 Warton showroom.
Open Shelving
Open shelving is a great way to ensure that your dark kitchen doesn't feel small and cramped. Exposed shelves open up the space and allow your space to breathe as they don't take up as much room as cabinets. Open shelving also gives you a chance to make your kitchen unique and introduce new colours that complement the colours of your cabinetry.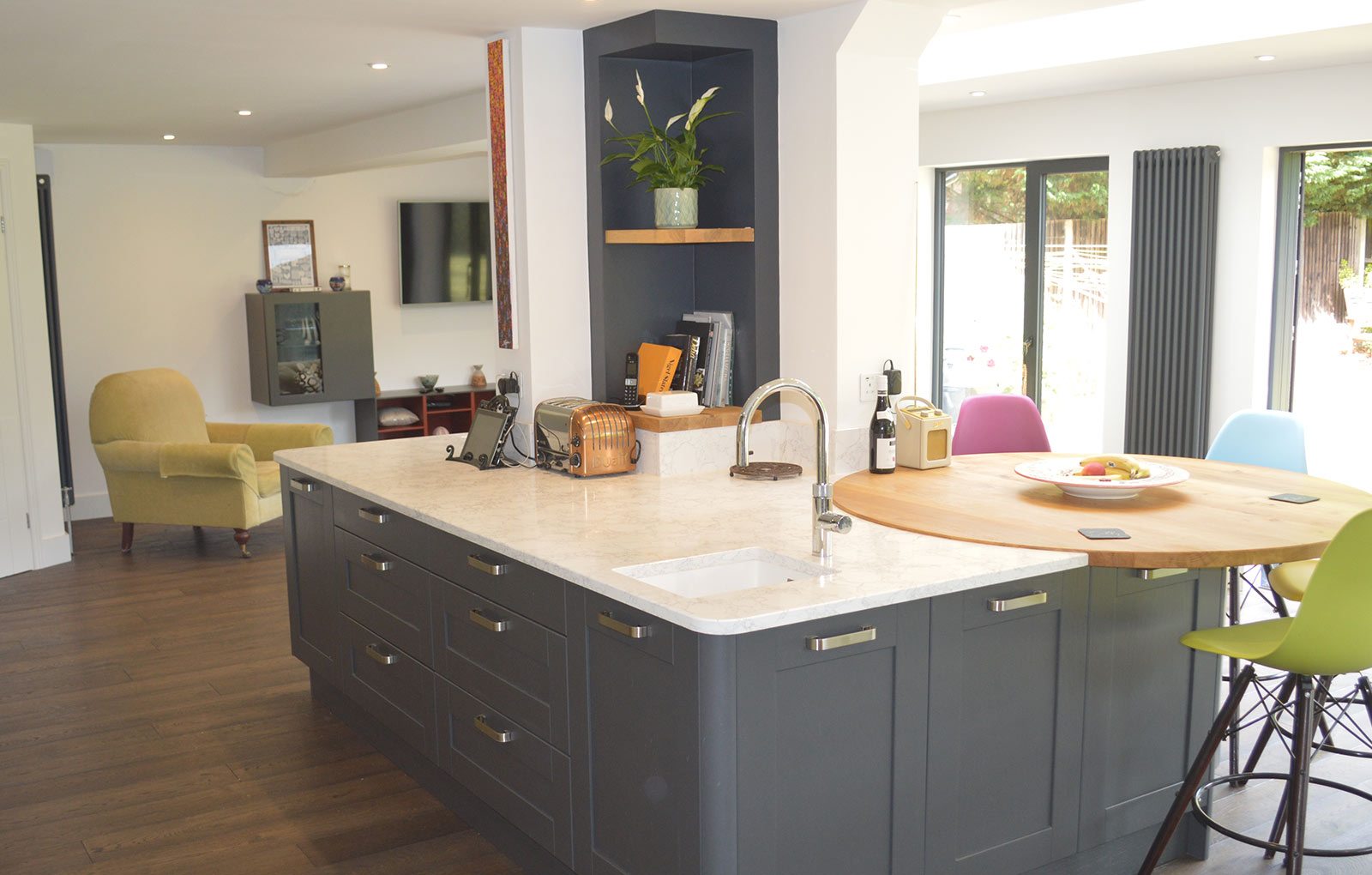 Sherbone Scots Grey and Graphite. Designed by Olly Howard, Sigma 3 Esher showroom.
Create a central focus kitchen island
Central kitchen islands are perfect for dark kitchen designs as they allow you to introduce a different colour or material in a large area of space. This helps break up the space and is a great opportunity to make a bold design statement.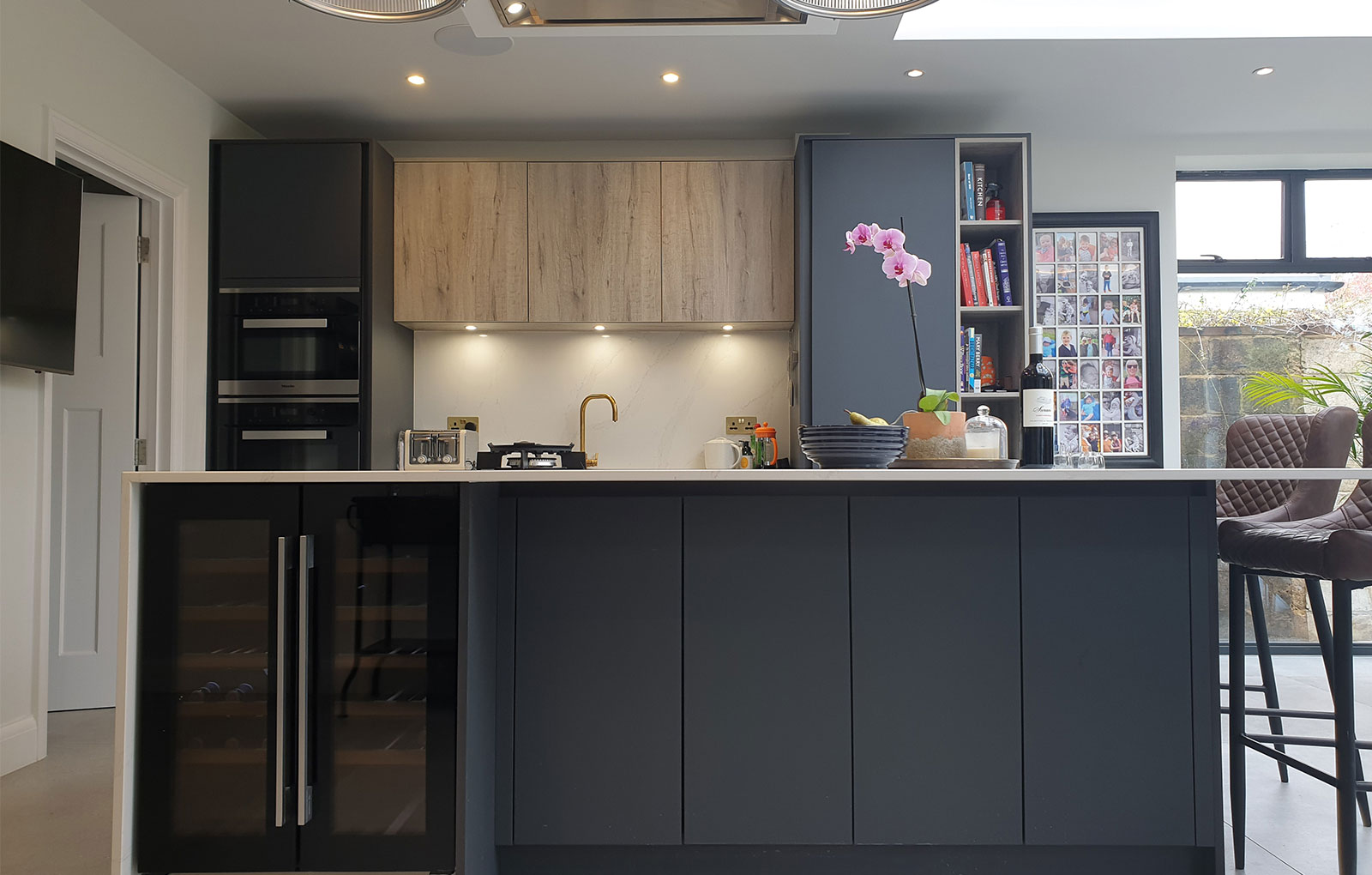 H Line Sutton Graphite and Madoc Border Oak. Designed by Ollie Willcox at Sigma 3 Esher showroom.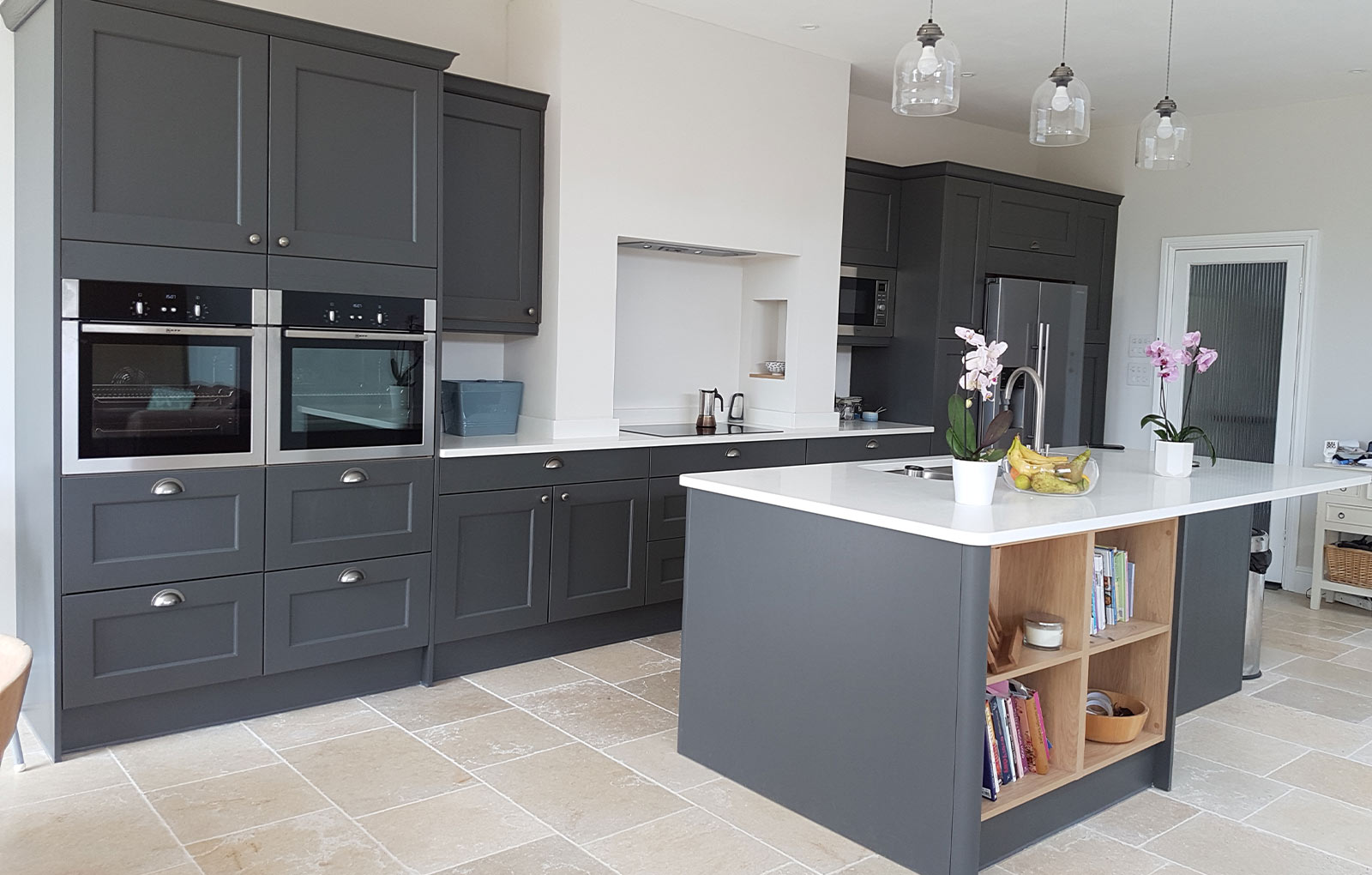 Ashbourne Lava. Designed by Lisa Foggon at Sigma 3 Cardiff Colchester Avenue showroom.
Pendant Lights
Not only do they make a beautiful design feature, pendant lights are a great way to illuminate areas that need more light. Pendant lights also allow you bring light closer down than the ceiling and are great for accent lighting as you can choose areas which require more light. Make sure you choose pendant lights with colours that complement the dark shades in your kitchen.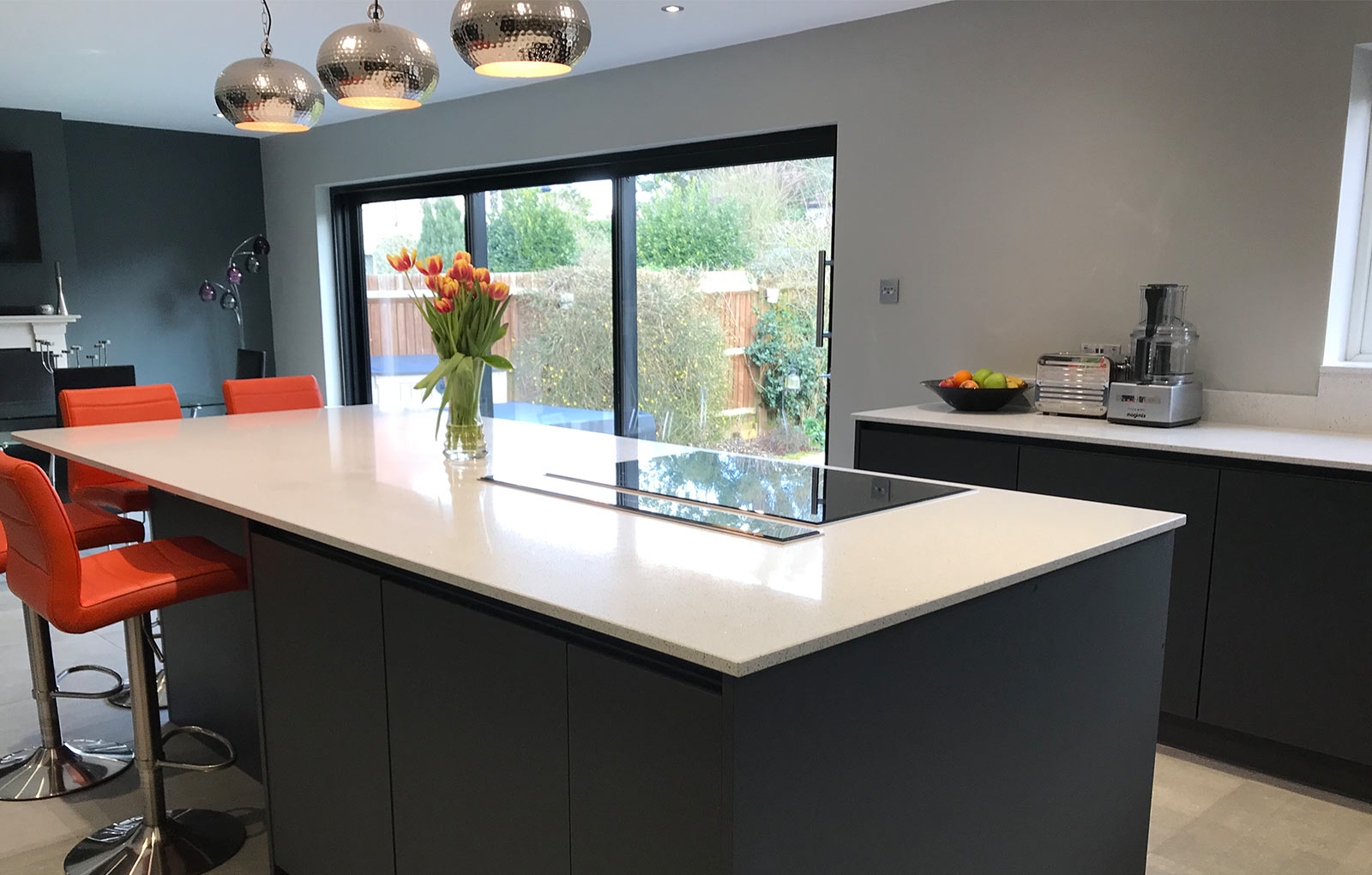 H Line Sutton Graphite. Designed by Phil Rose at Sigma 3 Esher showroom.
Balance dark shades with light and metallic colours
Both natural and artificial light will bounce off metallic details across the room. There are plenty of opportunities to incorporate metallic features in your kitchen. You could opt for a metallic sink, taps, kettle, handles, pendant lights or appliances. If you have open shelves, why not make the most of them and add display some copper pots – this will definitely add some character.
Alternatively, you could incorporate brighter colours that complement the rest of the room. You could compliment dark cabinets with a lighter, accented splashback. Gloss finishes are also great for getting that extra light reflecting around the room.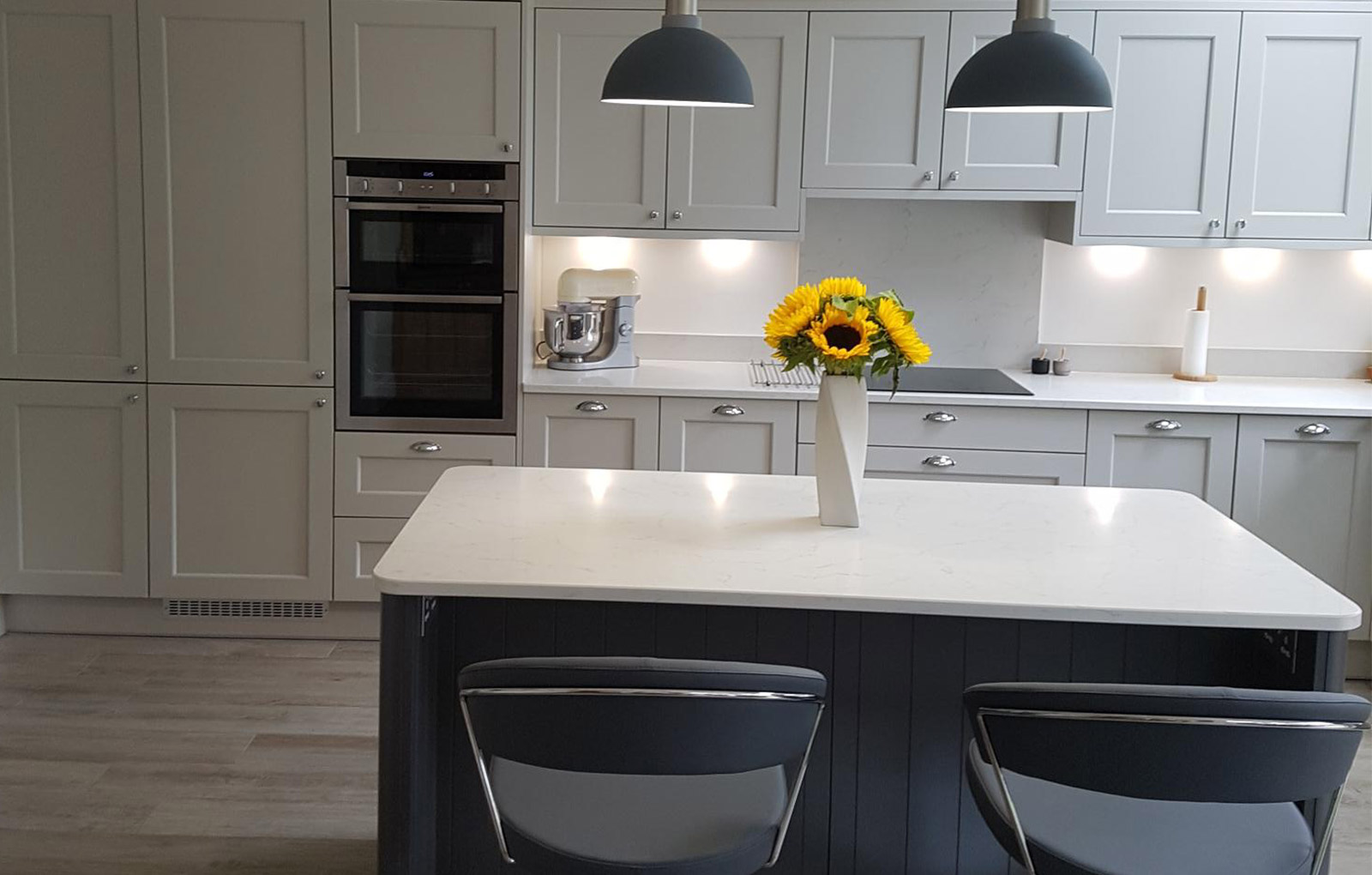 Ashbourne Highland Stone and Lava. Designed by Dean Walton at Sigma 3 Cardiff Colchester Avenue showroom.
Natural wood tones
Natural wood tones and dark shades truly are a match made in heaven. We adore this kitchen designed by our talented designer Lisa Foggon. This is a perfect example of how natural wood tones and plants can bring life to a kitchen.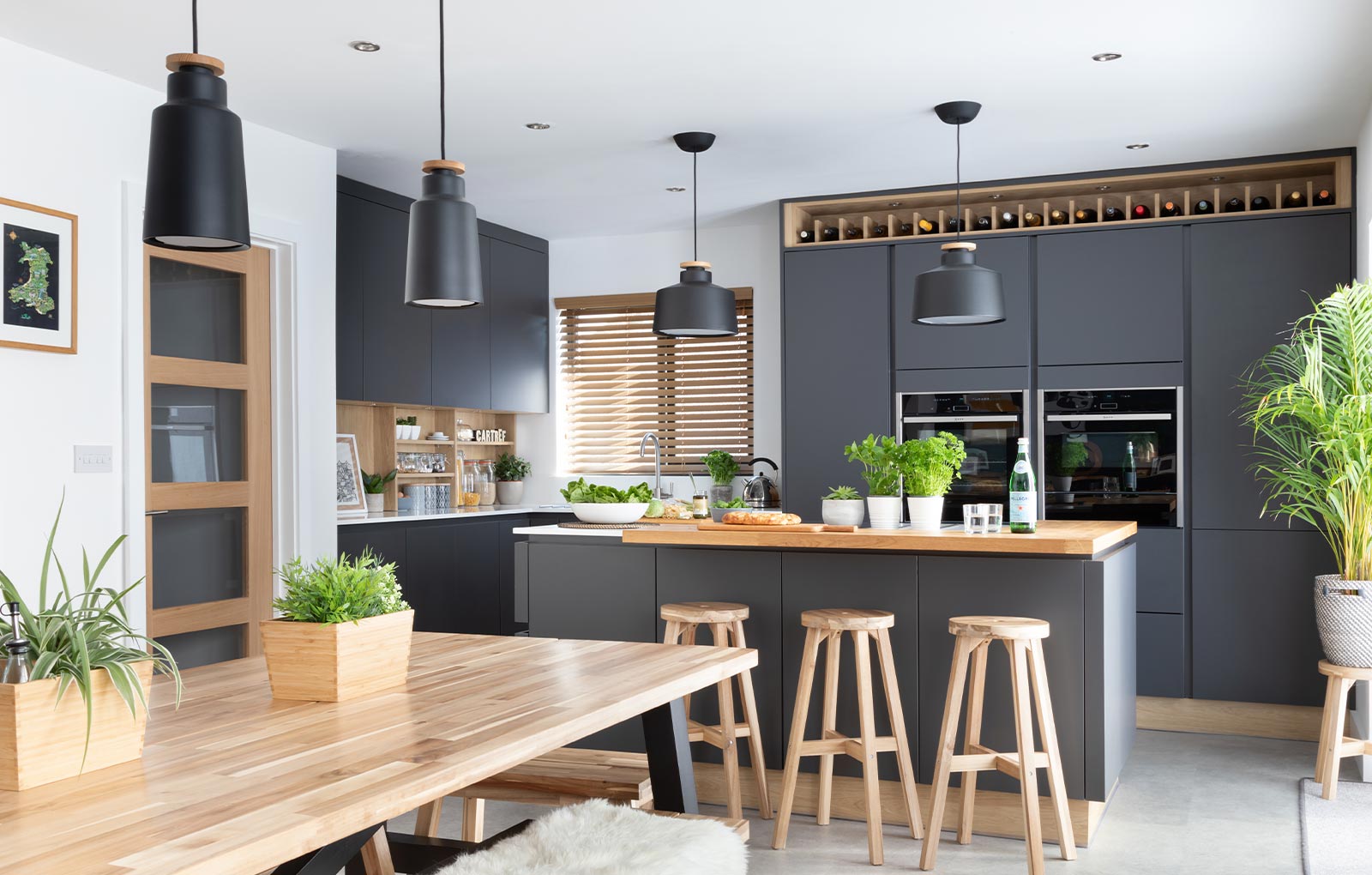 Sutton H Line Graphite with Portland Oak cabinets. Designed by Lisa Foggon at Sigma 3 Cardiff Colchester Avenue showroom.
Mirrors
Mirrors are a perfect addition to a dark kitchen. Mirrors are a simple but effective way to make a kitchen seem bigger as they create the illusion of more space. Light also bounces off their reflective surface which will boost the brightness of your kitchen.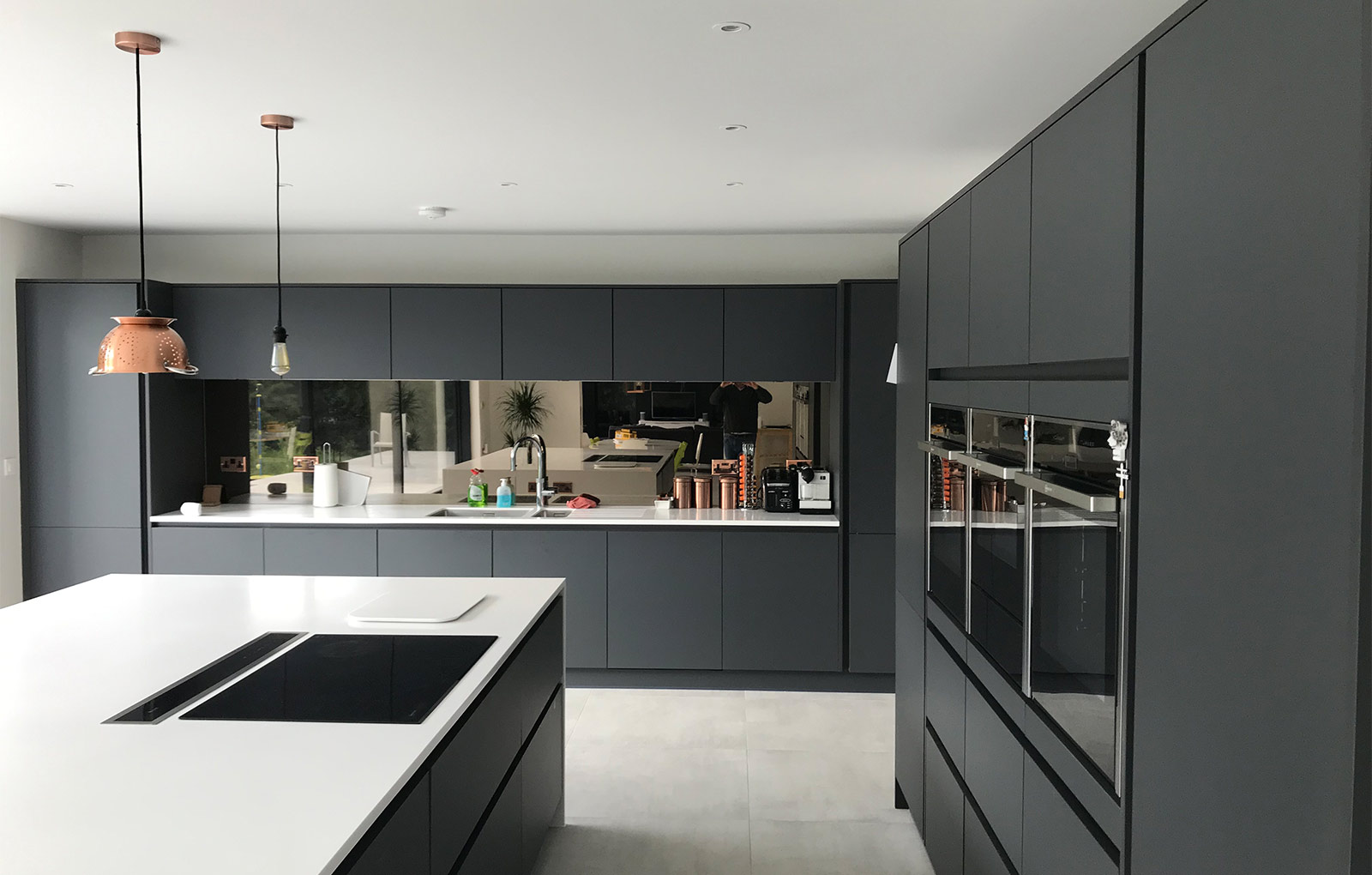 Sutton H Line Graphite. Designed by Phil Rose at Sigma 3 Esher showroom.
Try other dark colours other than black or grey
Other deep dark colours can still create a stylish, luxe look if you're not a fan of black and grey. Alternative shades like our Hunter Green or Oxford Blue are a perfect way to express your individuality and add a show-stopping feature to your home. We love how natural wood tones like our Portland Oak and Madoc Broder Oak complement these gorgeous dark shades.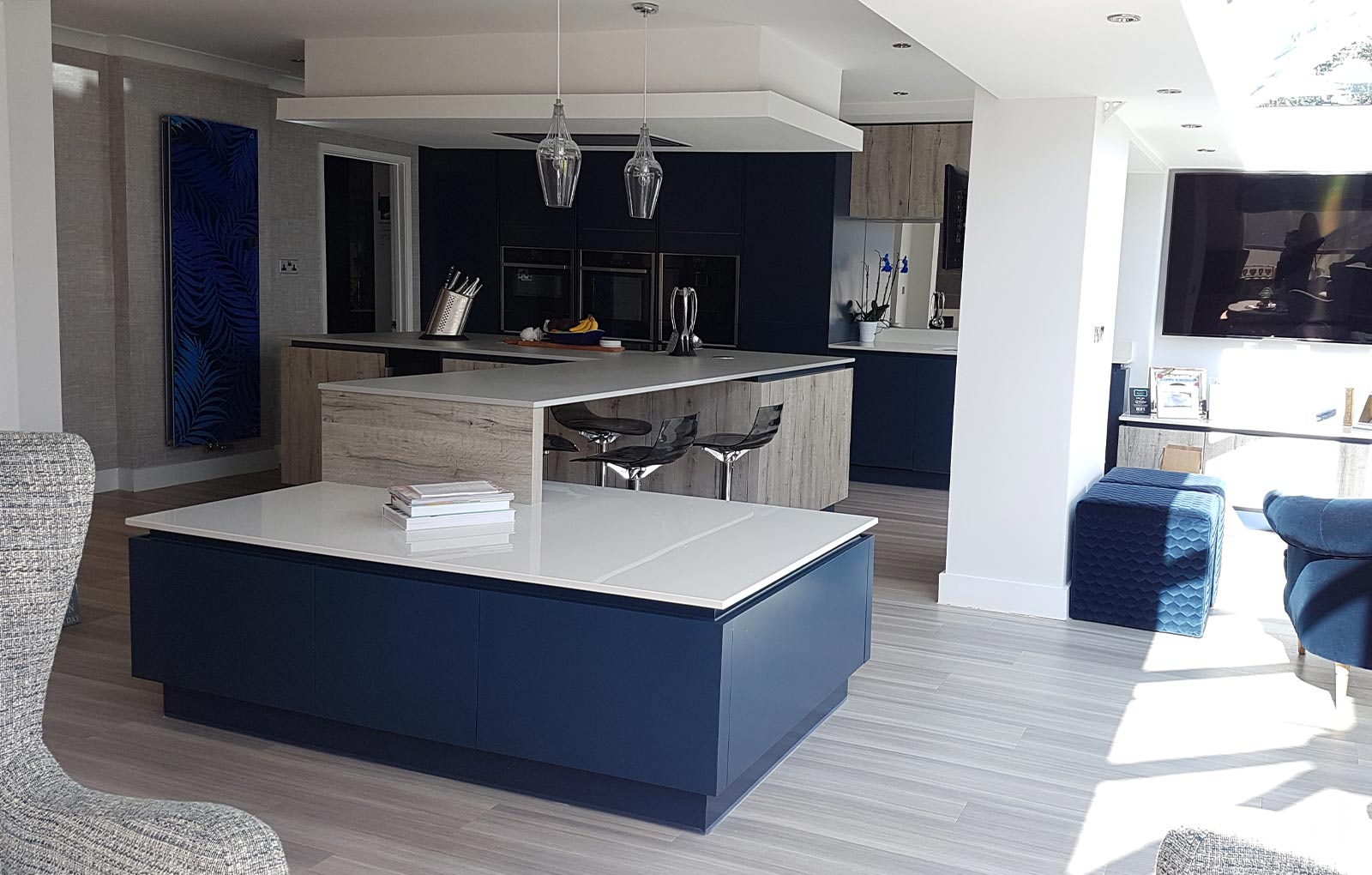 H Line Hampton Oxford Blue with Madoc Border Oak. Designed by Lisa Foggan at Sigma 3 Cardiff Colchester Avenue showroom.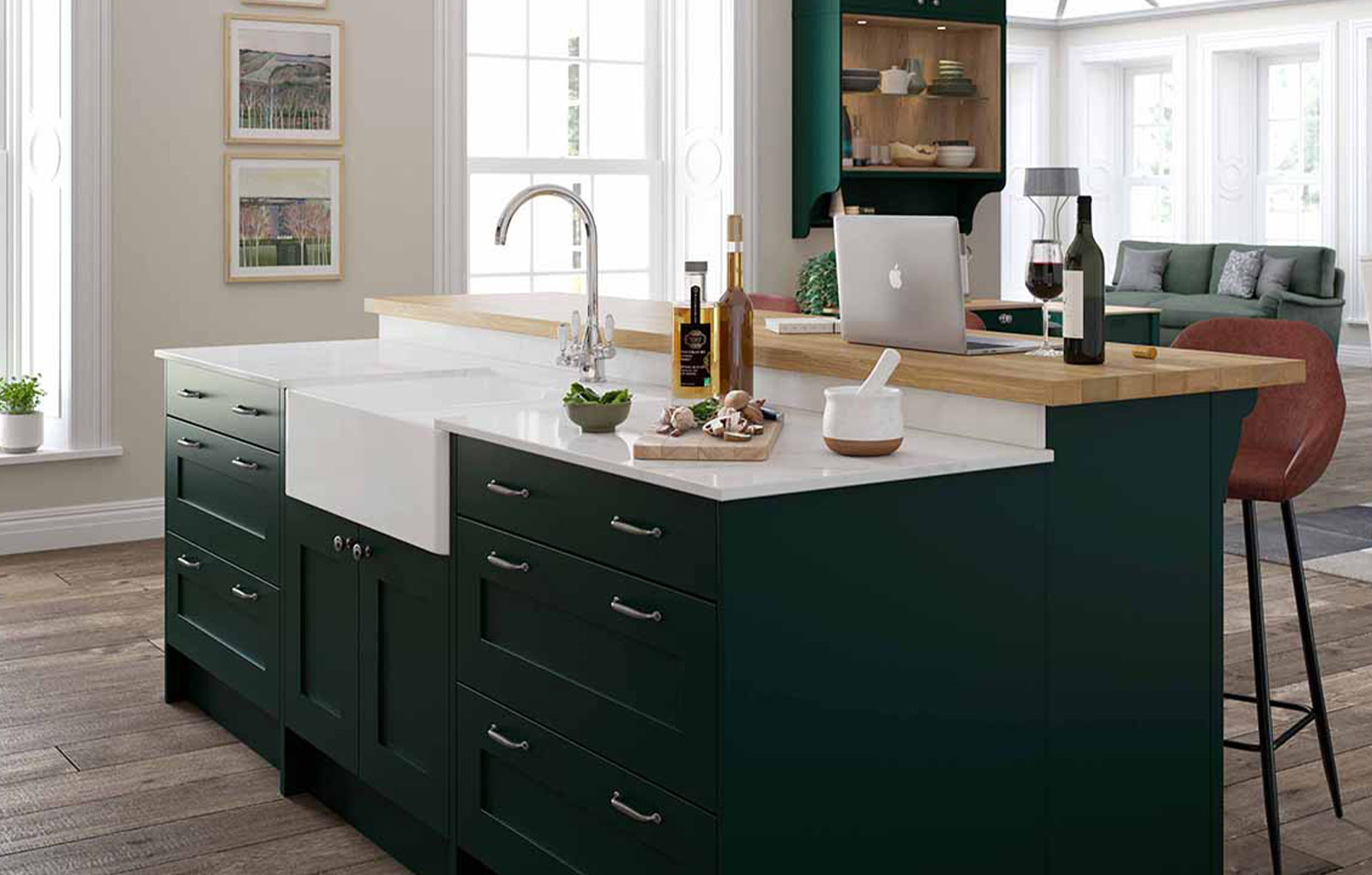 Our experienced, dedicated designers are equipped with the knowledge to help you create a dark kitchen that meets your budget, taste and requirements. View our FREE brochures find your inspiration, or book your free, no-obligation design appointment.
Book
your free design consultation

online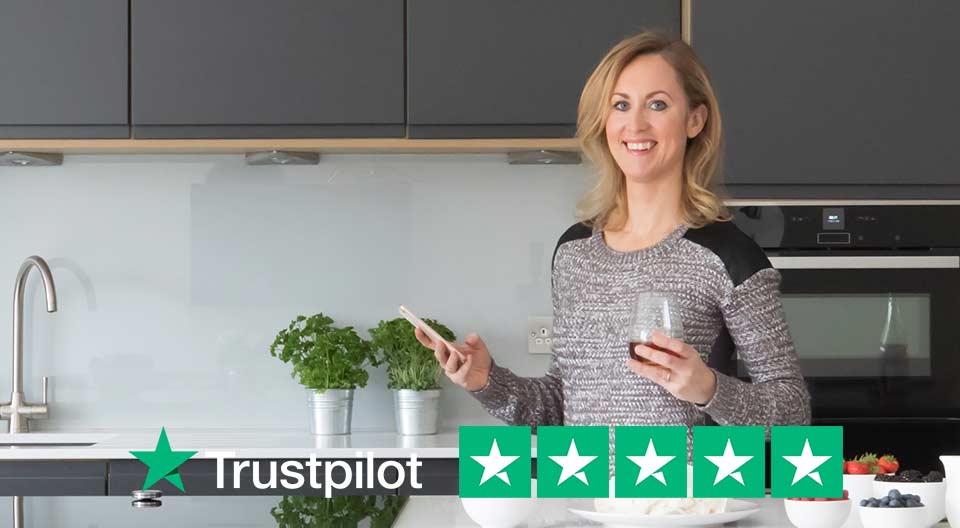 Have fun creating your wishlist, get a free 3D design & quote and talk about Finance Options. We'll give you an amazing experience.
Find even more inspiration in our brochures & magazines
See all our customer stories
Hear about the amazing experience that our customers have with us.