Dream Kitchen Renovations: Edwina's Home Improvements
Published on 05 Oct 2023
Set in the quintessential British countryside, Wenvoe is steeped in history and culture. National Trust gardens quilt the landscape, Dinas Powys' Hilfort hunkers amidst trees, and tourists bustle into the aviation museum. The most interesting aspect, though, has always been the people. This is still true.
Indeed, careen past a sun-kissed payphone in a rural lane and you'll encounter Edwina and Bill Stoker's renovated post office that's undergone significant home improvements. Its luxury oak extension boasts a new Sigma 3 kitchen renovation. There to greet our team, Edwina sets aside a tea in her new navy kitchen.
"I'd always passed Sigma 3 at Culverhouse Cross. Had been in on a few occasions," she admits in response to a question about why she chose Sigma 3. Her kitchen—a Hatfield range with Moonlight Blue and Highland Stone doors designed by José in Sigma 3 Kitchens Cardiff West—completes the room.
Edwina's Kitchen Ideas
A woman of impeccable taste, Edwina admits she had a rough kitchen remodel vision but worried no kitchen designer could fully realise it. "I knew what I wanted," she says, "and I knew what I didn't want, and I was hoping that I would meet somebody at Sigma 3 who would put me on the right track."
That's a typical Sigma 3 customer reaction. As with many of our discerning clients who invest in a new kitchen, cost is important but matching their personality with high-quality furniture is paramount. They want their kitchen remodelled to aid their lifestyle and complement a total home renovation.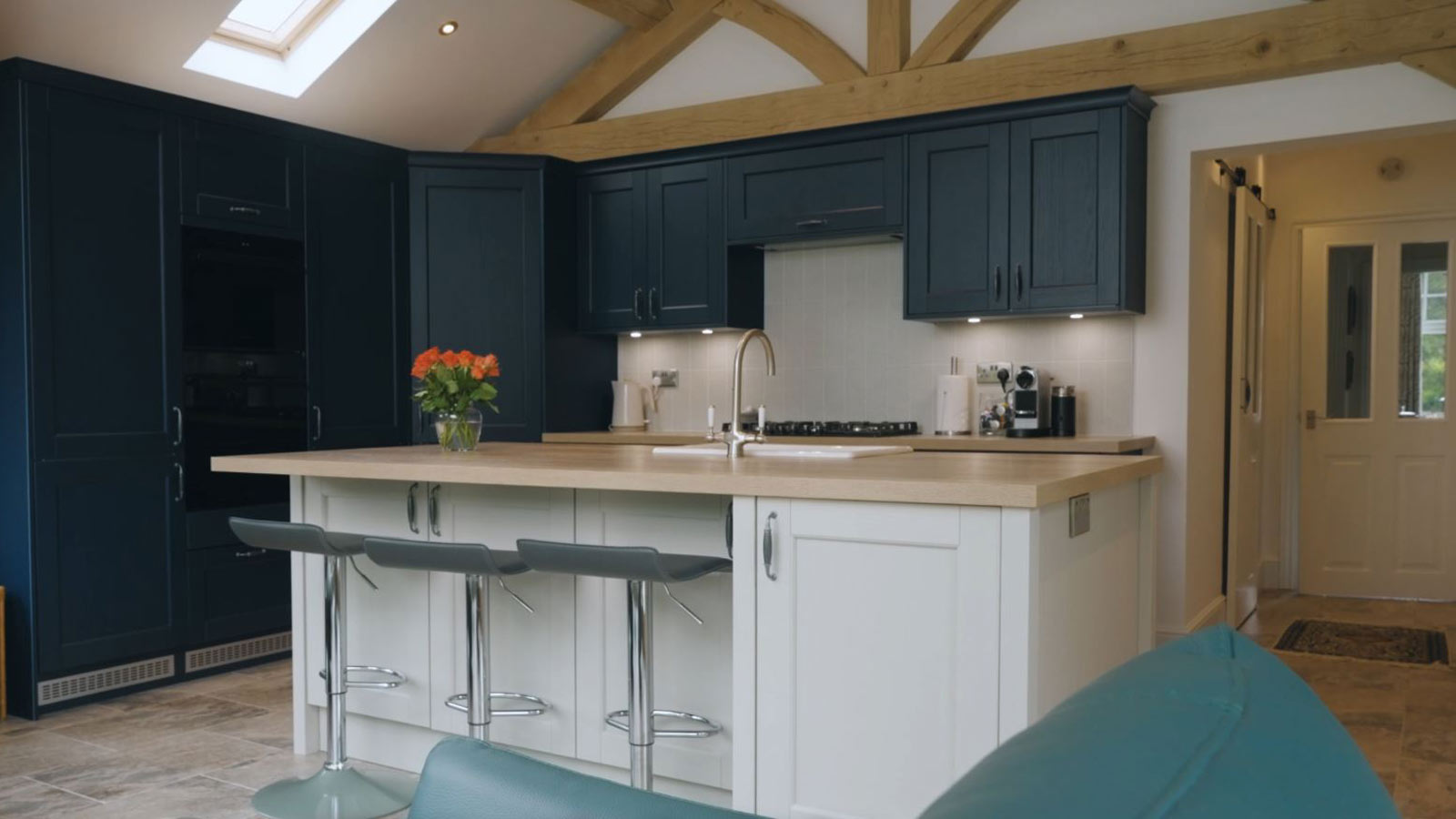 Clarifying her perspective, Edwina continues, "The actual kitchens that they had on display showed me perfectly well that I would find something. I was hoping that José would be able to put it into a graphic form that I would be able to see." Fortunately, this is something the Sigma 3 team does all the time.
Experienced in the home improvement business, the staff soothed her concerns. She explains: "Everybody was very friendly and said hello as I walked through the door. [My designer] took everything I said and turned it into this plan and design which, to be quite honest, was perfect."
Pro Tip!
Want more design tips and lifestyle advice to help you make the most of your kitchen? Become a Sigma 3 Kitchens Insider for free. You'll get a library of virtual lifestyle guides just for subscribing.
Claim Your Welcome Library
Luxury Kitchen Design Ideas
Admittedly, the designer did throw a few curveball features her way, which Edwina had never encountered, but she decided to trust his judgement. He was the expert, after all. When it comes to home remodelling, kitchen design was—and is—his speciality.
"I wanted drawers," she recalls, starting on familiar ground. "Cupboards are very easy to push things to the back of." She loved our wood-effect drawers, remarking on the oak-timber-effect dividers, which replace plastic alternatives. Only those with a six-figure budget could once get similar under-the-sink storage luxuries.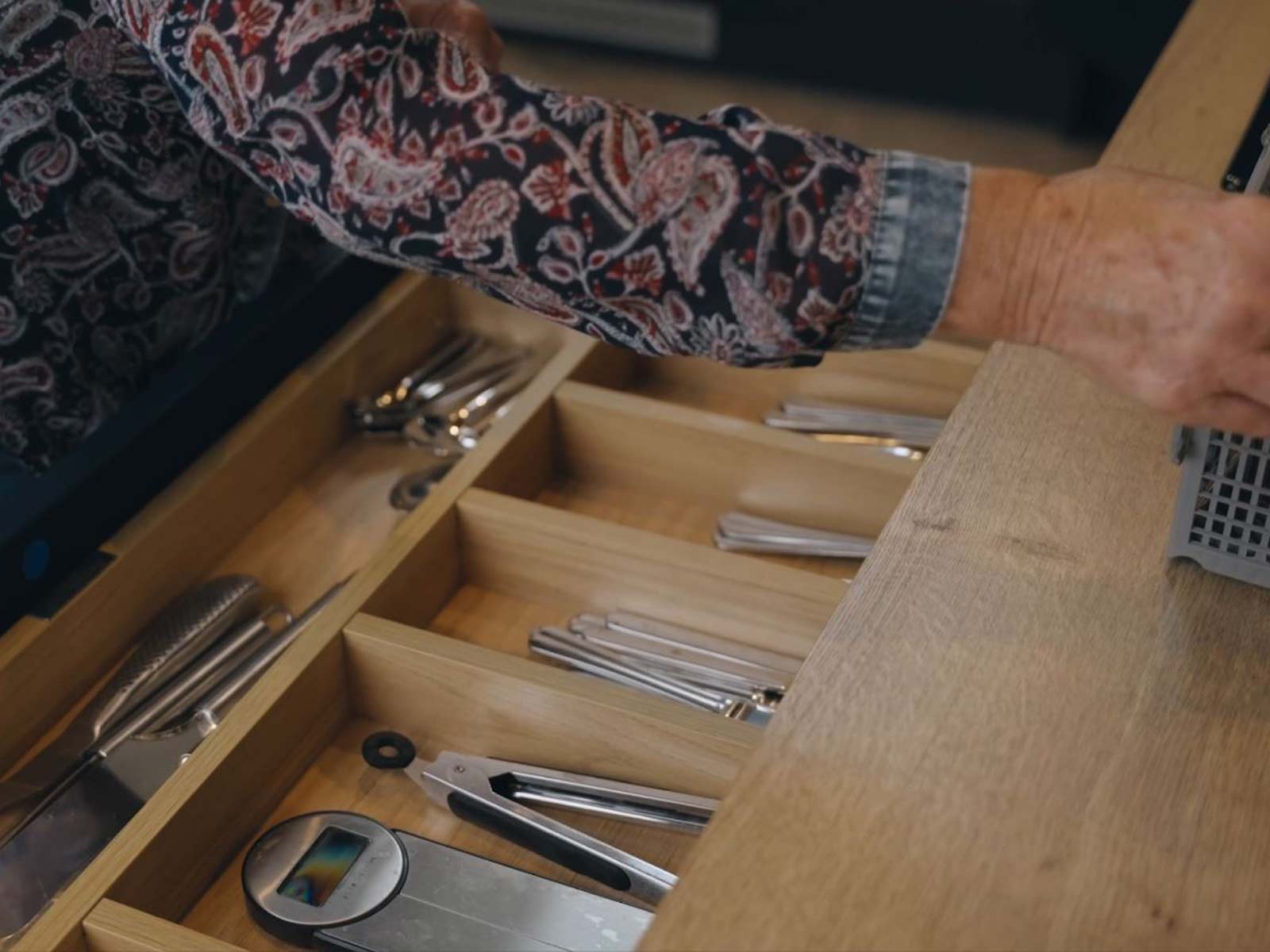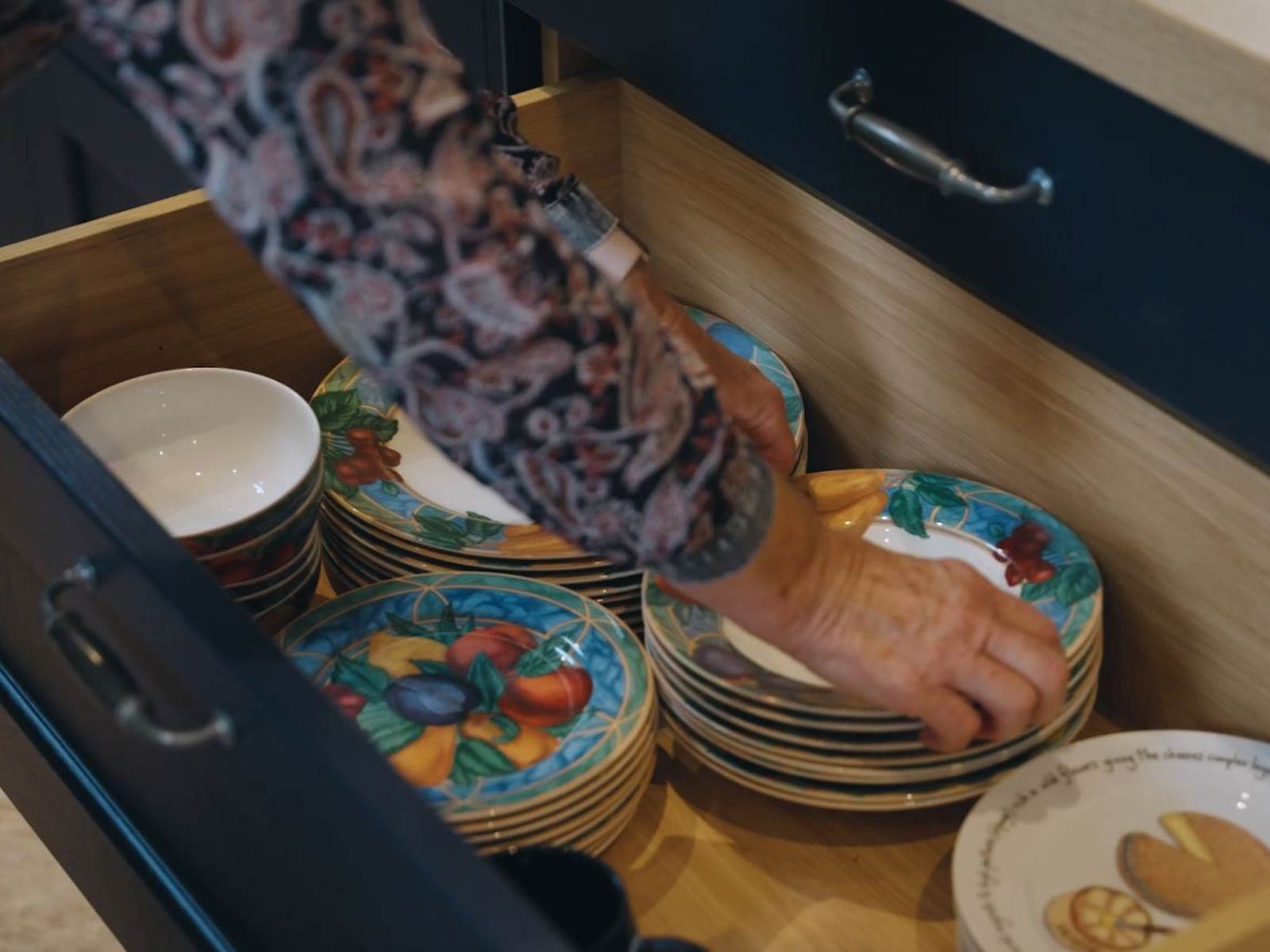 "We actually also had The Hathaway, which we've placed next to it, which is also superb. I love the drawers inside," she adds, referring to Sigma 3's signature pantry cupboard. "There's room for wine bottles. We keep our glasses there. So, Bill knows that's where he needs to be going at six o'clock!"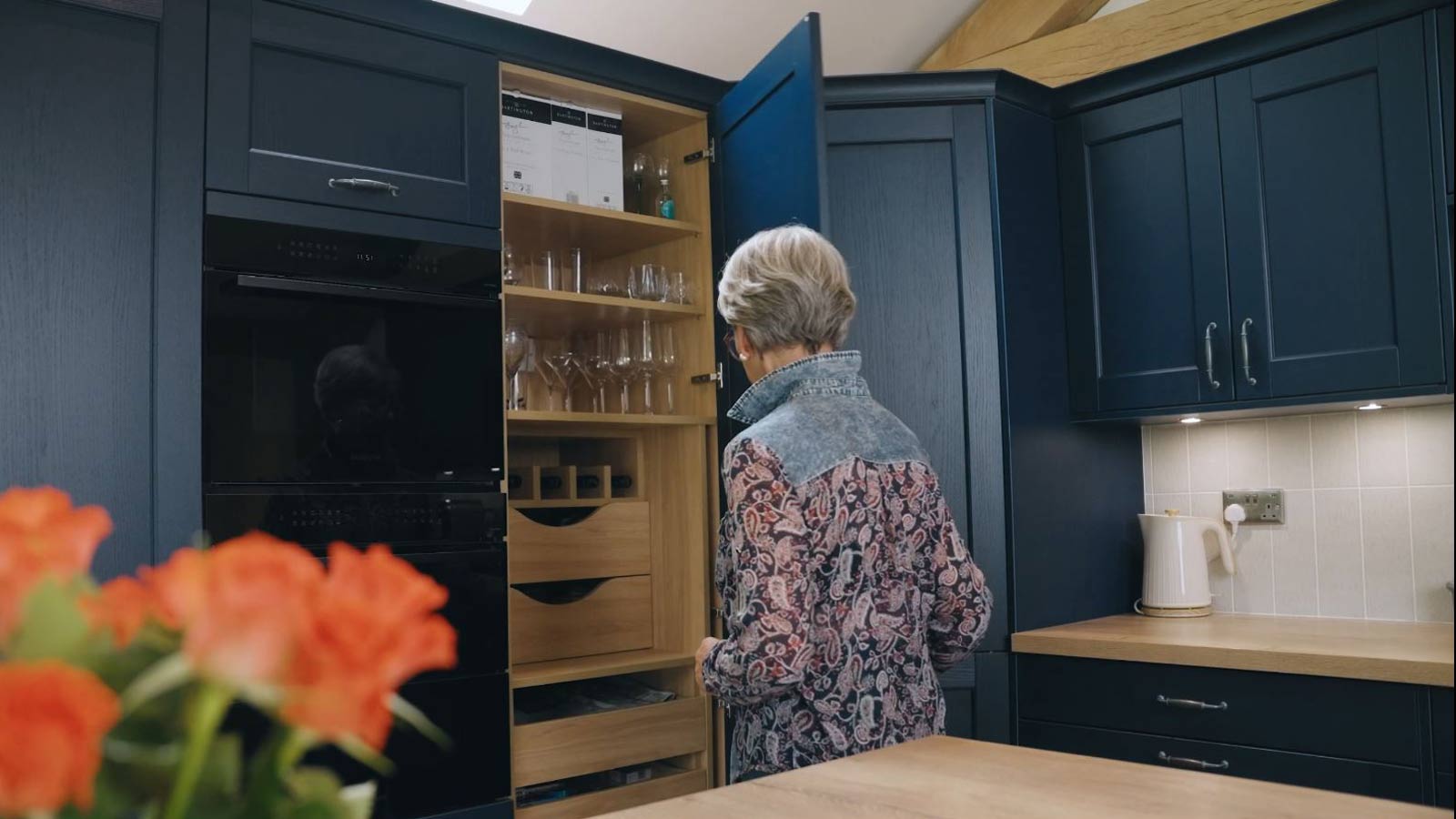 This was one of José's more unusual suggestions. Though, there were more features to come that Edwina didn't know existed prior to visiting the showroom, one being The Lansbury—our famous kitchen pantry cupboard with shelves perfect for maximising pantry storage in tight corners.

"I wanted to include the Lansbury corner unit into my kitchen because it just embodied such good design," she gushes. "I was going to have the kitchen from Sigma 3 if it was only for that one unit. You open the door, the light comes on, everything's at eye level. There's no reaching up for things."
Throughout our conversation, Edwina refers to her love of the wooden features, which match the single oak frame extension that houses them. Second only to the look is the sheer practicality of her abundant storage. "For me, it's important," she concludes. "I know where I keep all my things."
Unusual Kitchen Features
Having showcased her baking tools, Edwina discusses her need to keep her workstation clean. She uses a kitchen unit pull-out storage feature José recommended: "The VelaBin storage is superb. I have it in my island units and it's great because you can keep all your dishwasher tablets there."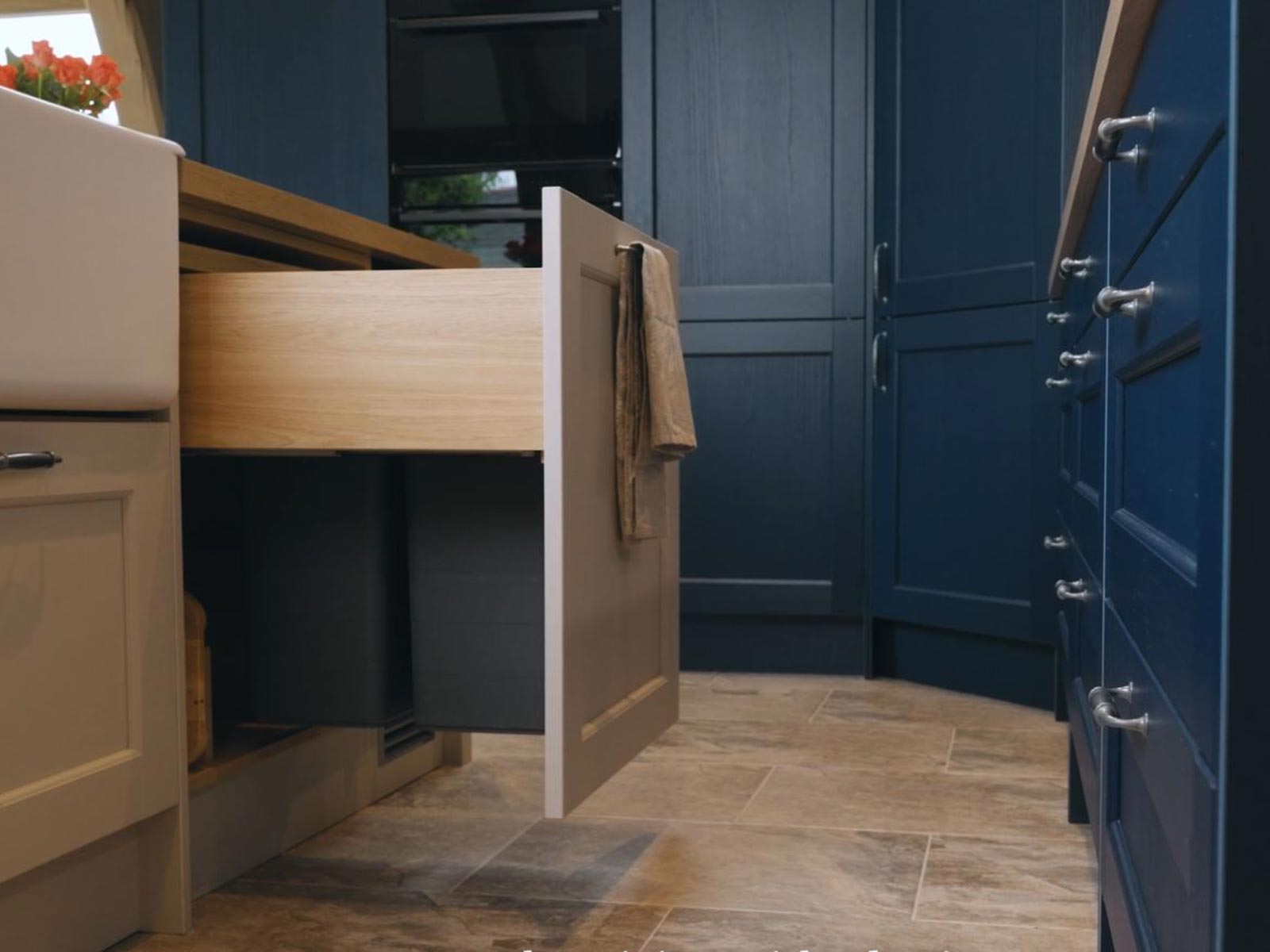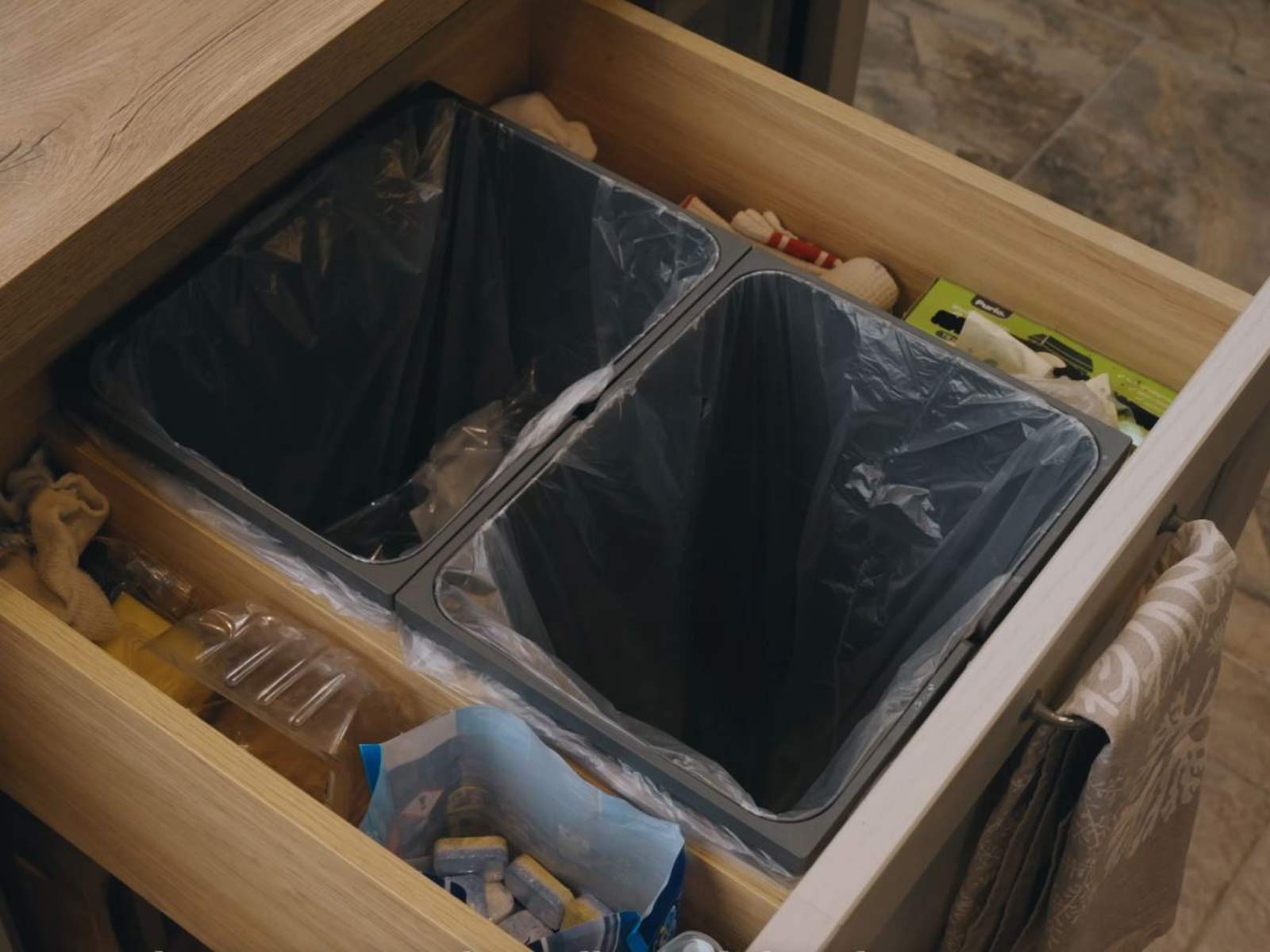 Available in several size and design variations, this dual kitchen bin acts not only as a kitchen bin for recycling but also as a kitchen compost bin, all of which slides easily in and out of view thanks to the pull-out cabinet kitchen unit that encases it—perfect for when you're cooking or entertaining.
"We've got two little compartments on either side, which is great for keeping the bin bags in, and you've got your washing up liquid and soap and, you know, it means that everything can be out of view," she explains when asked how she uses it on a day-to-day basis.
Edwina's Sigma 3 Kitchens Review
Thankfully, trusting José, her Sigma 3 Kitchens kitchen designer, was a good choice for Edwina. As we plan to pack our interview equipment, she agrees, commenting on how she can trust our experts to handle the details, allowing her to relax and "enjoy the garden."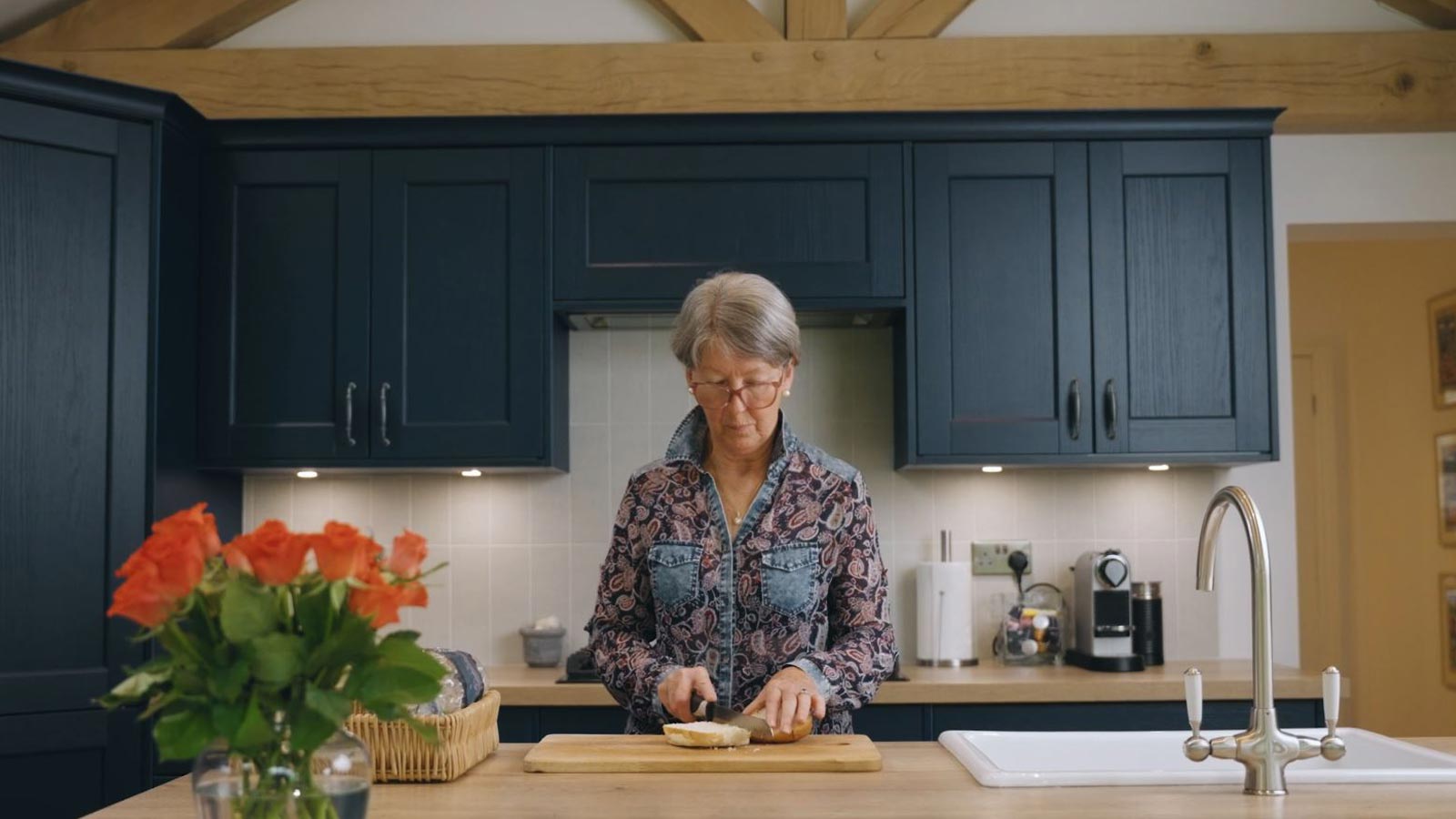 When asked if she's happy before we leave, she responds, "I think the experience that we've had with Sigma 3 […] was nothing but a pleasure. It's the little, little finite details like that that you have with Sigma 3, which you wouldn't have with anyone else. They were superb. They were so helpful with us."
Try Sigma 3 Kitchens Yourself
Want to tour a Sigma 3 kitchen yourself and speak to a professional design consultant like José who helped Edwina? Find your nearest showroom and book a consultation slot, or become a Sigma 3 Insider for free. As a Sigma 3 Insider, you'll get exclusive design tips, plus welcome guides and resources just for joining the community.