Kitchen Ideas & Inspiration
A modern kitchen perfect for a young couple
Cardiff West, Case Studies / 28 Dec 2020
When Becca and Aled decided to move home, they couldn't bear to part with their Sigma 3 kitchen.
Becca and Aled's old home featured a Sigma 3 kitchen, and the young couple decided they wanted to replicate their original kitchen and add a few extra features for their new larger space.
What was the brief?
Aled and Becca explained they wanted to liven up their modern kitchen with features like wine racks, a seating area and new finishes and textures.
It was also important to the young couple that the kitchen accommodated for they much loved Labradors.
The design process
Kitchen designer Beth Thomas took the young couple's kitchen wishlist onboard and made further suggestions to help the kitchen function well for the family.
To accommodate the extra space, Beth designed a table seating area that perfectly tailored to the room's architectural features using granite to match the kitchen's worktops. Aled and Becca are expecting a child, so Beth suggested curving the ends of the seating area to ensure the baby and dogs don't hurt themselves on the edges.
Beth also suggested incorporating Deco Tundra Stone to create a two-tone kitchen. The new kitchen was far larger than the previous, so adding this prevented the white gloss kitchen cabinets getting lost in the space.
The outcome
Aled and Becca expressed that they never dreamed of having a kitchen to such a high standard.
Aled explained that the Deco finish has transformed the utility room from a "dumping ground" to one of their favourite rooms in the house. Becca loves how it flows seamlessly from kitchen to utility, making it feel like an extension of the kitchen and not a sperate room. Becca's favourite feature is the wine racks - she said "there's something so grown up about a large kitchen with wine racks".
Are you ready to start your own kitchen journey?
If you're ready to begin the journey to your dream kitchen, book your free, no obligation design consultation online today.
Not ready to speak with us? View our beautiful brochures for kitchen ideas.
Book your free design consultation online today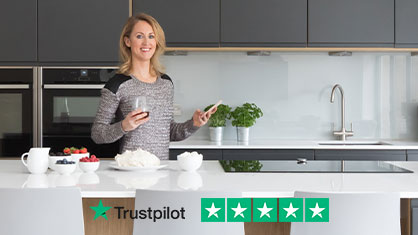 Have fun creating your wishlist, get a free 3D design & quote and talk about Finance Options. We'll give you an amazing experience.
Book now
View our free brochures, magazines and offers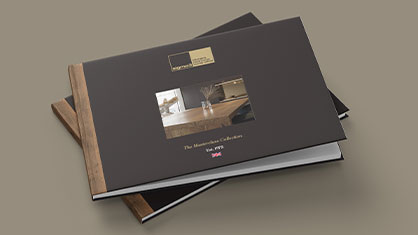 Explore ALL our kitchen and bedroom ranges, plus get exclusive access to our latest offers.
View our brochures
We are here to help you on your kitchen journey