Kitchen Ideas & Inspiration
Dark kitchen ideas for those that dare to break the mold
Ideas & Inspiration / 29 Sep 2020
In recent years, kitchen colour trends have turned over a new leaf, with more and more people choosing dark kitchens instead of the stereotypical light and airy designs.
There's no doubt that light kitchens will always be popular, but if you want to break the mold and dare to do dark, we have a range of beautiful, luxurious dark shades to lust over.
Whether it's a dark green kitchen, navy kitchen or mix and match dark and light cabinets, our dark kitchen tips will inspire you to create a dark kitchen that's perfect for you.
Here are some of our favourite dark kitchen ideas for your inspiration.
Dark grey shaker kitchen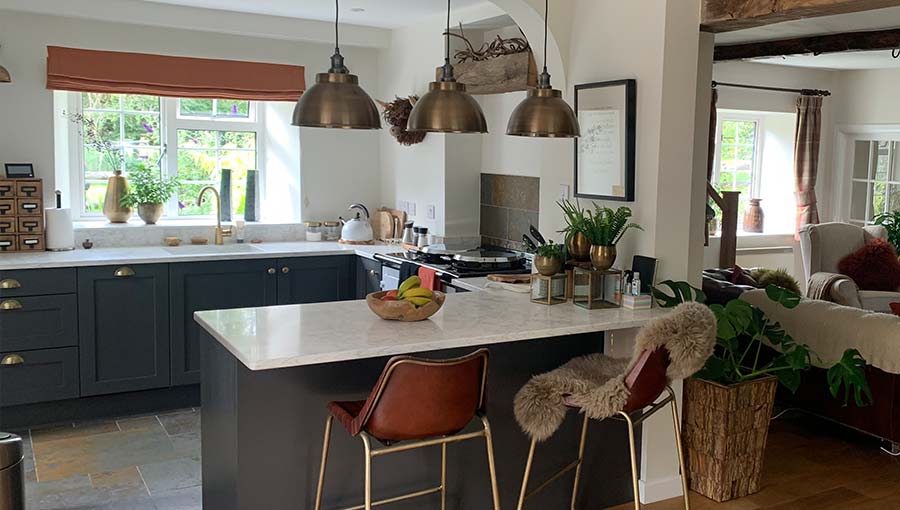 Hardwick Graphite, designed by Emma Randall at our Abergavenny showroom
This dark grey shaker kitchen is the perfect addition to this charming 18th-century mill worker's cottage. We love how well our brass cup handles, and other brass features look spectacular with the wood-grained shaker doors and truly bring together this quintessential British countryside look.
Modern dark grey kitchen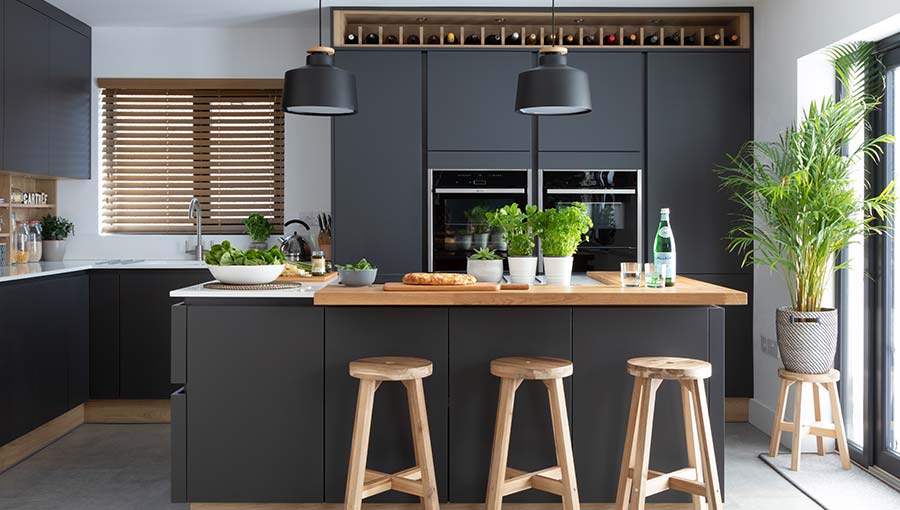 H Line Sutton Graphite with Portland Oak, designed by Lisa Foggan at our Cardiff Colchester Avenue showroom
This show-stopping modern dark kitchen is complemented wonderfully by the natural wood tones of our Portland Oak. Adding wood features to your dark kitchen is beneficial for adding warmth and lightening up a dark kitchen. Alternatively, opt for a dark wood finish like our Tuscan Walnut to create a luxurious, dramatic look.
Modern dark green kitchen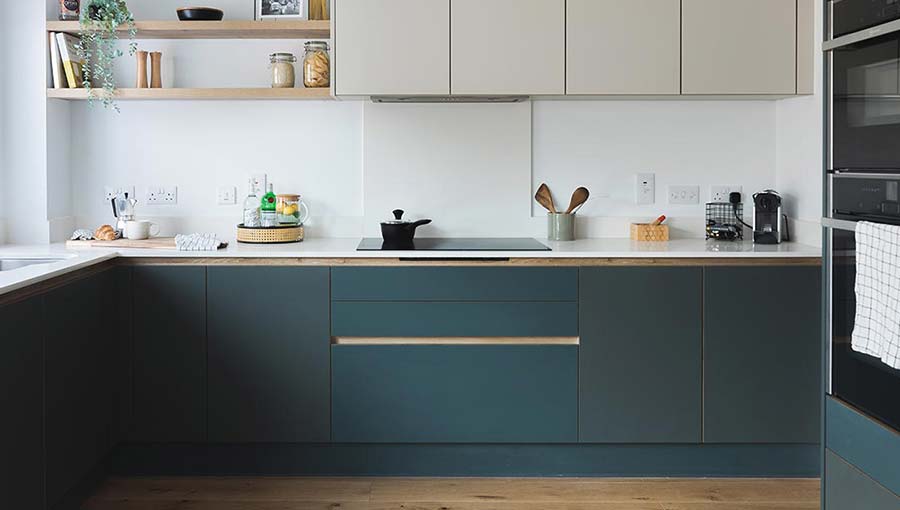 H Line Sutton New Forest and Farringdon Grey
Green kitchens embody the sense of nature and bring the outdoors inside. Our new green shade, New Forrest is a versatile green that can be mixed and matched a range of different colours, textures and finishes, so the possibilities are endless. The textures of Sutton New Forest, Metalix Copper and Milano Earth Stone in this kitchen all work together seamlessly to create a show-stopping look.
Dark green shaker kitchen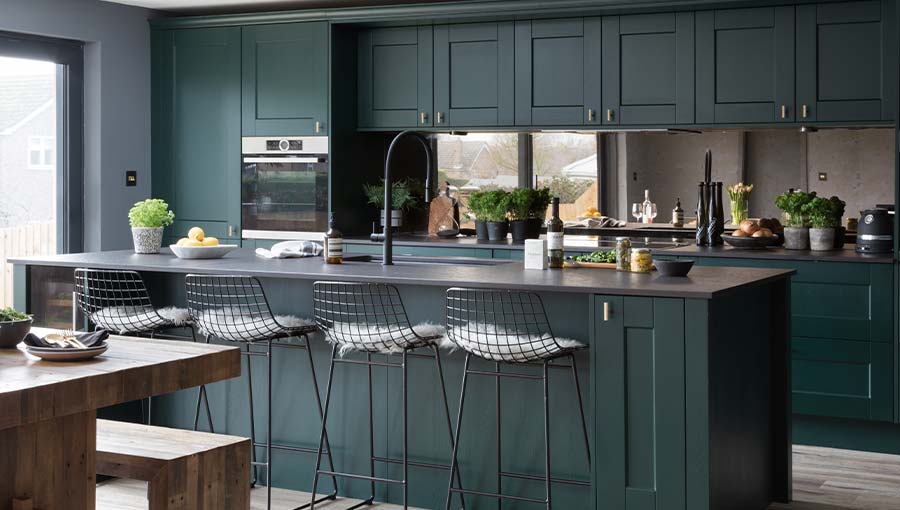 Solva Hunter Green
Inspired by nature, Hunter Green lends itself perfectly to our shaker and classic kitchen ranges and embodies a country style kitchen. This colour is perfect for accents and complementing warmer tones, but as this kitchen demonstrates, it also looks incredibly sumptuous when used throughout the kitchen.
Modern dark blue kitchen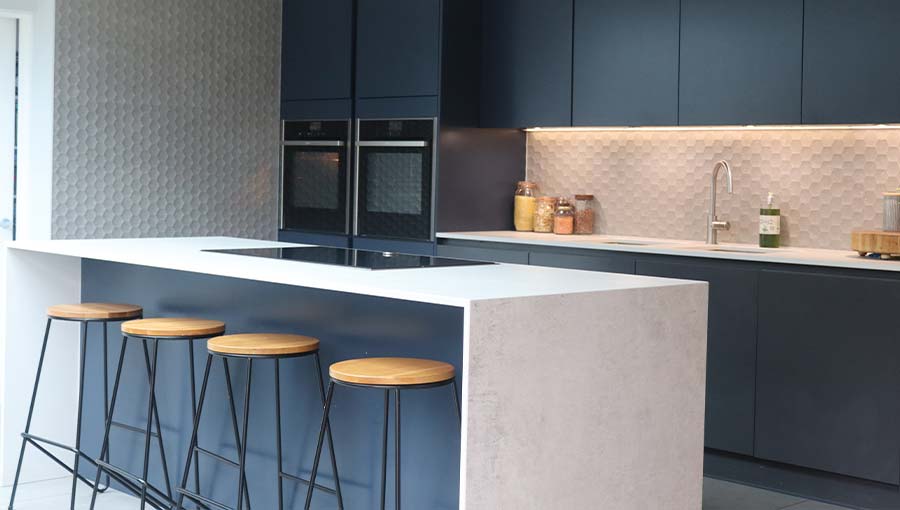 H Line Sutton Oxford Blue designed in our Esher showroom
Blue kitchens can provoke calmness and peacefulness, do it's no wonder why Oxford Blue is a popular choice with our customers. Not only this, Blue complements popular grey colours wonderfully, allowing you to add a bolder colour to a neutral kitchen. Opting for a modern, handleless design like H Line will also allow you to integrate unique, innovative storage solutions like Linea and LineaPlus.
Dark blue shaker kitchen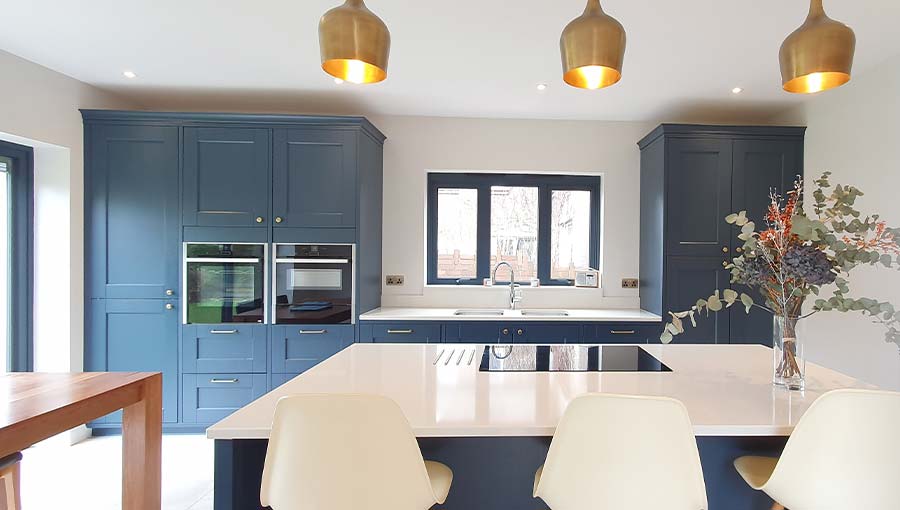 Solva Oxford Blue, designed by Lisa Foggan in our Cardiff Colchester Avenue showroom
Blue is a great choice for a shaker kitchen as it accentuates shaker doors. The large, dark blue kitchen island seen here makes a bold and luxurious statement. Not only this, it looks gorgeous next to the grey cabinetry.
Modern dark brown kitchen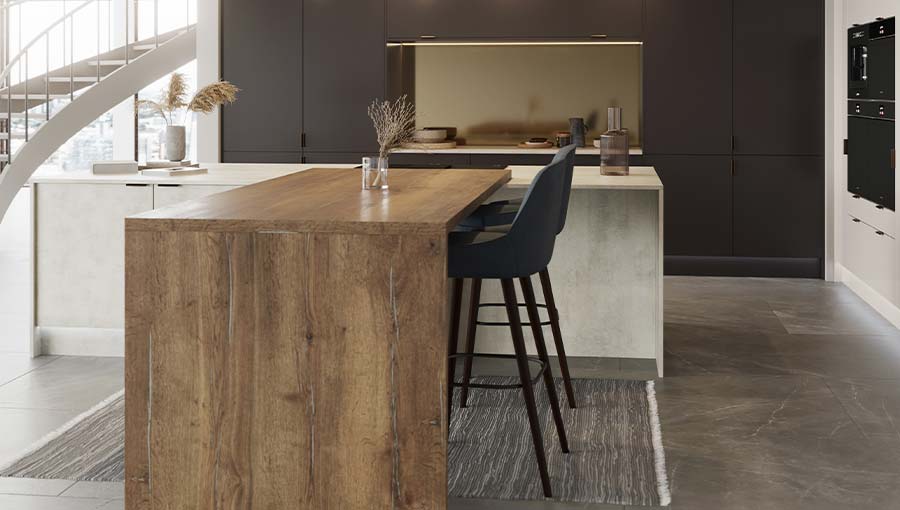 Sutton Burnt Umber featuring Ligna Farmhouse Oak, Milano Arctic Frost and Metalix Bronze
Dark brown kitchens can be used to add both warmth and glamour to your home. The beauty of our dark brown kitchens is that you can choose from dark wood, dark painted kitchens, Burnt Umber or mix and match both to create a truly luxurious look. This kitchen is the epitome of modern luxury.
Are you ready to start your kitchen journey with us?
Our passionate, expert designers can help you create your dream dark kitchen. Book a free design consultation online today.
Not ready to speak with us? View our beautiful new brochures.
Book your free design consultation online today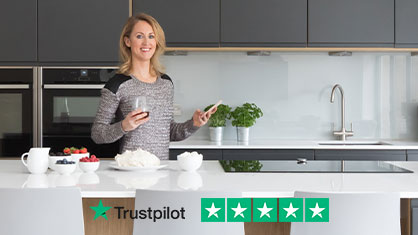 Have fun creating your wishlist, get a free 3D design & quote and talk about Finance Options. We'll give you an amazing experience.
Book now
View our free brochures, magazines and offers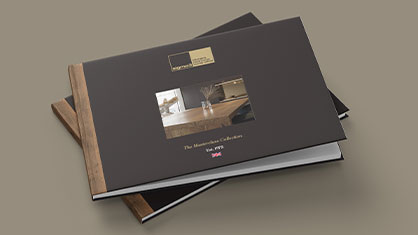 Explore ALL our kitchen and bedroom ranges, plus get exclusive access to our latest offers.
View our brochures
We are here to help you on your kitchen journey