Kitchen Ideas & Inspiration
6 Metallic kitchen ideas you need to see
Ideas & Inspiration / 05 Aug 2020
In recent years, Metallics have made their mark in kitchen design and are becoming a firm favourite when it comes to creating accents and features in a modern kitchen.
Our brand new range Metalix has been brought to you so you can add character to your space with ease. Metalix is a brushed metallic effect finish that will allow you to introduce glamourous accents and enhance your modern look.
Metalix encompasses 5 beautiful metallic finishes; Brass, Aluminium, Titanium, Bronze and Copper.
Why have we introduced metallic finishes?
Our new metallic range Metalix has been brought to you has a cost effective way to enhance your kitchen's design, so you can create a modern luxury kitchen without breaking the bank. As well as keeping up with the latest kitchen design trends, our metallic finishes have been carefully created to complement our existing colour palettes.
Where can Metalix be used in the kitchen?
Metallic finishes are a glamourous way to introduce accents, features and focal points in your kitchen. Handlerails, upstands, plinths, splashbacks and flat slab doors are all available in Metalix, offering you a wide selection of ways to create the look you desire.
Our expert designers have the passion and experience to carefully incorporate metallic features into your kitchen's design so that it best reflects your personality and taste.
Are you contemplating using Metalix in your new kitchen? These metallic kitchen ideas will spark your imagination.
1. Make a luxurious statement in your kitchen with a metallic splashback.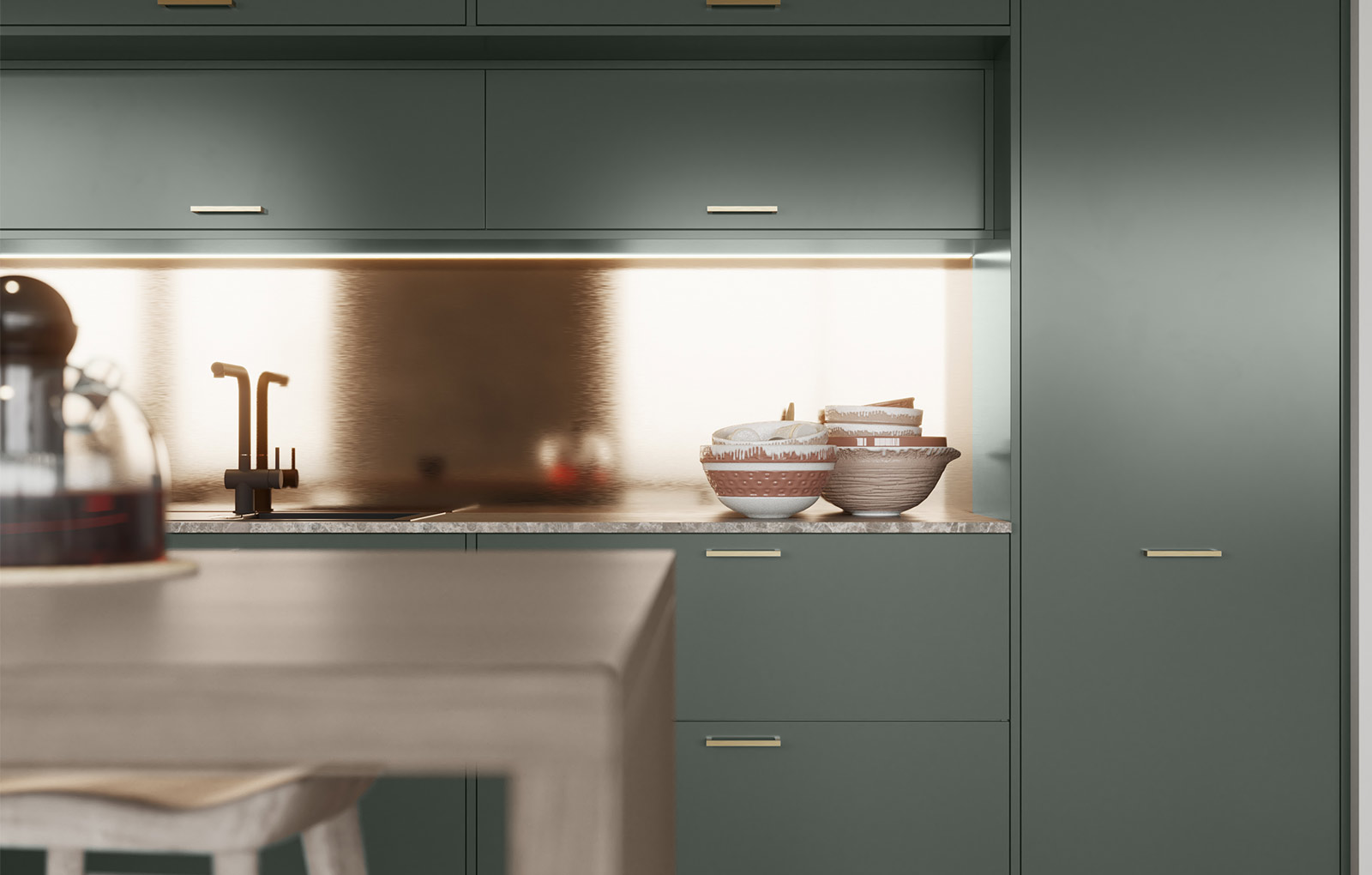 Sutton New Forest with Metalix Copper splashback
When it comes to making a statement in the kitchen, splashbacks are often overlooked, but metallics offer the opportunity to infuse more depth and richness to your space. Opt for a Copper splashback with our New Forest cabinets for a show-stopping look.
2. Inject some character into your kitchen with a feature wall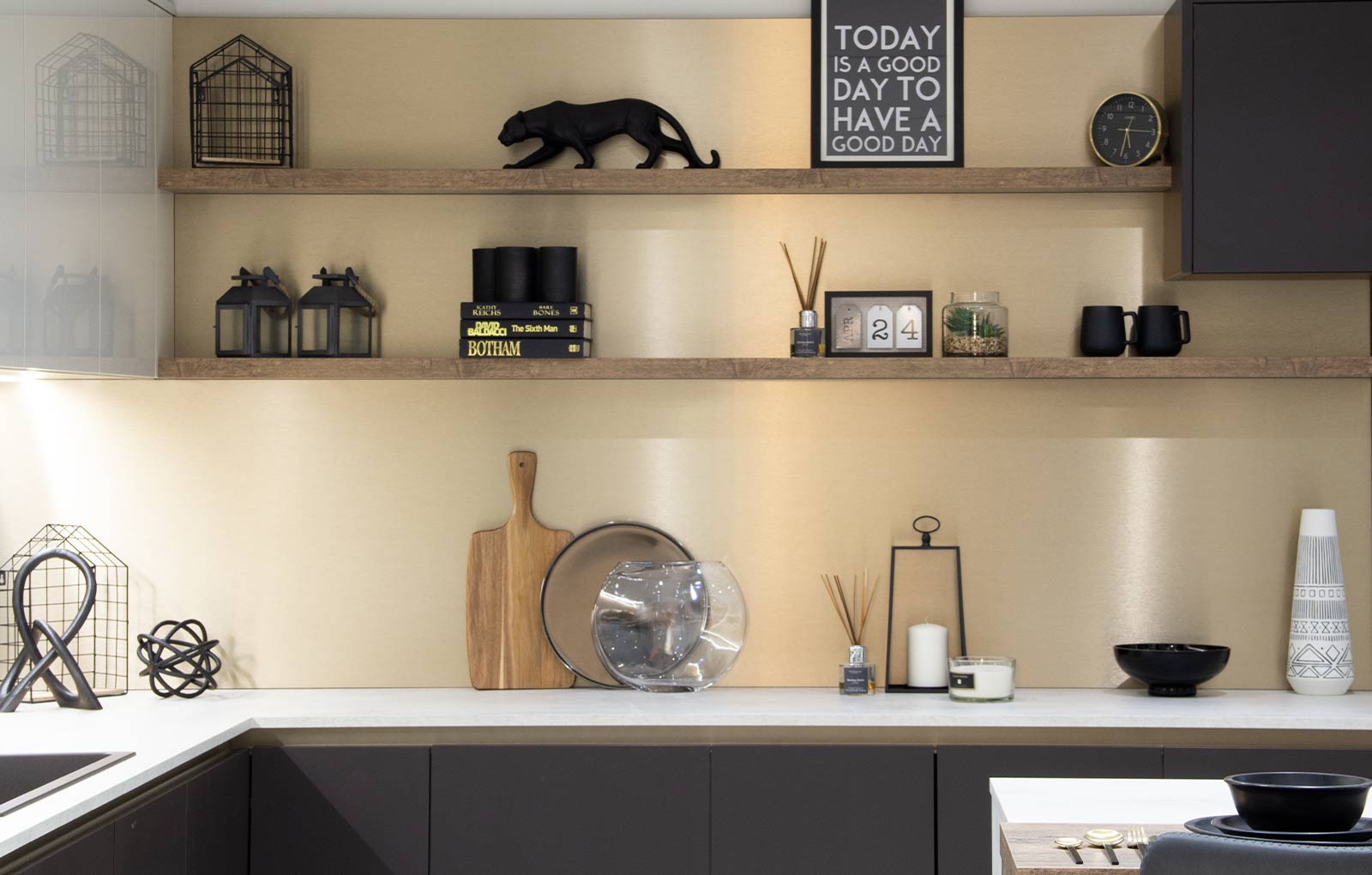 Looking to inject a bit of character into your modern kitchen? A feature wall is guaranteed to do just this. Make your kitchen stand out from the crowd and create a focal point wall with a metallic finish and add wood effect open shelves to create a space that's both luxurious and inviting.
3. Subtly integrate accents with metallic handlerails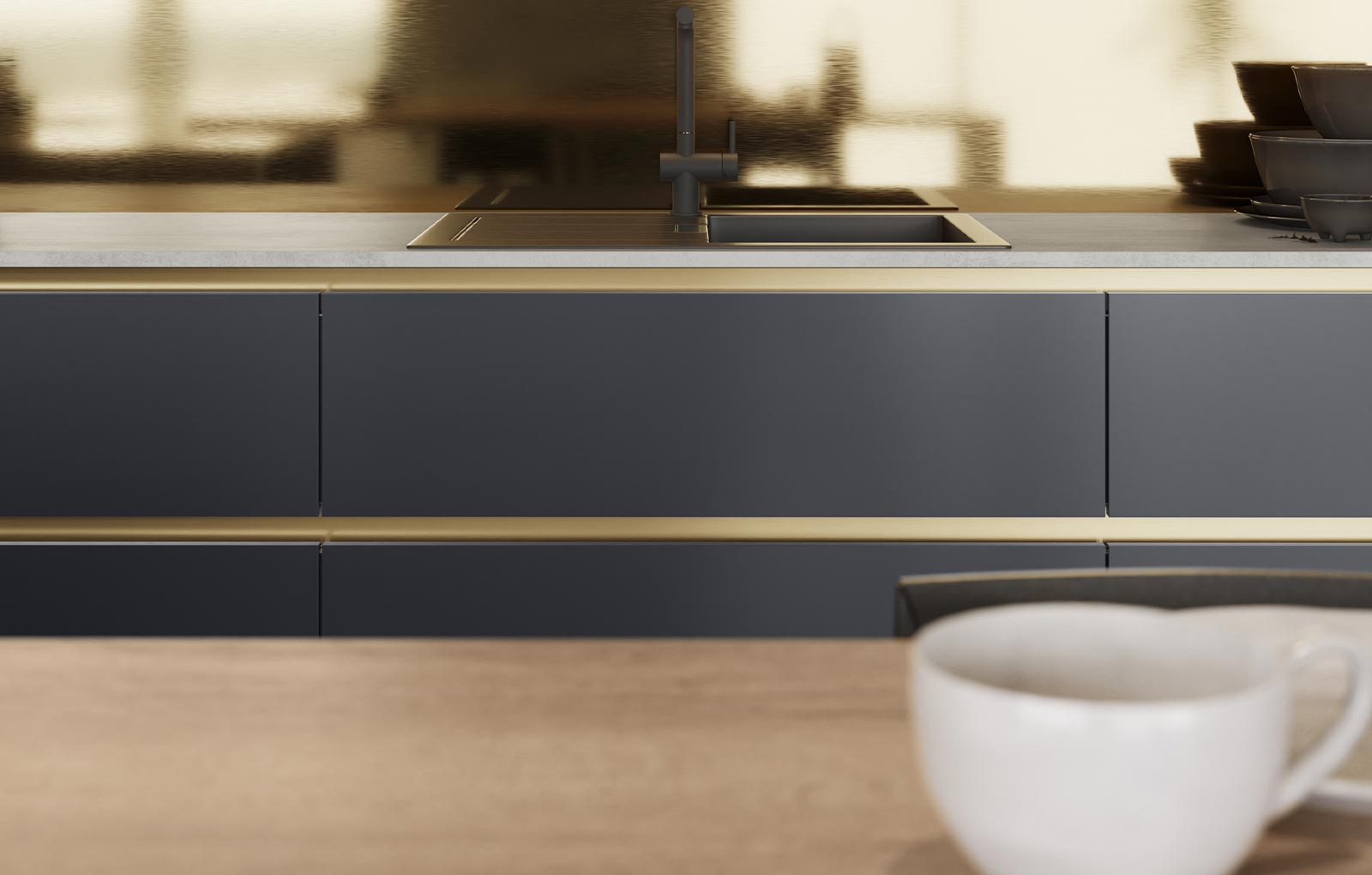 Sutton Healther Slate with Metalix Brass handlerails
Metallic handlerails are the perfect option if you want to subtly integrate metallic accents into your design. Metallic handlerails will bring a sophisticated layer of detail to your design and set your handleless kitchen apart from the rest. This is also great option if your kitchen is on the smaller size – their reflective qualities will twinkle and allow light to bounce across the room making the space appear larger. By opting for a handleless kitchen, you'll also be able to take advantage of our unique modern storage options like Linea and LineaPlus.
4. Mix and match cool metallics with other cool textures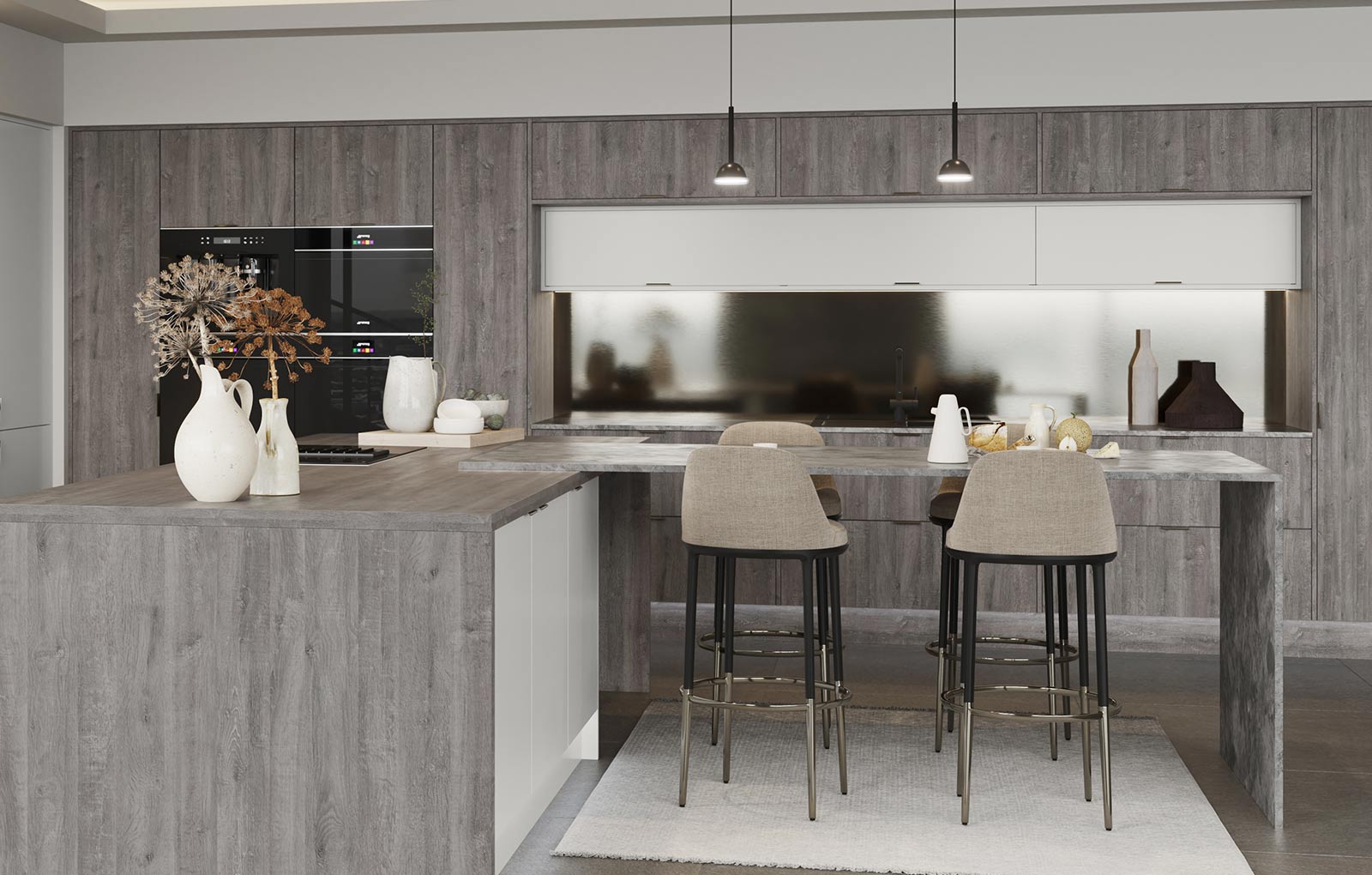 Sutton Heather Slate and Ligna Alaskan Oak with Milano Earth Stone worktops and Metalix Titanium splashback
When you think of metallic in interior design, "cold and sterile" might spring to mind. However, that certainly doesn't have to be the case. Blend cool metallic shades like our Titaniuim with the natural wood tones of our Ligna range for a natural Scandi look or create a space that oozes calming serenity by mixing Milano Levante Marble Worktops, Ligna Washed Oak wall units and Metalix Aluminium splashbacks.
5. Mix and match warm metallics with other warm textures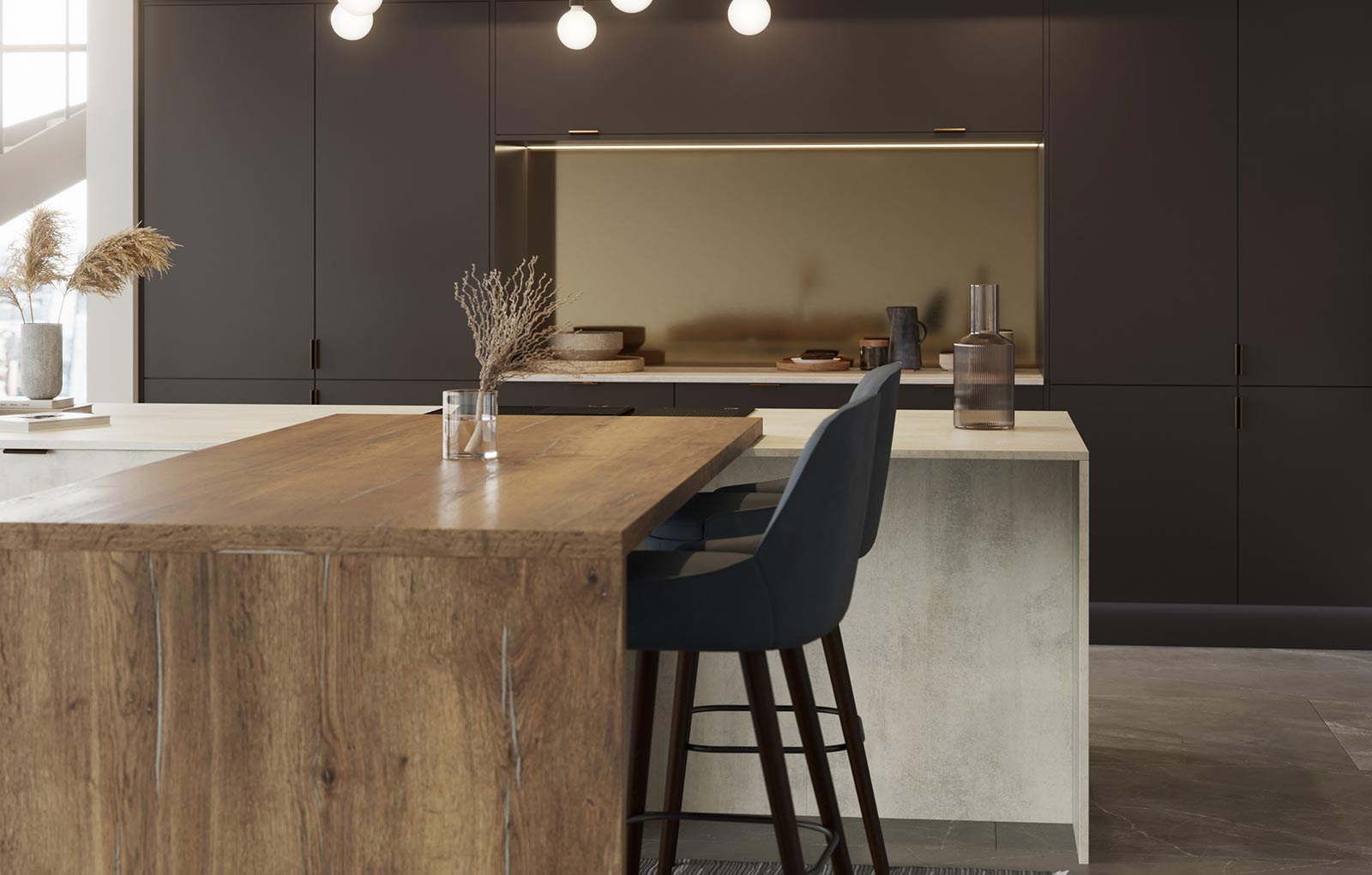 Sutton in Burnt Umber and Metalix Bronze featuring Ligna Farmhouse Oak breakfast bar and Milano Arctic Frost worktops
It may be surprising to think that metals could ever aid in the creation of a tactile, warm space, but Metalix can bring you exactly that. Warm metallic finishes like our Copper, Bronze and Brass and the natural wood tones of our new Ligna range truly are a match made in heaven. Why not balance the textured finishes of Farmhouse Oak and Milano Arctic Frost with Metalix Bronze and the smooth finish of Burnt Umber to create a warm and rustic modern space.
6. Go Glam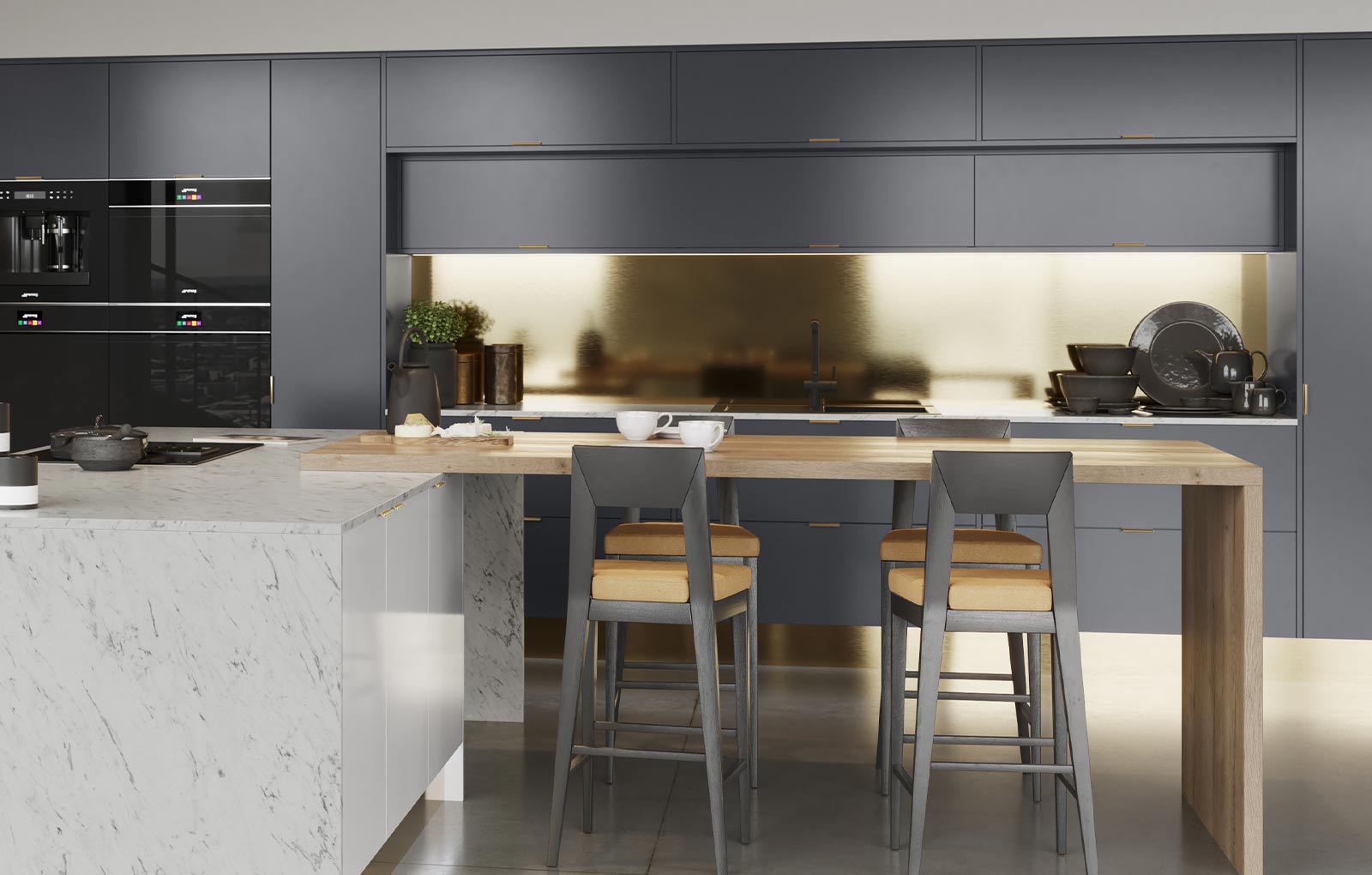 Sutton in Heather Slate with Milano Carrara Marble, featuring Ligna Mayfield Oak worktops and Metalix Brass splashback
If your kitchen personality is all about glamour look no further. What could be more glamourous than gold tones and marble? Use Metalix brass in splashbacks, handles, handlerails or upstands then opt for Milano Levante Marble or Carrara Marble for an effortlessly glamourous modern kitchen.
Start your dream kitchen journey today
Book a free design consultation with one of our expert designers. Our designers are dedicated to helping you make the right choices for your needs in terms of functionality, budget and style.
Not ready to speak to us yet? View our beautiful new brochures today.
Book
your free design consultation

online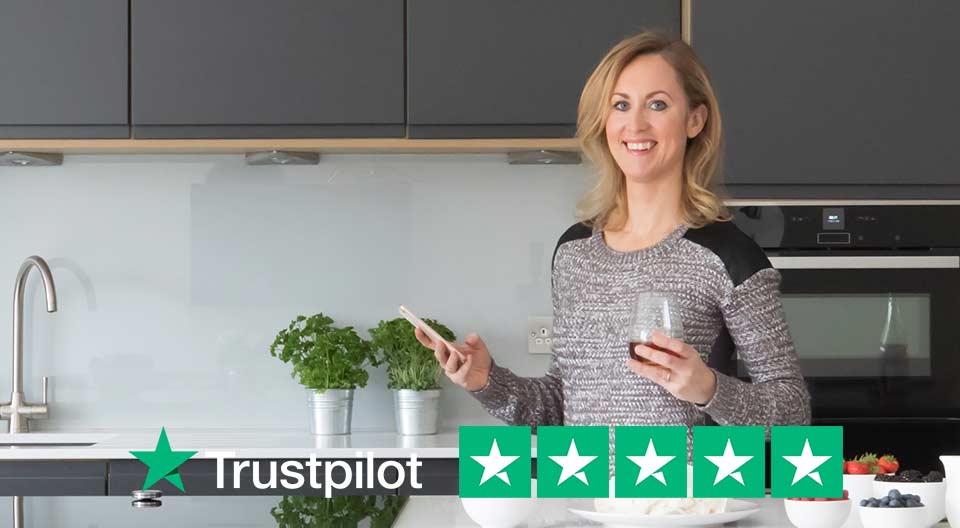 Have fun creating your wishlist, get a free 3D design & quote and talk about Finance Options. We'll give you an amazing experience.
Find even more inspiration in our brochures & magazines
See all our customer stories
Hear about the amazing experience that our customers have with us.