Kitchen Ideas and Inspiration
An Inspiring Modern Kitchen in Abergavenny
Published on 27 Jan 2023
Alison's practical kitchen is filled with inspiring modern kitchen ideas
When Alison Stroud began her retirement, it was important that her home was in tip-top shape.
The beautiful home in the heart of Abergavenny was perfectly fit for an enjoyable retirement, but the kitchen desperately needed a makeover.
After 20 years of use, time had naturally taken its toll on the kitchen, and the cabinets were visibly deteriorating. So, Alison began researching modern kitchen styles and visiting kitchen suppliers.
Alison popped by Sigma 3's Abergavenny kitchen showroom, where she was impressed with the cabinets' quality and the extensive collection of modern kitchen ranges. So, Alison met with kitchen designer Barbora and began planning her modern kitchen design.
What was the brief?
Having used a shaker for decades, Alison thought it felt right to opt for a modern kitchen.
Alison had several very young grandchildren, so plenty of modern kitchen storage that would accommodate the children's bits and pieces was a must.
The design process
Barbora guided Alison through Sigma's collection of modern kitchen cabinets. Alison was attracted to the contrast between modern grey kitchen cabinets and tactile wood-effect modern kitchen cabinets.
Base cabinets comprised of bright glossy handleless cabinets were incorporated into the design. Then, Barbora integrated contrasting wall-mounted units and open shelving using life-like modern wood finishes.
Opting for a modern kitchen design meant that extra deep, wide LineaPlus drawers could be added to accommodate crockery.
Barbora designed a seating arrangement and TV stand using LinePlus cabinets, making great use of otherwise wasted space.
The outcome
Alison's modern kitchen has provided her with a functional space that's perfect for not only herself but her grandchildren too.
The seating arrangement gives the modern kitchen a relaxed vibe and has provided the grandchildren with a spot to store their toys, watch television and watch their grandmother cook.
Find more modern kitchen design ideas at one of our showrooms
A FREE showroom visit is a fantastic way to find kitchen ideas for your project. Book a free design consultation to view beautiful traditional and modern kitchen displays.
Not ready to meet us? View our beautiful kitchen brochure for more modern kitchen ideas.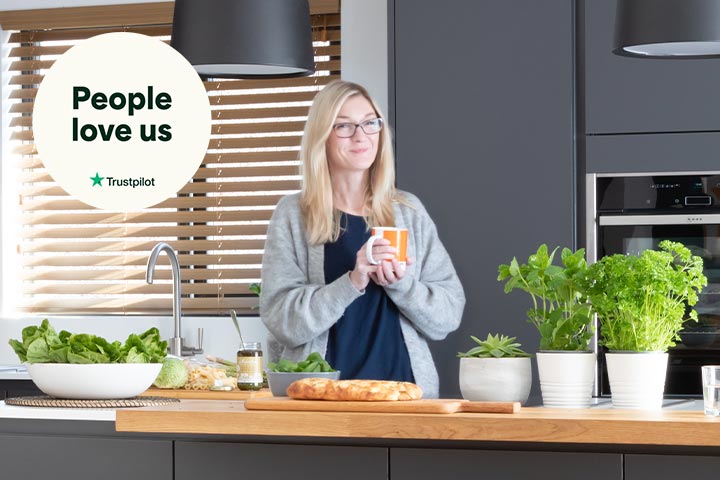 Book
Your Free

Design Consultation

Talk to a Design Consultant at your local showroom to get invaluable advice and a personalised 3D design and quote for your dream kitchen.

Book Now

Not ready to talk to us just yet?
Start your journey by exploring our free brochures, magazines & offers.
Visit our beautiful showrooms