Kitchen Ideas and Inspiration
Let Mr & Mrs Lloyd show you how to create a successful open plan kitchen
Published on 18 May 2022
Let Penny and Richard teach you a thing or two about planning a new open plan kitchen.
Penny and Richard have owned a beautiful cottage in Gower, Swansea, for over 22 years.
The couple had enjoyed using the beautiful seaside home as a getaway from city life from time to time and decided that when the time came to retire, the cottage would become their permanent abode.
When the couple began preparing the cottage for their retirement, they soon realised that it would take more than a fresh lick of paint to make the cottage their forever home.
So, the couple decided to embark on a complete renovation to transform the cottage into an open plan kitchen and living space.
Showroom visit after showroom visit, Penny and Richard felt that they hadn't found a kitchen that met their expectations.
An architect working on the cottage recommended Sigma 3 Kitchens in Swansea. So, they met kitchen designer Tom Warzycha at the showroom. Impressed with both Tom and the displays at the showroom, they began planning their new open plan kitchen.
What was the brief?
The goal was to create a functional, aesthetically pleasing open plan kitchen that worked seamlessly with the wider renovation project.
The couple described their previous kitchen as very traditional. So, to shake things up, both agreed to opt for a modern kitchen that matched the modernisation of the home. Penny also explained that the couple wanted something that was neutral but far from boring.
The design process
Our Sutton range in Scots Grey was the perfect way to achieve a neutral modern look. A textured, dark brown worktop was incorporated into the design to set the open plan kitchen apart from standard grey kitchens. This created a striking look and prevented the light cabinets from getting lost in the bright space.
A kitchen island was added to the design to help zone the open plan kitchen from the living space. Finally, lots of practical storage features and T-bar handles were added to finish the look.
The outcome
The completed open plan kitchen has created a kitchen that's as practical as it is beautiful
Richard explained that the open plan kitchen has made the home a highly sociable space;
"...when cooking on the island, you can look over to the living area and chat to whoever is there."
Penny expressed that her favourite part of her open plan kitchen is how
"...the contrast between the cabinets and worksurfaces creates a striking look that holds its one in the light space."
Are you ready to take your first steps to create an open plan kitchen too?
If Penny and Richard's open plan kitchen story has inspired you, or whether you're looking for something more traditional, our expert kitchen designers are here to help.
Take the first steps and speak with a Sigma 3 Kitchen designer today. Design consultations are FREE, and there's no obligation to take things further!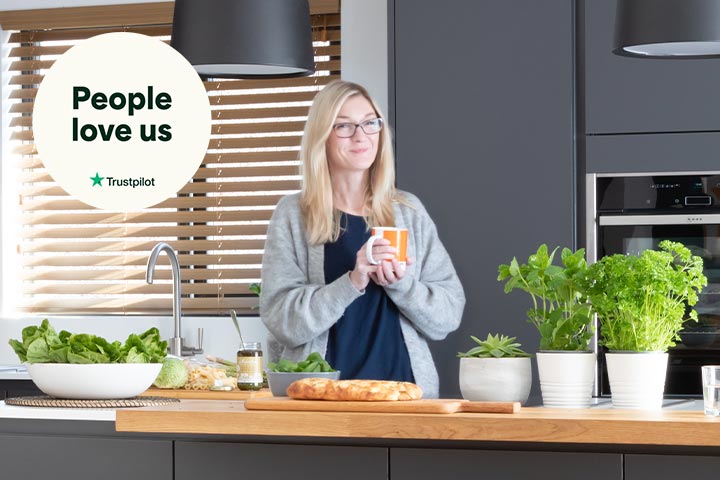 Book
Your Free

Design Consultation

Talk to a Design Consultant at your local showroom to get invaluable advice and a personalised 3D design and quote for your dream kitchen.

Book Now

Not ready to talk to us just yet?
Start your journey by exploring our free brochures, magazines & offers.
Visit our beautiful showrooms