Kitchen Ideas & Inspiration
Mr James white gloss kitchen
Case Studies / 25 Sep 2019
Earlier this year Richard James, a property developer, was on a quest to create his dream modern home. After visiting Sigma 3's showroom in Abergavenny, Richard decided to go for a show-stopping, white gloss kitchen to accompany his new build barn conversion.
We love to know why our customers chose us. We caught up with Richard to delve into his design brief and find out why he chose Sigma 3…
Richard explained that being able to purchase a kitchen that had been manufactured in Wales was important to him and had a huge impact on his decision. Richard loved how Sigma 3 was able to offer a high-quality service and product that was manufactured in Wales.
From the very beginning of his journey, Richard had a clear vision for his dream kitchen. He briefed our design team and explained that he wanted a simple kitchen with clean lines, copper finishes and a large kitchen island.
It was incredibly important to Richard that his new kitchen worked seamlessly with the rest of his barn conversion which mixed white and wood finishes throughout, playing homage to clean Scandinavian design.
The final result was incredible. Large kitchen islands and tall cabinets took centre stage creating an overall look of modern simplicity.
Are you considering opting for a modern, gloss kitchen like Richard? If so, we've put together some design tips when planning a white gloss kitchen…
Go Handleless
White gloss combined with a handleless design is a match made in heaven. The sleek lines of our H Line Collection elevates any white gloss kitchen and adds to the overall clean, contemporary look.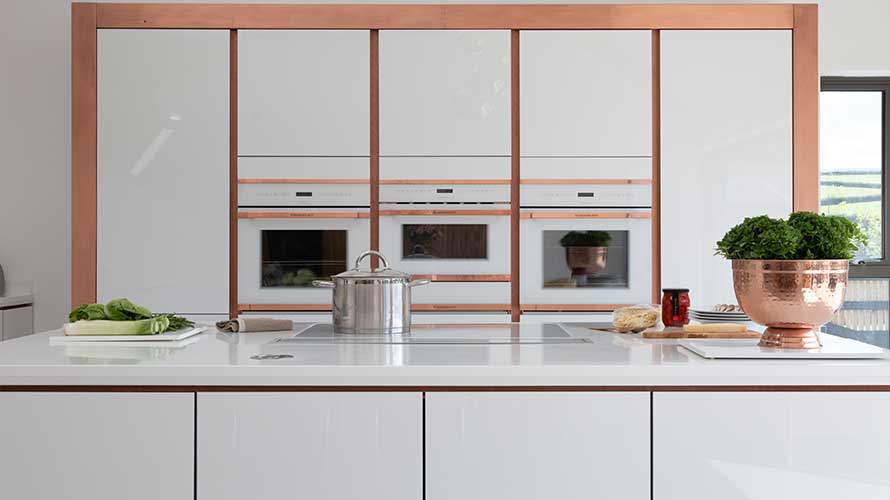 Colour Pop
Too much white gloss may make your kitchen look clinical, so make sure you use a range of handle rail colours. You could choose a colours that matches the doors or opt for a contrasting colour that will make a bold design statement. Take a look at our impressive range of handle rail colours – we have 30 colour options to choose from!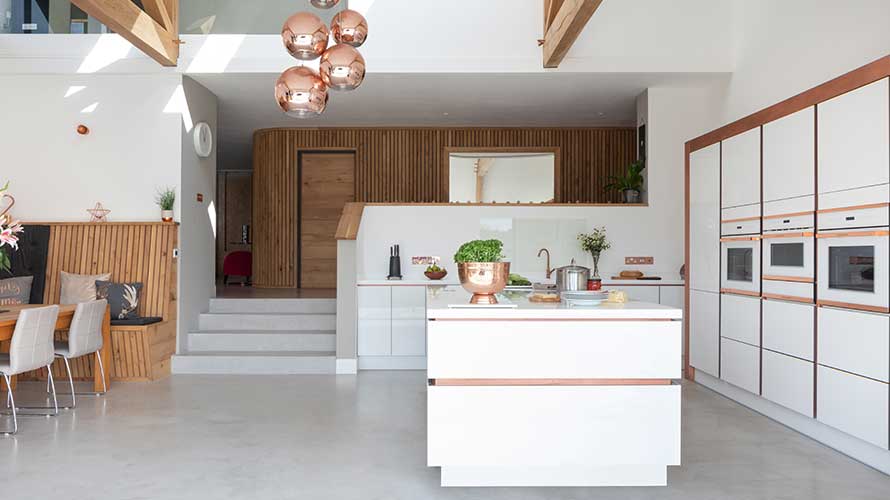 Combine with Wood
The wood in Richard's kitchen in combination with the white gloss creates warmth and compliments both the white gloss and copper accents well.

Make it Bright
One of the the great things about white gloss kitchens is that they look great in both large and small spaces. The glossy look creates a fabulous look in a large kitchen with lots of natural light, but works well in a smaller space as light bounces off the gloss, creating the illusion of more space that will make your kitchen look bigger.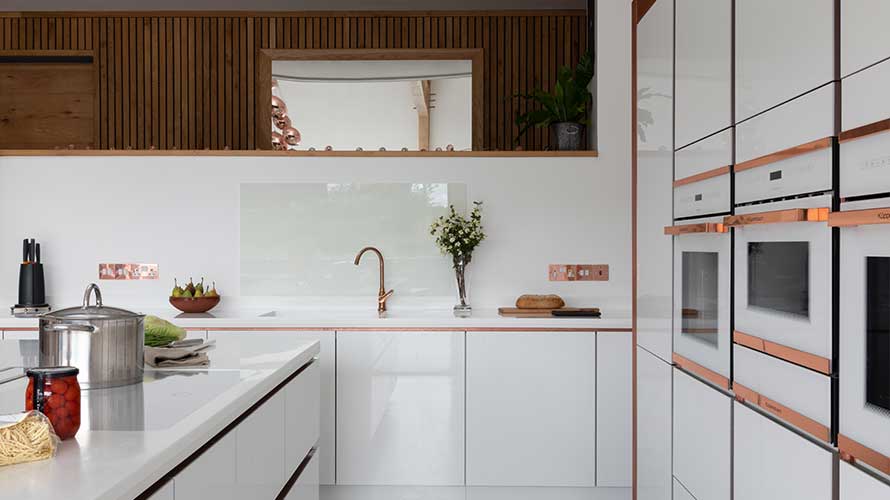 We are so pleased to have helped Richard create this amazing space. If you feel inspired by Richard's wonderful kitchen, feel free to request one of our free brochures or enquire for free at your local showroom!
Book your free design consultation online today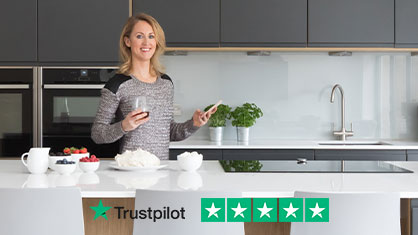 Have fun creating your wishlist, get a free 3D design & quote and talk about Finance Options. We'll give you an amazing experience.
Book now
View our free brochures, magazines and offers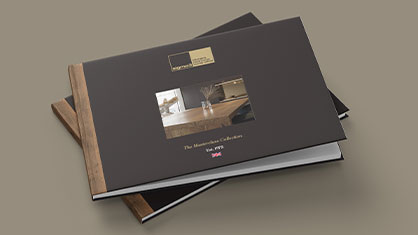 Explore ALL our kitchen and bedroom ranges, plus get exclusive access to our latest offers.
View our brochures
We are here to help you on your kitchen journey