Kitchen Ideas & Inspiration
7 Genius space-saving kitchen ideas for any kitchen
Ideas & Inspiration / 11 Jan 2022
Maximise your kitchen's storage and efficiency with these brilliant space-saving kitchen ideas.
No matter what shape, size, or layout of your kitchen, space is of utmost importance.
Having a small kitchen should never mean sacrificing function and style. After all, even the largest of kitchens can sometimes feel cluttered and messy without the right space-saving solutions in place.
Luckily, space-saving kitchen ideas are something we specialise in.
So, if you're searching for some innovative, space-saving kitchen ideas, read on for genius tips that will make you feel like you've doubled your kitchen's square footage.
1 - Space-saving coffee station
Coffee enthusiasts Paul and Angela found that their coffee machine was taking up too much counter space, and its bulkiness made for a cluttery eyesore in their sophisticated open-plan area.
So, Esher kitchen designer Olly created a custom coffee station within a kitchen cabinet. Now, Angela and Paul have not only freed their kitchen of clutter, but they also have a dedicated spot for their beloved coffee machine. You can watch Angela and Paul's full story here.
Custom cabinets are a great way to hide away other appliances, too, such as microwaves.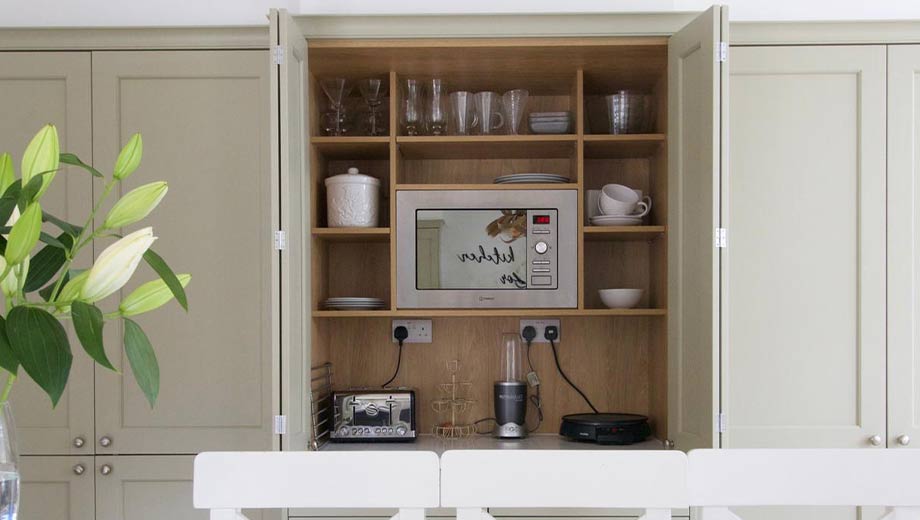 2 - Space-saving kitchen seating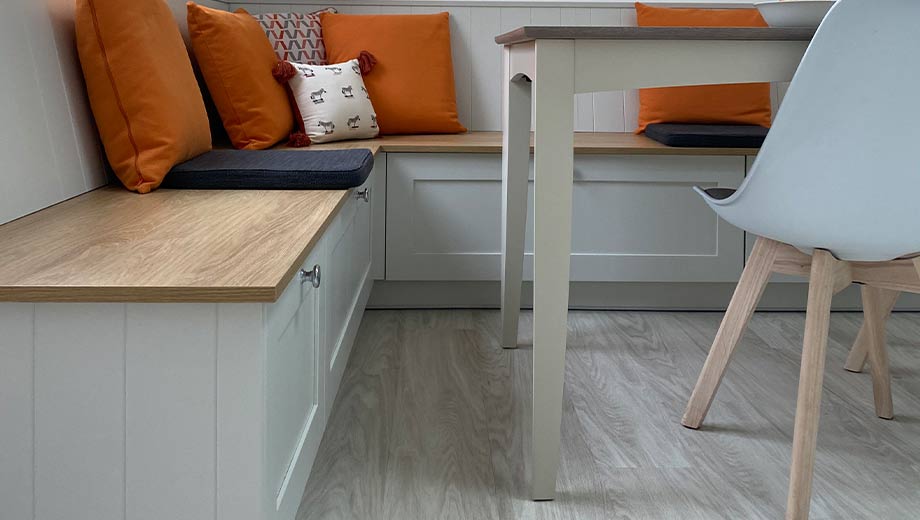 Cardiff customer Sally worried that adding a table and chairs would hinder her new shaker kitchen's open, airy feel.
So, kitchen designer Tabitha came up with the perfect space-saving idea. She designed a custom bench seating area that would sit tucked away in the corner of the room.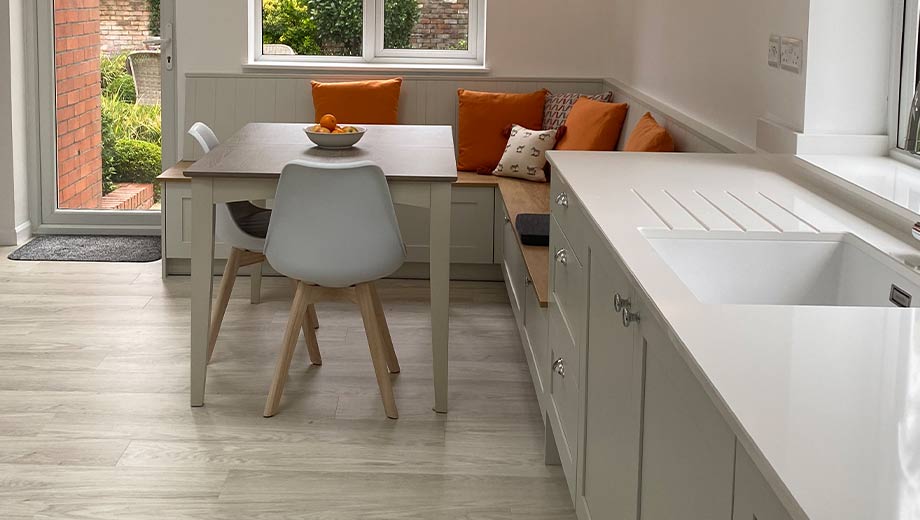 The cleverly designed seating arrangement doubles up as a storage feature. Below are pull-down doors that open up into storage cabinets, providing the family with even more storage space! See more of Sally's kitchen here.
3 - Space-saving corner storage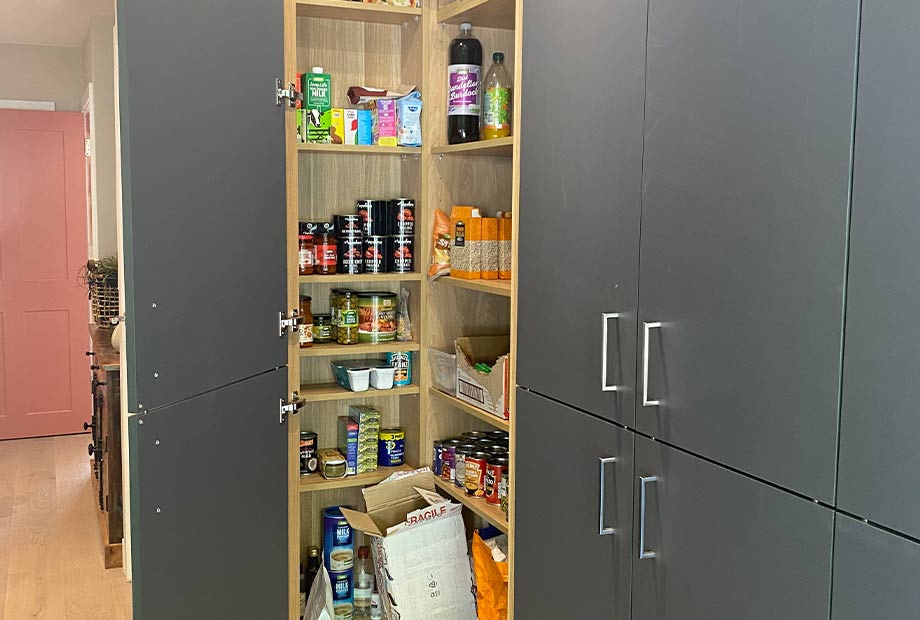 Another way of maximising corner space is with a corner pantry.
Corner's are so often overlooked in kitchen design. A corner pantry offers an alternative to larger walk-in pantries and utilise otherwise wasted space.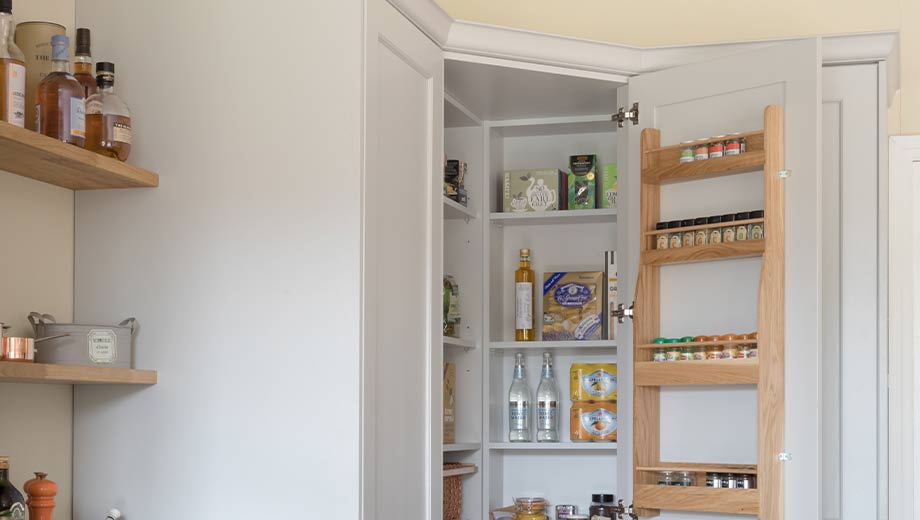 To truly make the most of your corner pantry, you could even hang things on its door like this spice rack.
4 - Space-saving shelving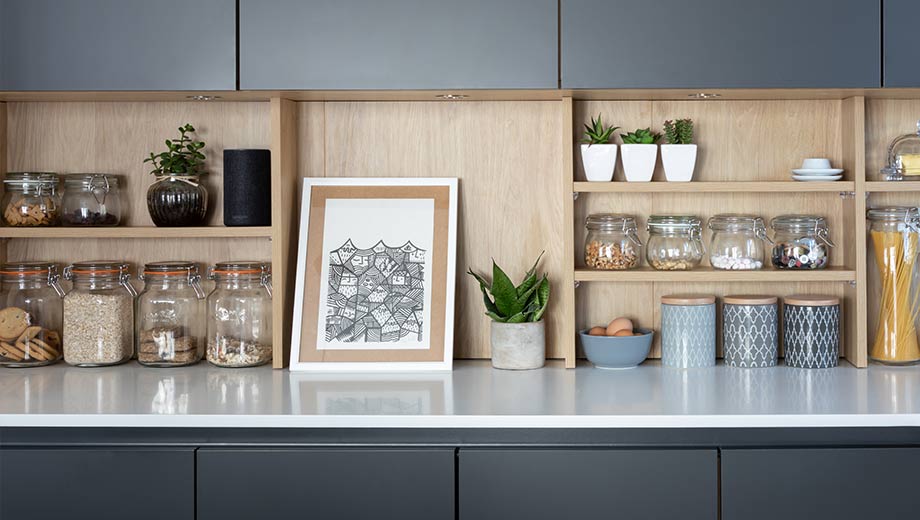 No pantry? No problem. Instead, purchase pretty jars or canisters and use your pantry staples to make a homely, eye-catching display. This will free up cupboard space for lesser-used items.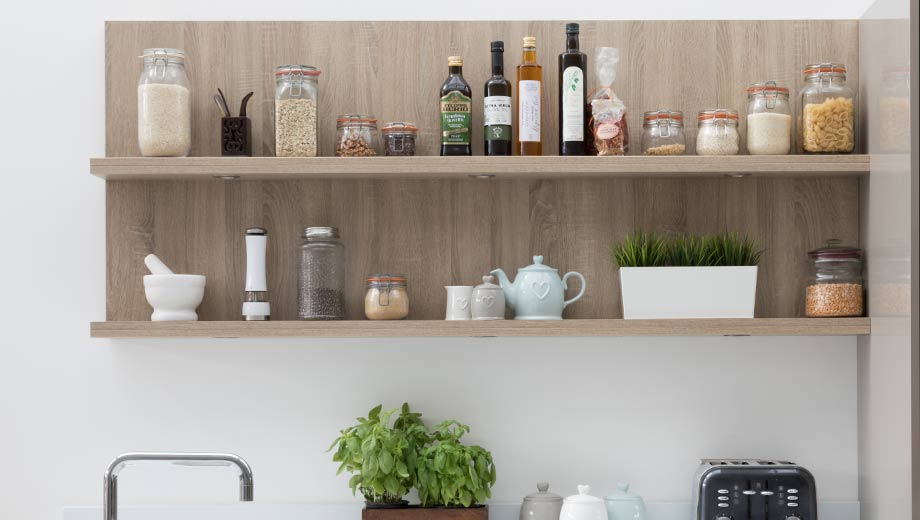 Open shelving is also a fantastic space-saving kitchen idea if you have a small kitchen. By replacing wall units with open shelving, you'll open up the space and prevent your kitchen from feeling cramped.
5 - Space-saving pull-out storage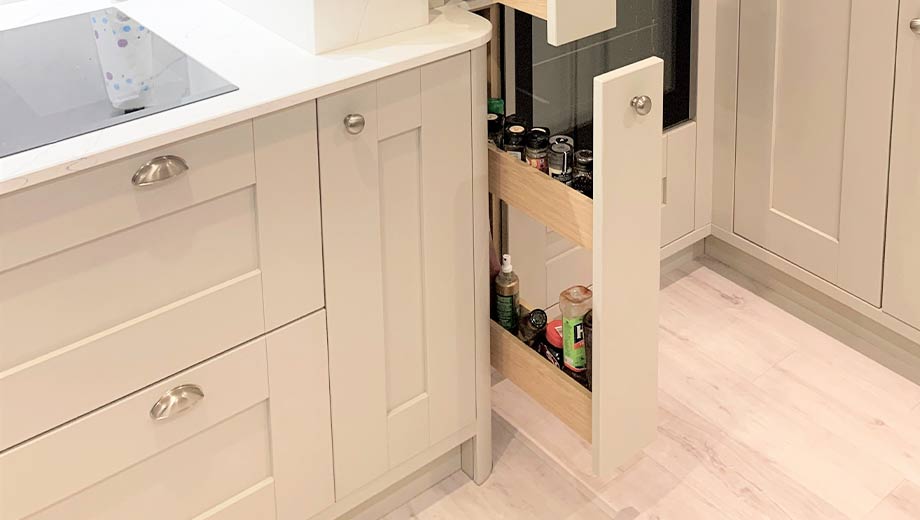 When it comes to space-saving kitchen solutions, pull out larders are a firm favourite with our customers because they can be tucked into the tightest of spaces.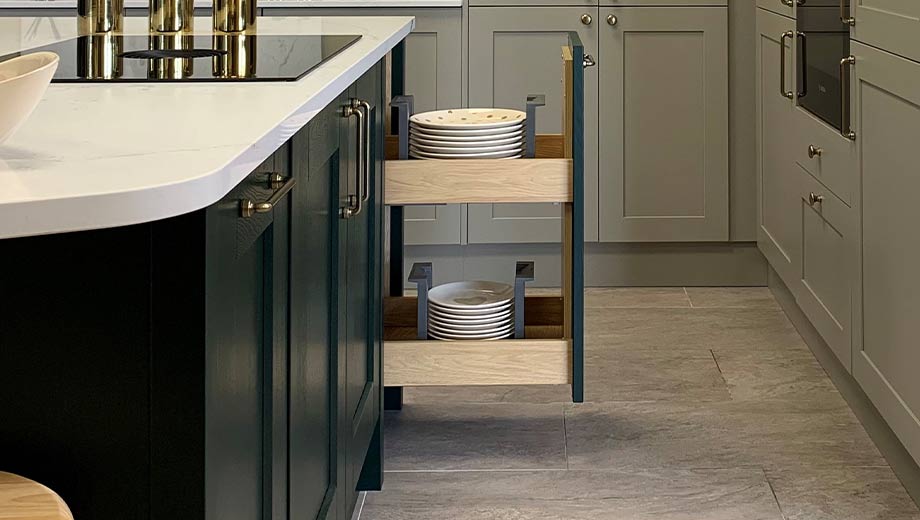 If you're thinking about incorporating a kitchen island into your design, a base pull out larder makes for a great space-saving kitchen idea. Ask your designer to add a pull out larder to your island for more space for condiments, spices, oils or even crockery!
6 - Space-saving kitchen cabinet doors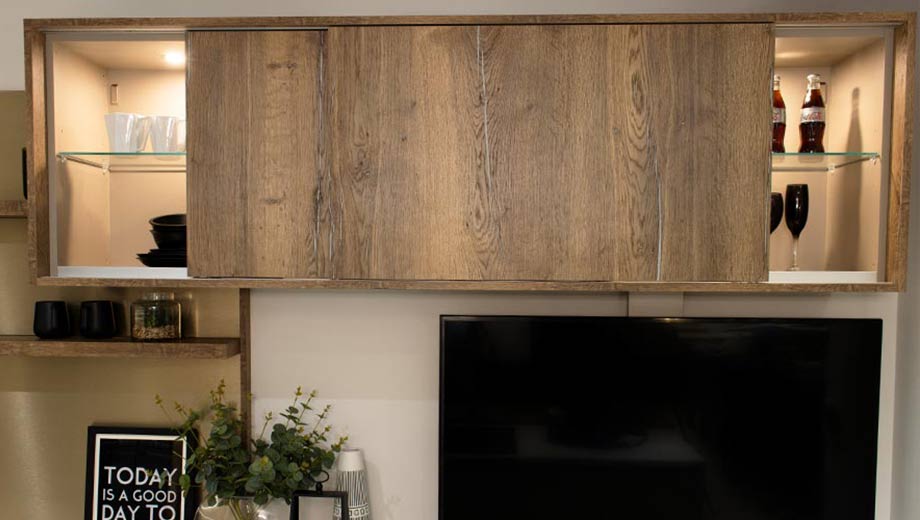 Sliding cabinet doors are the perfect space-saving kitchen idea for anyone with a small, modern kitchen.
By opting for sliding doors, you'll no longer have to worry about a lack of space when opening cabinets, making for effortless workflow.
7 - Space-saving base cabinets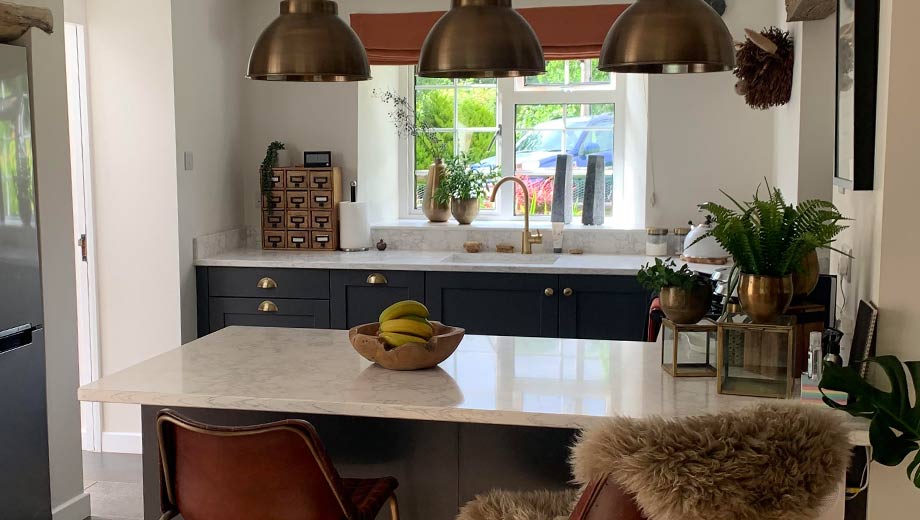 The innovative design of our kitchen cabinets means base cabinets alone will provide you with efficient storage. When kitchen designer met with the owner of this beautiful cottage in Abergavenny, she explained that removing wall units from her kitchen would provide the customer with far more space.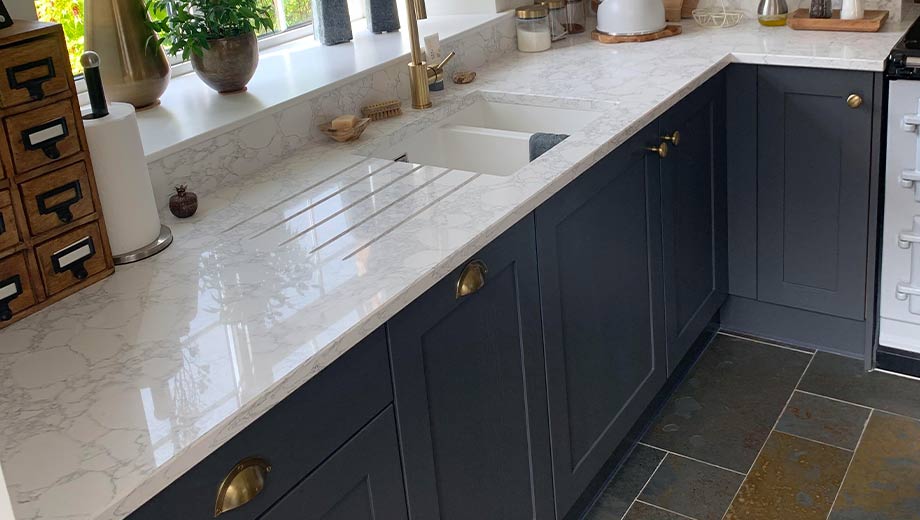 The addition of extra deep drawers for crockery and spacious base kitchen cabinets allowed Sam to open up her small kitchen. You can watch Sam's full kitchen story here.
Are you in need of more space-saving kitchen ideas?
Our expert kitchen designers will guide you on the best space-saving kitchen ideas for your space. Book your FREE, no-obligation design appointment today.
For more kitchen ideas and inspiration, view our beautiful new brochures.
Book your free design consultation online today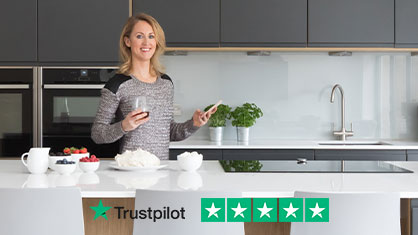 Have fun creating your wishlist, get a free 3D design & quote and talk about Finance Options. We'll give you an amazing experience.
Book now
View our free brochures, magazines and offers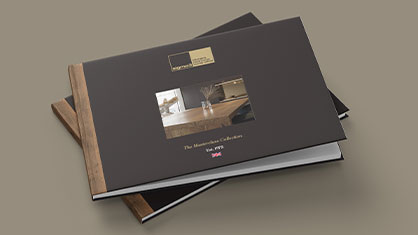 Explore ALL our kitchen and bedroom ranges, plus get exclusive access to our latest offers.
View our brochures
We are here to help you on your kitchen journey