Kitchen Ideas & Inspiration
Mrs Holland's striking grey shaker kitchen
Case Studies, Ideas & Inspiration, Swansea / 17 Mar 2022
Watch Mrs Holland's kitchen story and learn all about the design of her grey shaker kitchen.
When the Holland family moved into their beautiful home in Langland Swansea, a grey shaker kitchen was top of the to-do list.
The home's previous kitchen cabinets required some serious updating. Not only this, the family wanted to bring the kitchen to the front of the house where it would benefit from more space and more sunlight.
Rachel always knew she'd enlist the help of Sigma 3 Kitchens when the time was right. Our Swansea showroom came highly recommended by Rachel's brother, who'd had a fantastic experience.
So, Rachel headed to our Swansea showroom with a head of ideas and met with kitchen designer Tom.
What was the brief?
Rachel looked through Pinterest, Instagram and magazines to find ideas and decided she'd like a grey shaker kitchen with a contemporary feel.
The new space was generous in size, so the family wanted a large kitchen island with plenty of drawers where family and friends could perch.
The design process
Tom suggested a two-tone colour scheme to create the contemporary feel that Rachel was seeking. Rachel loved this idea and opted for Scots Grey cabinets with a Graphite kitchen island.
After trying out all the storage features in the showroom, Rachel decided to incorporate SpaceTower into her grey shaker kitchen design. This larder cabinet offers ample storage space and easy access that's perfect for the family's busy household.
A Velabin was added to the kitchen island to keep waste and odours hidden away, and open shelving was added to one wall to break up cabinetry.
The outcome
The new grey shaker kitchen is as striking as it is practical. The Scots Grey cabinets provide a neutral backdrop allowing the Graphite island to really stand out.
The family have already put the kitchen island through it's paces with parties and family gatherings.
Rachel has used her flair for décor to style her grey shaker kitchen with contemporary accessories that complement the scheme beautifully.
When asked about her new kitchen, Mrs Holland said; "We love it. It plays a big role in our daily lives.".
Has Mrs Holland's grey shaker kitchen inspired you to start your own kitchen journey?
If you'd like to try out kitchen features for yourself, view displays and get advice from expert designers, book a design consultation today.
Design consultations are FREE and there's no obligation to take things further!
Book your free design consultation online today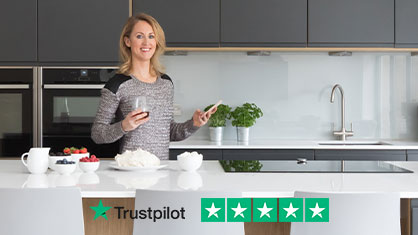 Have fun creating your wishlist, get a free 3D design & quote and talk about Finance Options. We'll give you an amazing experience.
Book now
View our free brochures, magazines and offers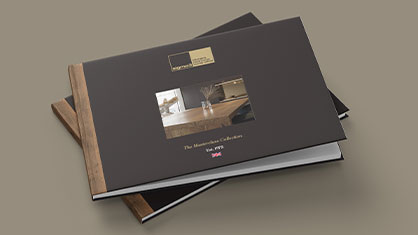 Explore ALL our kitchen and bedroom ranges, plus get exclusive access to our latest offers.
View our brochures
We are here to help you on your kitchen journey