Kitchen Ideas & Inspiration
Kitchen seating ideas that will make you rethink a table and chairs
Ideas & Inspiration / 15 Mar 2021
Kitchen seating might come as an afterthought when planning your new kitchen, but your chosen seating arrangement can be detrimental to the look and function of your space.
Tables and chairs may seem like an obvious choice when choosing kitchen seating arrangement, but tables can be space-eaters, and finding a set that works seamlessly with your space might come as a challenge.
Our expert kitchen designers have designed a countless number of beautiful seating arrangements that are as practical as they are beautiful.
Take a look at these clever kitchen seating arrangements and find out which will work best for your household.
Breakfast bar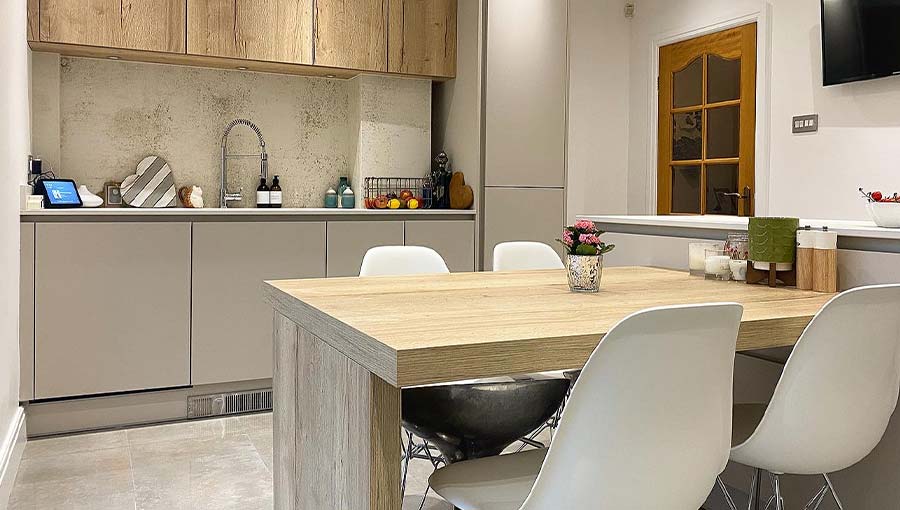 H Line Sutton Highland and Ligna Mayfield Oak, designed by Beth Thomas in Cardiff Culverhouse Cross
Breakfast bars are a sure way to brighten up your morning coffee. The ease of pulling up a chair to perch for a short period of time makes breakfast bars a popular choice.
Breakfast bars can be tailored to suit your style and blend with the scheme of your kitchen. This breakfast bar has been created using our Ligna range, blending seamlessly with the rest of the kitchen's design.
Banquette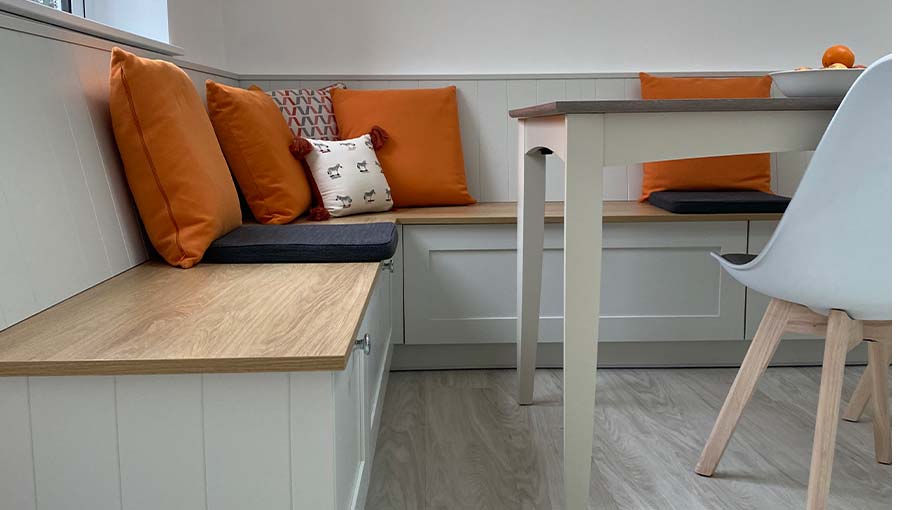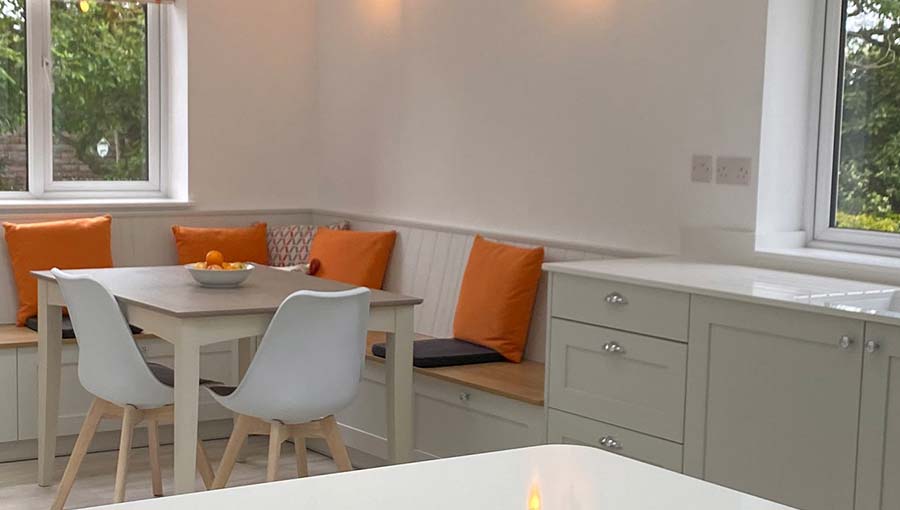 Hardwick Scots Grey, designed by Tabitha Blanks in Cardiff Culverhouse Cross
This customer wanted to avoid table and chairs to keep their new shaker kitchen open and airy.
Instead, kitchen designer Tabitha utilized corner space to create a banquette seating arrangement, which really gives this shaker kitchen an edge and bespoke look. What's more, there are large drawers built into the bench, offering a great amount of extra storage space -bonus!
Indent your kitchen island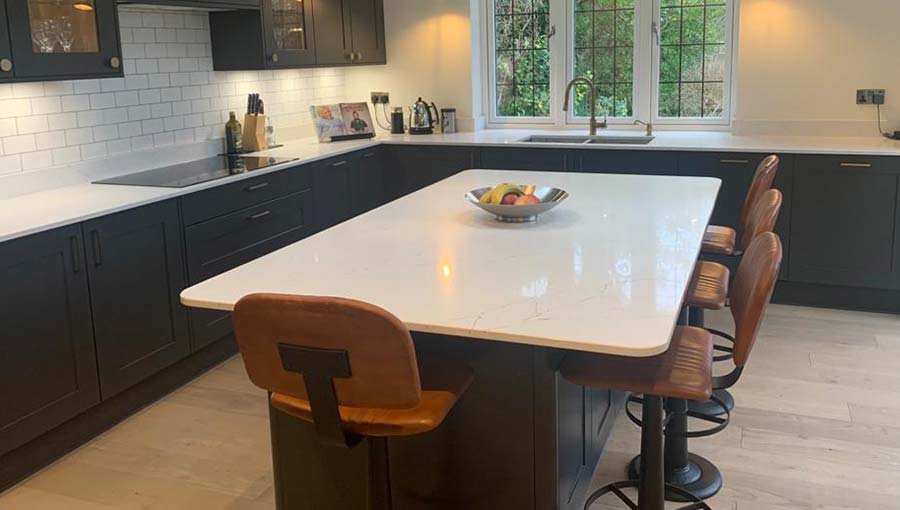 Marlborough Graphite, designed by Ollie Willcox in Esher
If you're fortunate enough to have a large kitchen, a kitchen island is a great option for seating.
The customer has chosen to indent their kitchen island so stools can me placed underneath, creating a perfect place for family and friends to gather while others cook in the kitchen.
Don't worry if you don't have a large kitchen though - our kitchen islands can be tailored in shape and size to suit your individual requirements!
Window seating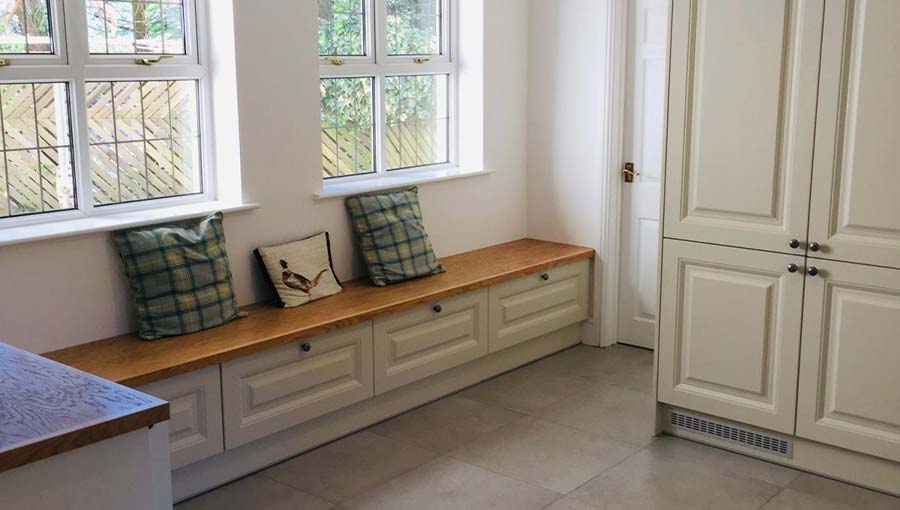 Haddon Mussel, designed by Ceri Billington in Swansea
If you have a little extra space under your window, this can be a great place for casual seating.
Window seats complement country style kitchens wonderfully. We can just envisage taking off muddy footwear while gazing and rural splendor.
A window seat like this is always a great way to ensure kitchen and dining area flow together if your kitchen and dining space is open plan.
Just add bar stools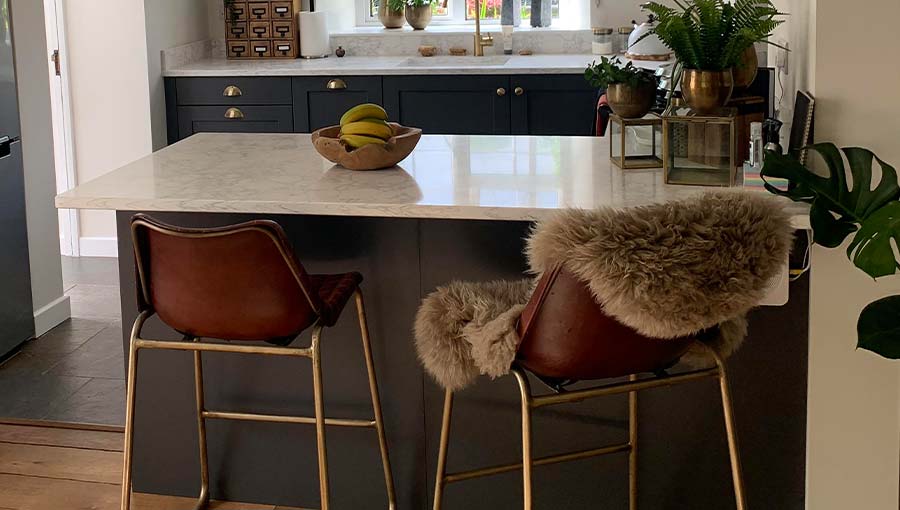 Hardwick Graphite, designed by Emma Randall in Abergavenny
U-shaped kitchens and breakfast bars go hand in and. Kitchen designer Emma has utilized this U-shaped kitchen by creating a worktop overhang and indenting the unit, providing a perfect place to perch whilst taking up minimal space.
Take advantage of architectural features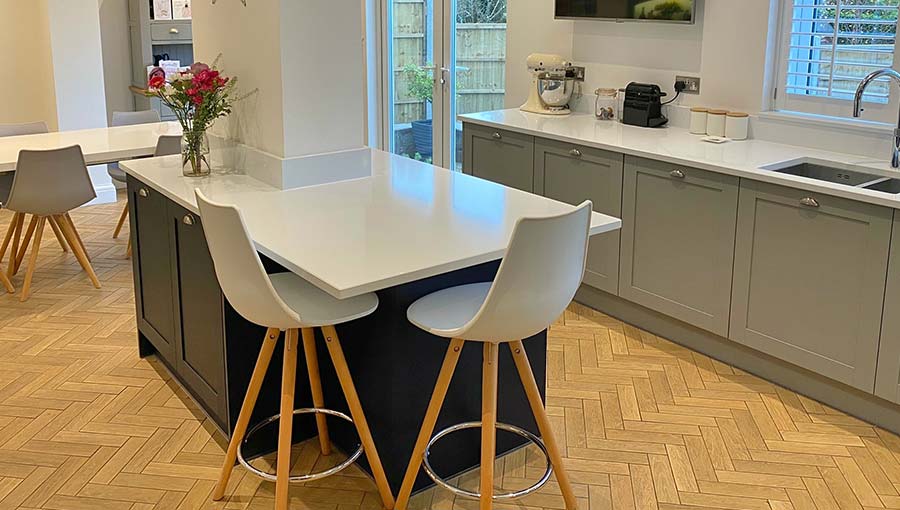 Shelford Dust Grey and Inkwell, designed by Joseph Jeynes in Cardiff Culverhouse Cross
Don't let awkward beams and architectural features hinder your kitchen's design. Kitchen designer Joseph made good use of the house's supporting beam to create a seating arrangement.
Are you ready to start your kitchen journey with us?
Talk to our expert designers about your dream design today. We offer a free design consultation service, where you can complete a wishlist and get a no-obligation design and quote - book yours online today.
Not ready to speak with us just yet? View our beautiful new brochures for some inspiration.
Book your free design consultation online today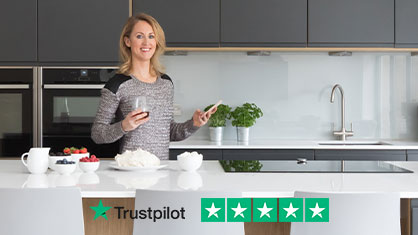 Have fun creating your wishlist, get a free 3D design & quote and talk about Finance Options. We'll give you an amazing experience.
Book now
View our free brochures, magazines and offers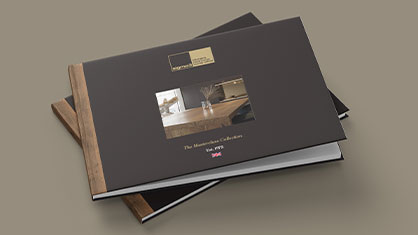 Explore ALL our kitchen and bedroom ranges, plus get exclusive access to our latest offers.
View our brochures
We are here to help you on your kitchen journey