Kitchen Ideas & Inspiration
How to make your two tone kitchen design stand out
Ideas & Inspiration / 19 Nov 2020
Two tone kitchens offer a unique level of flexibility. They allow you to achieve a kitchen design that's truly personal to you.
With our beautiful array of kitchen colours and finishes at Sigma 3, the options really are endless. No matter what look you desire, we guarantee it can be achieved with a two tone kitchen from us.
If you're drawn to a more neutral palette, two of our stylish base tones can be mixed to achieve a sophisticated colour scheme. Alternatively, our statement colours and textured finishes can be added to make a bold impact and add a sense of flair.
Want to design a kitchen that's unique to you? Here are our favourite two tone kitchen ideas that are sure to inspire you.
1. Neutral two tone kitchen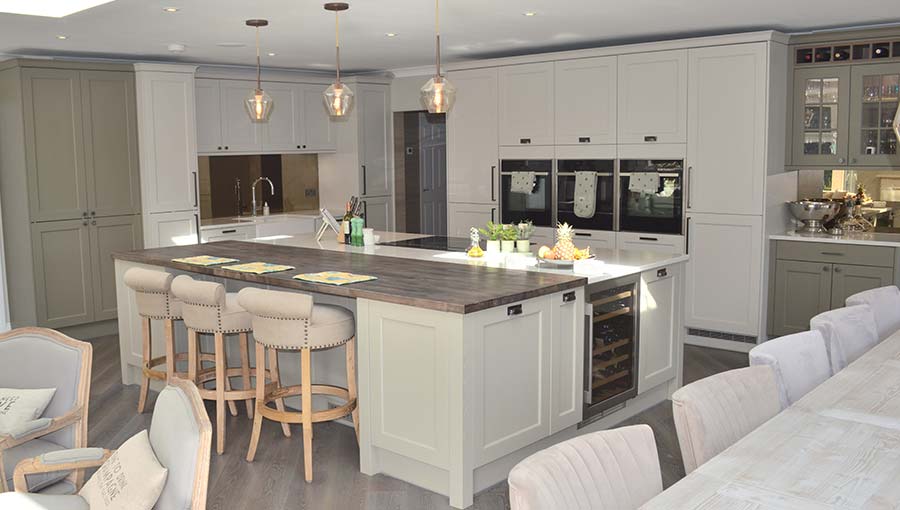 Ashbourne Highland Stone and Olive, designed at our Esher showroom
Achieve a cohesive feel throughout your kitchen with a muted, complementary colour scheme. Sometimes less is more – and choosing two similar tones can result in a design that oozes elegance.
The owner of this large two tone kitchen opted for two calming shades from a neutral palette. The simplicity of this colour scheme allows the classic kitchen's ornate features and pendant lighting to really stand out.
2. Light and dark two tone kitchen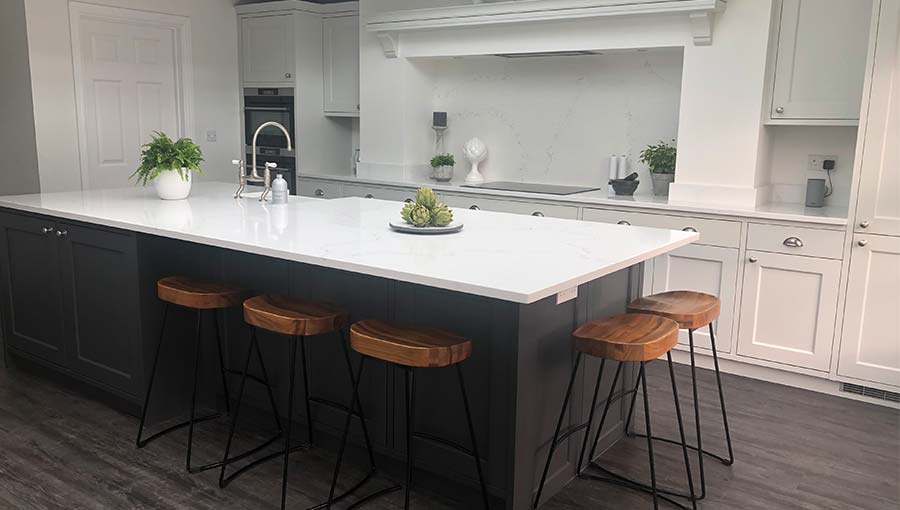 Ashbourne Graphite and Light Grey
This two tone kitchen features crisp, white cabinets. They blend seamlessly with the light walls to establish a neutral backdrop. Against this, the dark blue kitchen island creates a striking contrast. It instantly becomes the focal point of the room.
By pairing a minimalistic shade with a dark colour statement, you can easily help your favourite kitchen feature to stand out. A light and dark two tone kitchen will truly allow your showstopper kitchen island to shine.
3. Vibrant two tone kitchen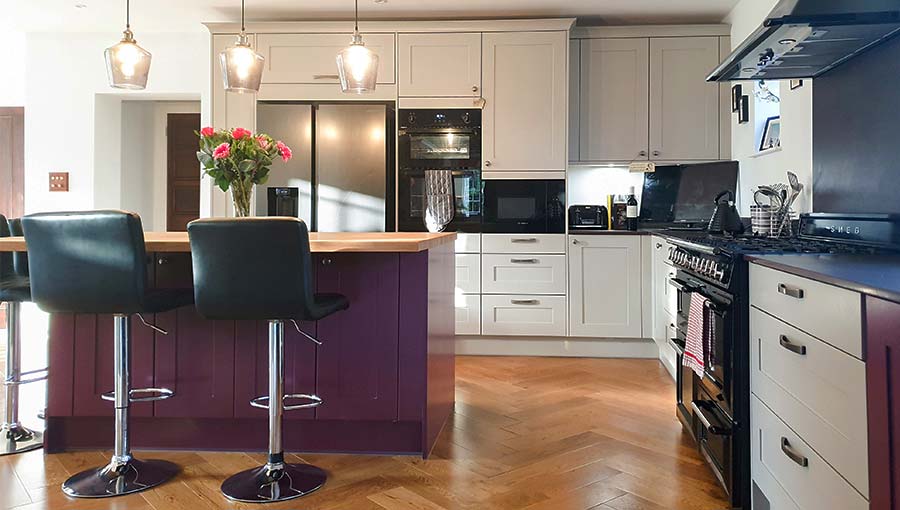 Marlborough Farringdon Grey and Claret, designed at our Esher showroom
If you want to stand out from the crowd, why not add a vibrant splash of colour to your two tone kitchen?
This shaker kitchen pairs light grey cabinets with ravishing red colour pops. Against the paler base tone, the rich claret shade evokes a luxurious feel - without being too overpowering.
We have an array of beautiful colour options that will add individuality to your two tone kitchen. Our soft and feminine Autumn Blush colour and our powerfully purple Mulberry colour are great examples.
If a less conventional space is what appeals to you, a vibrant two tone kitchen is the perfect choice for your home.
4. Textured two tone kitchen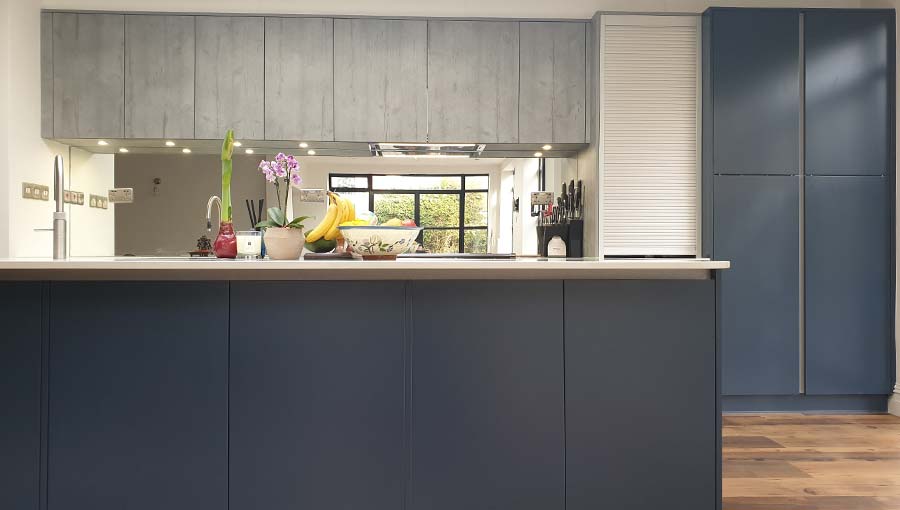 H Line Hampton Oxford Blue with Madoc Manhattan, designed at our Esher showroom
If the base tone of your two tone kitchen is rich and dark, adding some texture can help to break up the room.
The owner of this kitchen chose to soften her deep blue cabinets with some grey stone-effect cabinets. The grey shade is in keeping with the cool blue tones, but also adds some natural character to the sleek and modern handleless kitchen design.
5. Warm wood two tone kitchen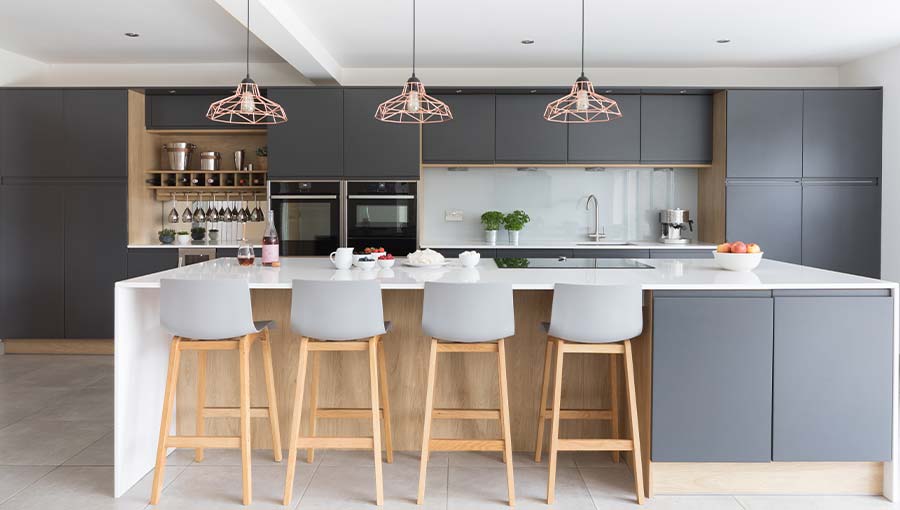 Roma Graphite and Madoc Portland Oak, designed at our Colchester Avenue showroom
Do you have your heart set on one shade for your kitchen, but worry it could be too overpowering?
Two tone kitchens traditionally consist of two different coloured doors - but the addition of warm wood to a uniform kitchen can achieve a two tone feel.
This example uses Portland Oak to bring a sense of warmth to a black modern kitchen. The homely but glamorous drinks feature blends perfectly with the sleek kitchen cabinets. The space retains its dark and dramatic look, but also benefits from the addition of these bespoke touches.
Do you want to add a splash of personality to your kitchen and achieve a two tone look? Then explore our stunning collection of warm wood kitchen design features today.
Are you ready to start your kitchen journey with us?
Our passionate team of expert designers are on hand to create your dream two tone kitchen. Book your FREE design consultation with us today.
If you're not quite ready to speak to us yet, why not browse through our beautiful brochures?
Book your free design consultation online today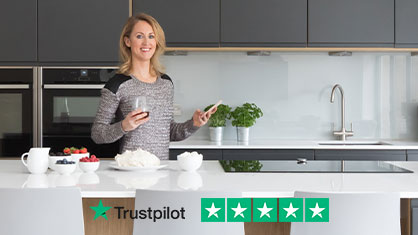 Have fun creating your wishlist, get a free 3D design & quote and talk about Finance Options. We'll give you an amazing experience.
Book now
View our free brochures, magazines and offers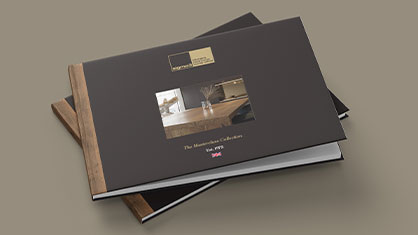 Explore ALL our kitchen and bedroom ranges, plus get exclusive access to our latest offers.
View our brochures
We are here to help you on your kitchen journey