Kitchen Ideas & Inspiration
How an open plan kitchen could benefit your home
Ideas & Inspiration / 29 Oct 2020
The role of the kitchen has changed with our lifestyles, so it's only natural that layouts and designs are transforming too - we are seeing more and more open-plan kitchen designs and it's no wonder why.
Open-plan kitchens have many visual and practical benefits. People with homes on the smaller size opt for an open plan design to create that sought after, light and airy feel. After all, fewer rooms mean larger rooms.
Open-plan kitchens are undoubtedly convenient for busy households. They allow parents to watch over children in the living space when working in the kitchen.
Homes that are hubs for socialization could also benefit from an open plan design. The open area will prevent you from isolation from guests while you potter away with food prep.
Contemplating creating your own open-plan space? Here are some fantastic open-plan kitchen designs that are our bound to fill you with ideas for your own home.
Dark open-plan kitchen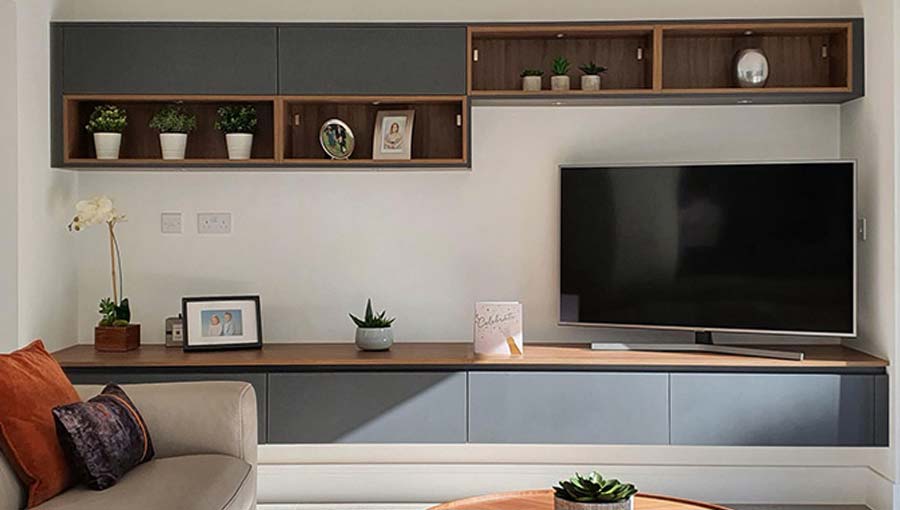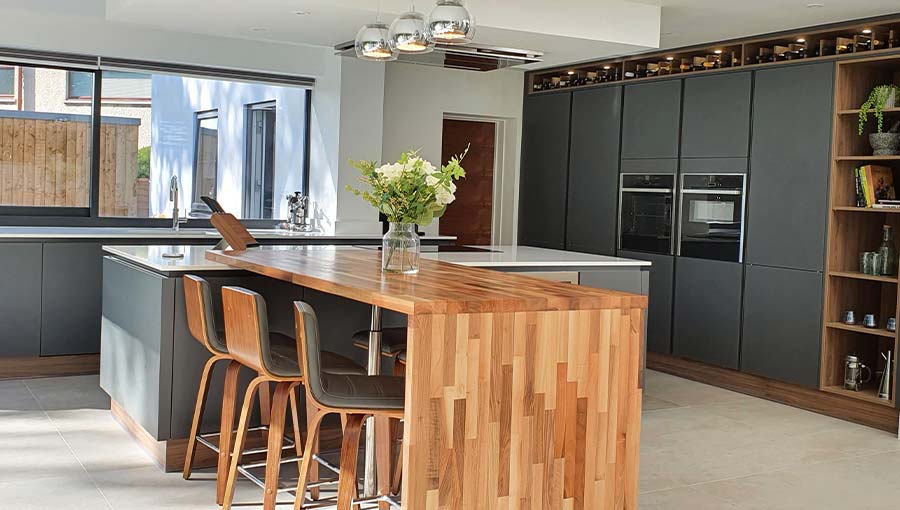 H Line Sutton Graphite, designed at our Cardiff Culverhouse showroom
In a large area like this, light cabinets would simply get lost in the space. This gorgeous open-plan kitchen and living area demonstrate how dark kitchen cabinets work perfectly in large open spaces.
The addition of our H Line drawers and cupboards in the living area brings the space together, and the addition of natural wood tones bring warmth to this ample space.
Open-plan modern gloss kitchen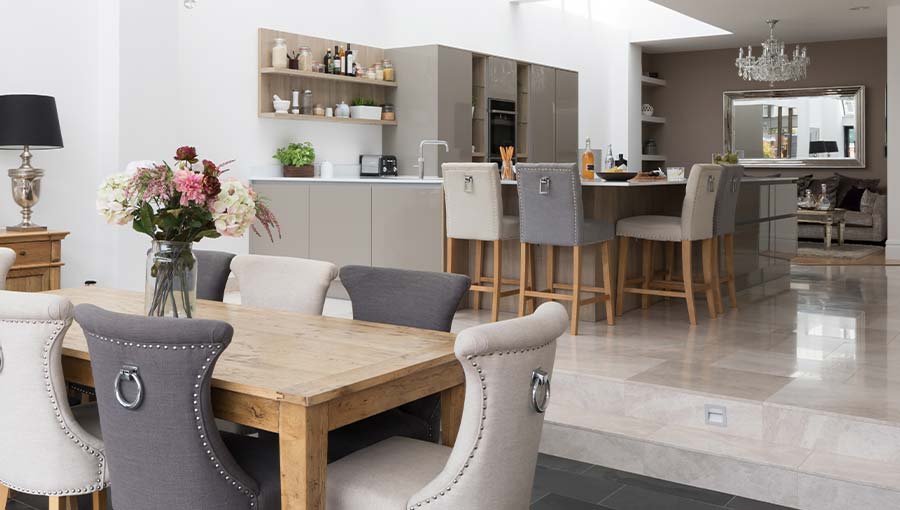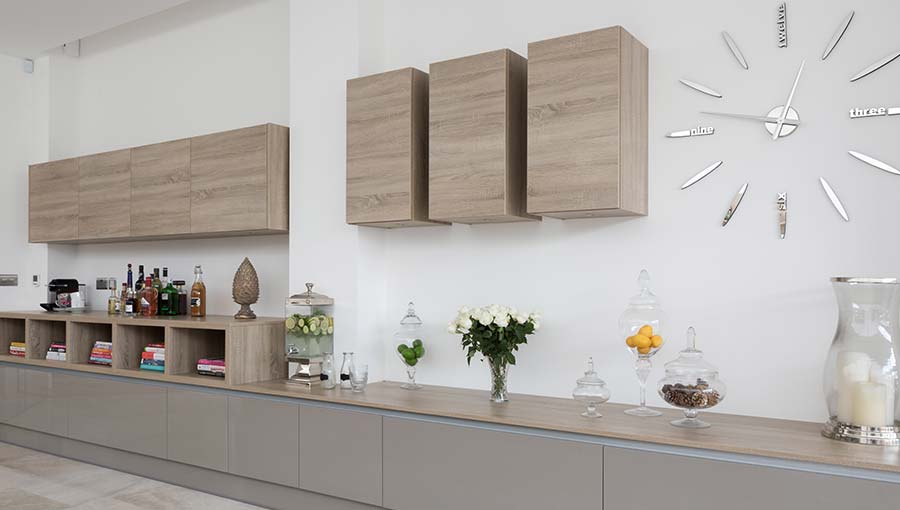 H Line Lumina Highland Stone, designed at our Cardiff Culverhouse Cross kitchen showroom
The owners of this large open-plan space where searching for a grey kitchen with clean lines to complete their newly renovated Victorian Home.
Neutral grey tones and natural wood finishes are used throughout this space to create a perfect flow from the kitchen to the living area to the dining area.
White gloss open-plan kitchen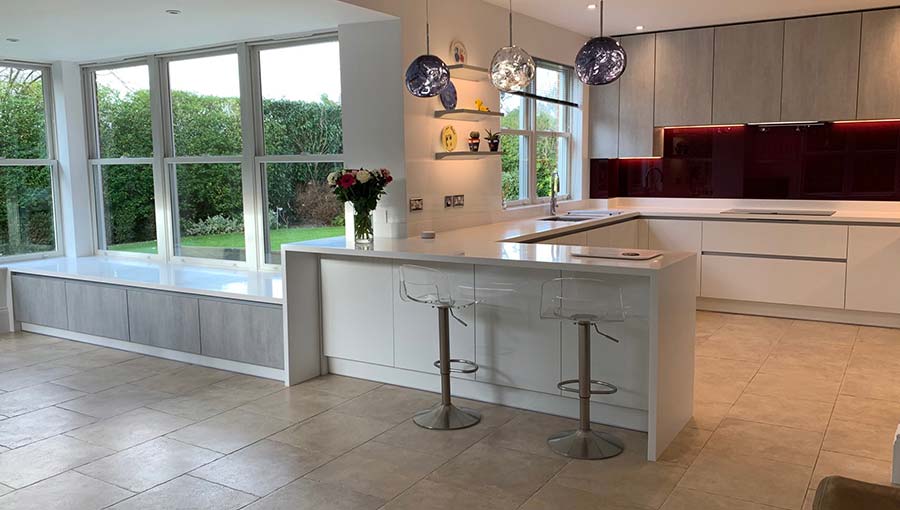 H Line Lumina Scots Grey and Deco Silver Oxide, designed at our Esher kitchen showroom.
The addition of Silver Oxide and bright splashback makes this white gloss kitchen stand out from the crowd.
Our designers at our Esher kitchen showroom cleverly came up with a way to connect the kitchen with the dining and living space.
The window seat was created to seamlessly connect both areas. Not only is this design feature incredible stylish, it also offers an abundance of extra storage.
Classic open-plan kitchen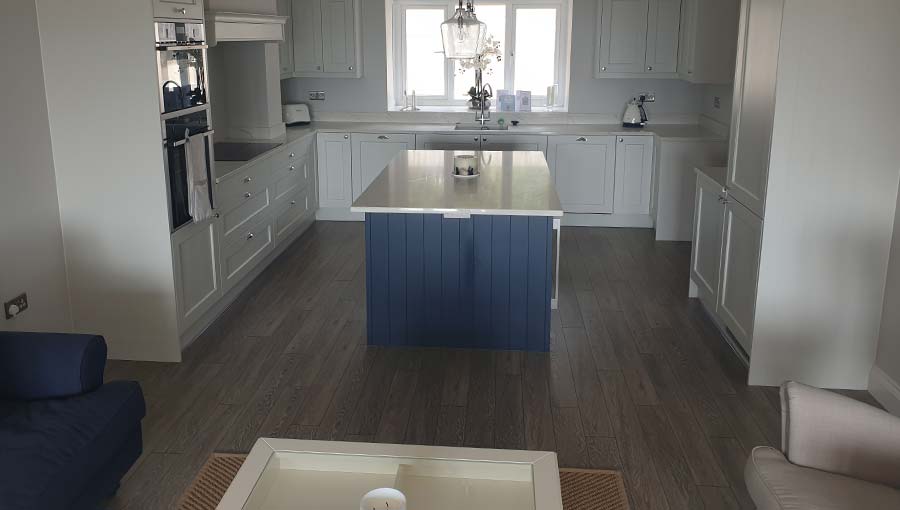 Ashbourne Scots Grey, designed at our Swansea kitchen showroom
Contrary to popular belief, you don't need a modern kitchen for open-plan to work.
This elegant shaker kitchen demonstrates how kitchen islands help zone the kitchen in an open-plan space.
Rustic modern open-plan kitchen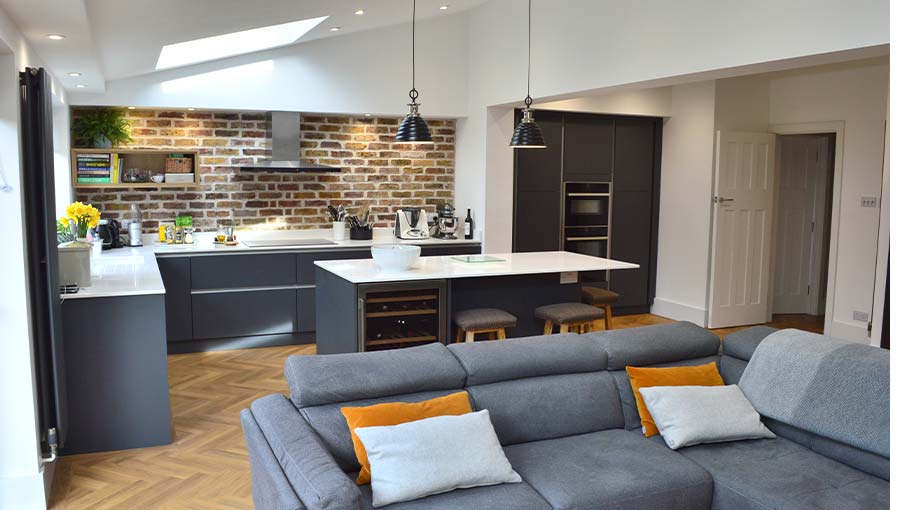 H Line Sutton Graphite, designed at our Esher showroom
We adore how the exposed brick wall brings a rustic touch to this modern, multifunctional space.
The owner of this handleless kitchen has taken full advantage of the large open space and incorporated our beloved pantry system, The Hathaway, for optimum organization.
Book your free design consultation online today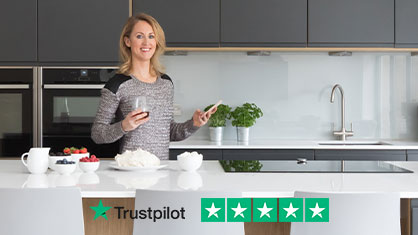 Have fun creating your wishlist, get a free 3D design & quote and talk about Finance Options. We'll give you an amazing experience.
Book now
View our free brochures, magazines and offers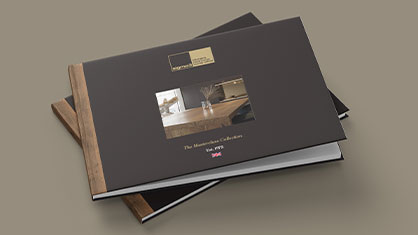 Explore ALL our kitchen and bedroom ranges, plus get exclusive access to our latest offers.
View our brochures
We are here to help you on your kitchen journey