Kitchen Ideas & Inspiration
6 Ways to make your kitchen island your greatest asset in the kitchen
Ideas & Inspiration / 10 May 2021
When choosing a kitchen island, you don't just want it to look good; your kitchen island should also be a practical addition to your new kitchen.
So, you've decided you'd like a kitchen island in your new kitchen. That comes as no surprise to us; 90% of customers enquire about a kitchen island in their initial design appointment!
At Sigma 3, we have plenty of ways to make your kitchen island functionally beneficial. Whatever size, shape, or style your kitchen, our designers have the expertise to create a kitchen island that is as practical as it is beautiful.
Here are some kitchen island tips and ideas that will make your kitchen island your greatest asset in the kitchen.
1 - Add storage to your kitchen island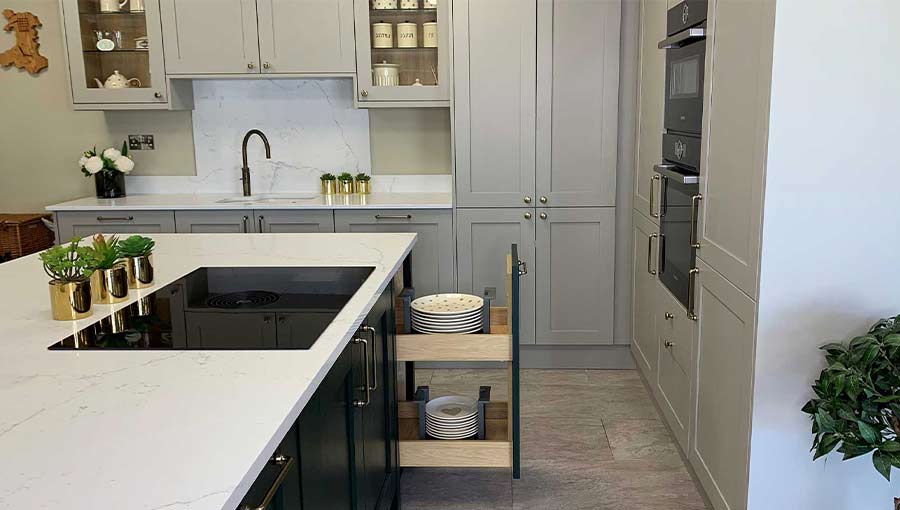 Hardwick Farringdon Grey with Solva Hunter Green
It goes without saying, but storage is key in any kitchen.
Utilize your kitchen island by adding in storage.Our Magnaspace pull-out larder makes a great addition to a kitchen island because it can be tailored to your individual needs. If you have a modern, handleless kitchen, take advantage of modern storage solutions and add extra wide, extra deep drawers to your kitchen island.
Want your storage to also make a statement? Opt for wine racks and display your finest wines with pride.
2 - Make a statement with your kitchen island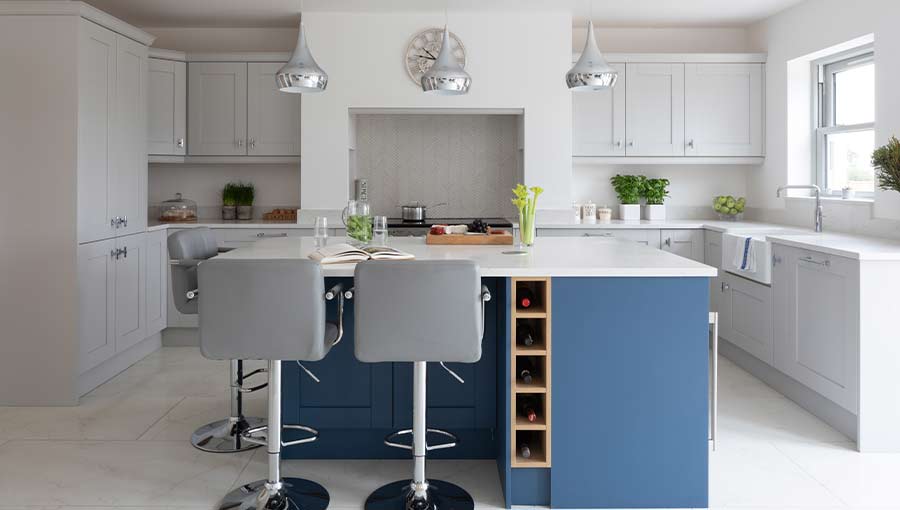 Sherborne Windsor Blue and Light Grey
Kitchen islands provide the opportunity to introduce new colours into your kitchen's design. If you want to make a statement, opt for a bold colour to create a focal point.
If you want a neutral colour scheme but simultaneously want to play with colour, use your kitchen island to add a splash of colour to your kitchen's design.
3 - Kitchen island for zoning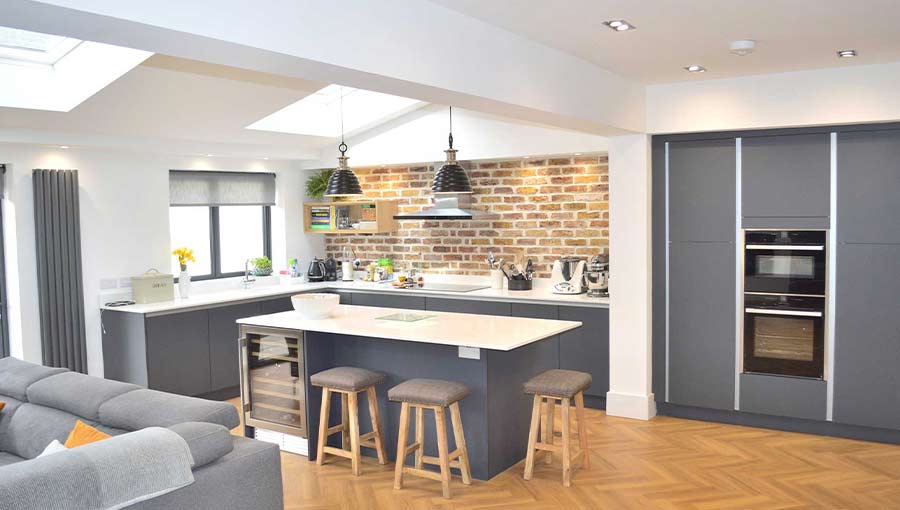 H Line Sutton Graphite
Kitchen islands are extremely beneficial if you have an open-plan kitchen and living area.
By incorporating a kitchen island, you'll create a clear distinction from kitchen area to living area, zoning the whole space.
4 - Kitchen islands for seating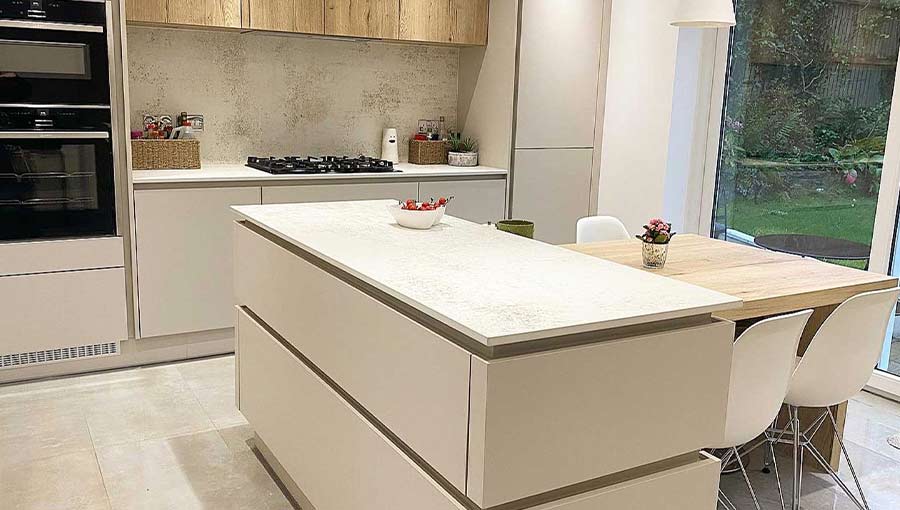 H Line Sutton Highland Stone with Ligna Mayfield Oak
You'll never need to purchase a table and chairs when you have a kitchen island.
Add seating to your kitchen island by indenting the worksurface and putting stools underneath. Alternatively, you could add a breakfast bar to the island and create a little spot for your morning coffee.
5 - Increase counter space with a kitchen island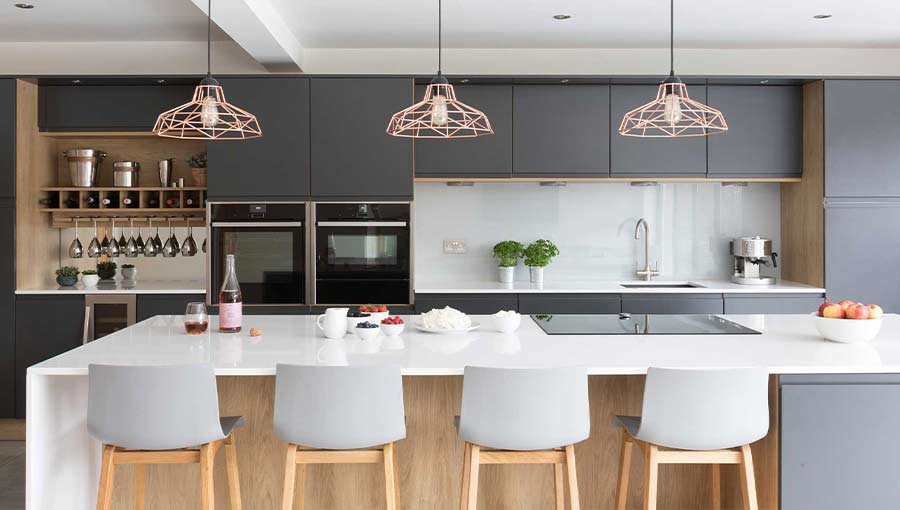 Roma Graphite
Do fancy yourself a bit of a chef? A kitchen island will provide you with copious amounts of prep space to lay out all your ingredients. Add stools to the island so people can keep you company as you work away.
6 - Kitchen islands for appliances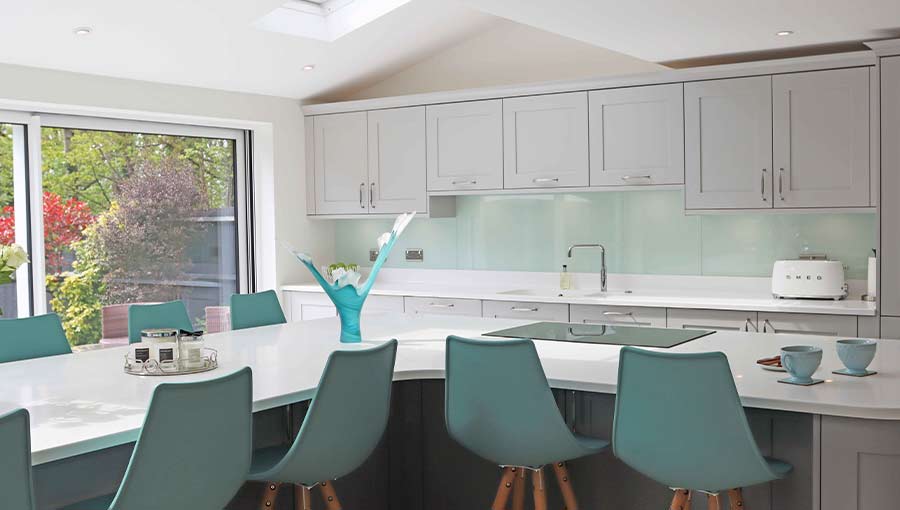 Marlborough Light Grey
Kitchen islands can be designed with a varying number of appliances, depending on your desired workflow and the size of the island.
Placing a hob on your kitchen island will create a more sociable space, then place a pan drawer underneath for a perfect workflow.
Are you ready to add a kitchen island to your home?
If you want to add a perfectly functional kitchen island to your home, book your free design consultation online today.
Book your free design consultation online today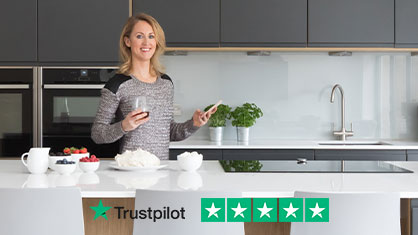 Have fun creating your wishlist, get a free 3D design & quote and talk about Finance Options. We'll give you an amazing experience.
Book now
View our free brochures, magazines and offers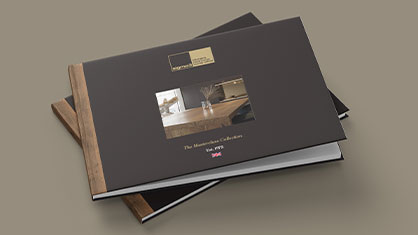 Explore ALL our kitchen and bedroom ranges, plus get exclusive access to our latest offers.
View our brochures
We are here to help you on your kitchen journey