Kitchen Ideas & Inspiration
5 way to incorporate the warm colours kitchen trend into your home
Ideas & Inspiration / 14 Jan 2021
Warm colours are going to be big in 2021, and we can't wait to see what our kitchen designers have in store.
Our warm colour palette encompasses an array of earthy tones and toasty neutrals that can be incorporated into your kitchen's design in an endless number of ways.
Winter is the perfect time to embrace warm colours and create a cosy, welcoming space amongst the cold weather and dark days. Whether you're partial to modern kitchen designs or if classic kitchens are more your style, our stunning array of on-trend colours will provide you with a versatile base and add instant warmth to your abode.
Here are some of the ways you can incorporate warm colours into your home.
1 - An inviting, one tone warm kitchen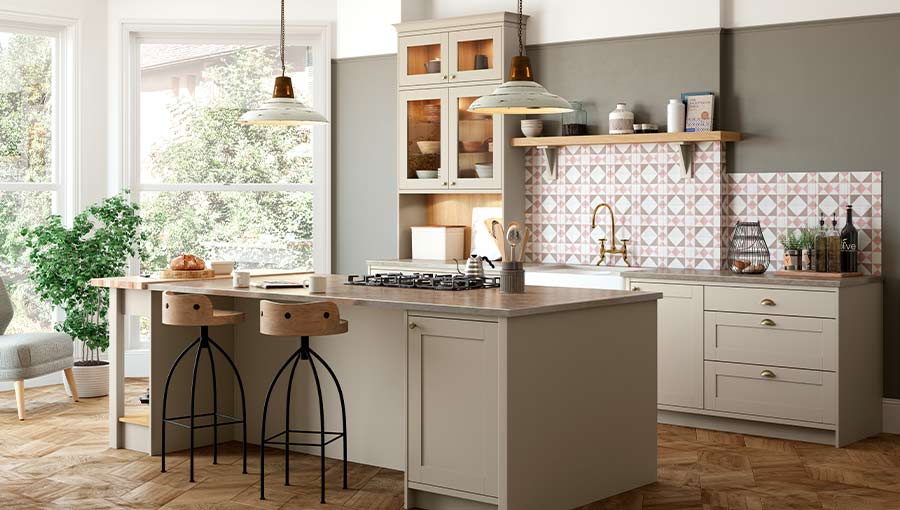 Shelford Highland Stone featuring Milano Earth Stone worktops and Portland Oak interiors
A sure way to create a warm, cosy vibe is to use a warm neutral tone in the entirety of your cabinetry. Using a warm colour throughout your kitchen's design will help create a more intimate atmosphere if your room is on the larger size.
Highland Stone is as versatile as it is beautiful, so it's no wonder it's a firm favourite with customers when it comes to using a single colour throughout a kitchen's design.
2 - Mix warming oak with toasty neutrals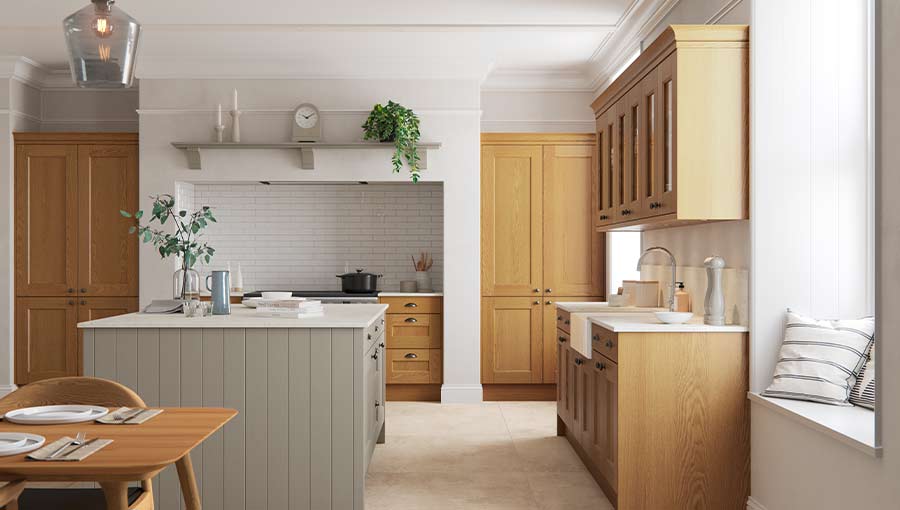 Solva Natural Oak and Farringdon Grey
When it comes to warmth, there's nothing quite like natural oak. Take your classically snug oak kitchen to the next level and modernize it with a greige kitchen island.
Farringdon Grey is a beautifully earthy tone that's works wonders when mixed with Natural Oak.
3 - Mix and match warm modern kitchen finishes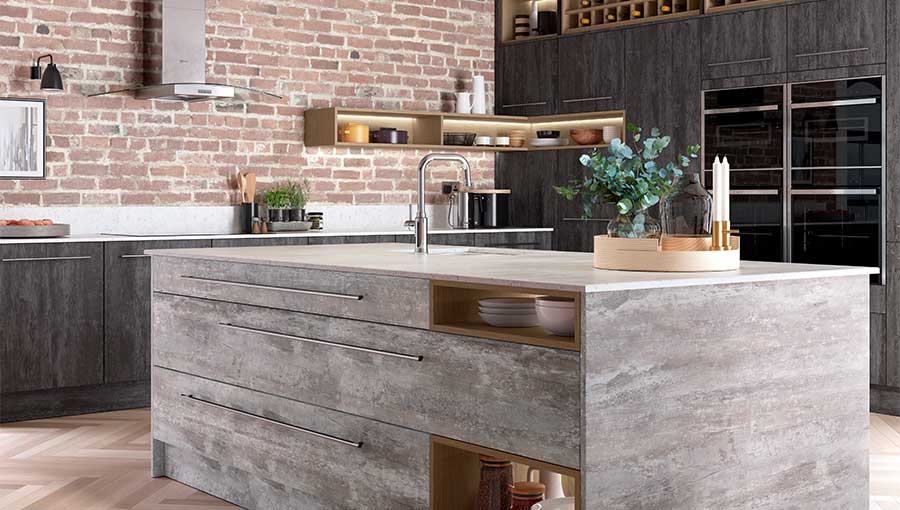 Deco Tundra Stone and Twilight feauting Portland Oak open shelving
Opting for a modern kitchen doesn't have to mean choosing a white or gloss finish. Mixing and matching modern finishes will let your personal style truly flourish and produce a kitchen that stands out from the crowd.
Create a modern two-tone kitchen design by mixing the warm, life-like stone finishes of our Deco range and add warming Portland oak in open shelving or wine storage for a rustic touch.
4 - Warm country style features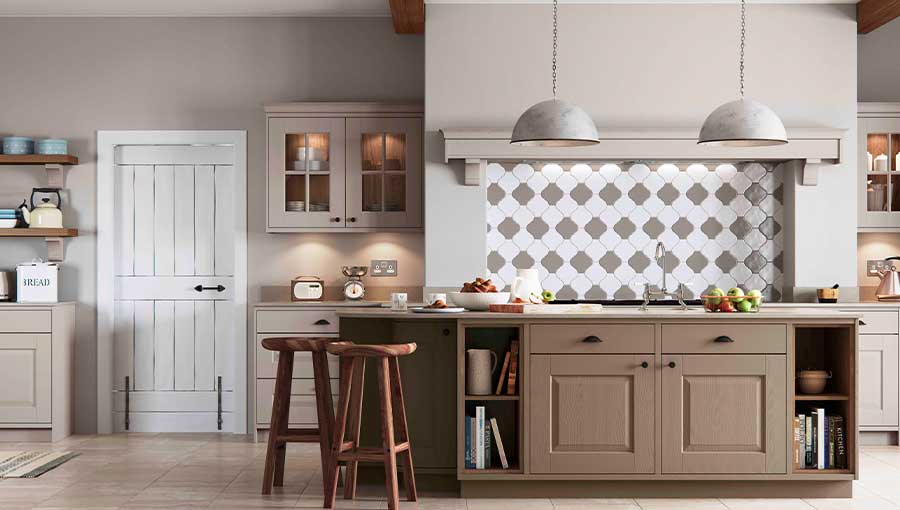 Carnegie Stone Grey with Tuscan Walnut cabinetry and Milano Arctic Frost worktops
Warm colours are natural associated with classic, country-style kitchens. Enhance your quintessential British shaker kitchen with design features like this warm mantle for an idyllic farmhouse look and glass cabinetry to expose life-like wood cabinetry interiors such as Tuscan Walnut.
5 - Warm gloss kitchen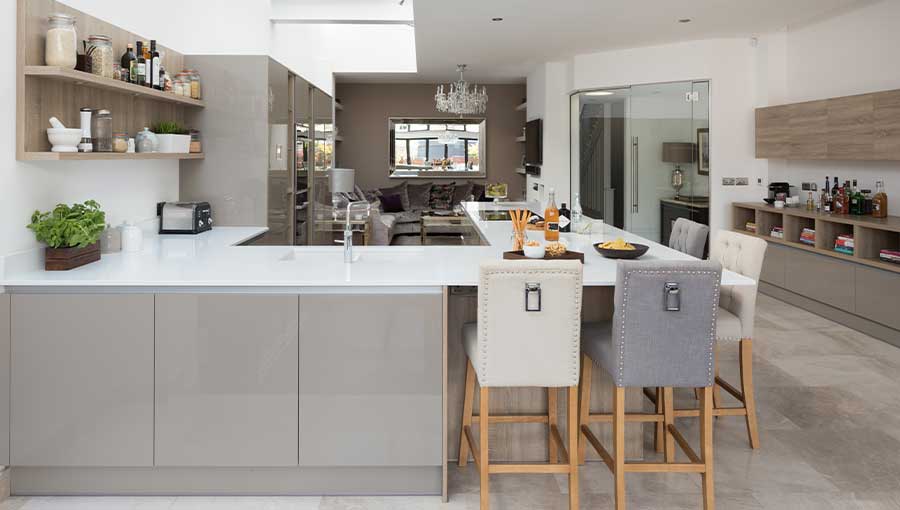 When you picture gloss kitchens, light and bright probably springs to mind. Whilst white gloss kitchens are great, opting for a warm, earthy hue such as Stone Grey will create a kitchen that's a little different. Opting for warm tones will also give you the flexibility to incorporate wood finishes like this beautiful Portland Oak shelving area.
Are you ready to start your own kitchen journey?
Do you want to incorporate the next kitchen trend into your own home? Book your FREE design appointment online today. Our expert kitchen designers have to passion and experience to create a kitchen that's perfect for you and your lifestyle.
Not ready to speak with us? View our beautiful kitchen brochures for more kitchen ideas and inspiration.
Book your free design consultation online today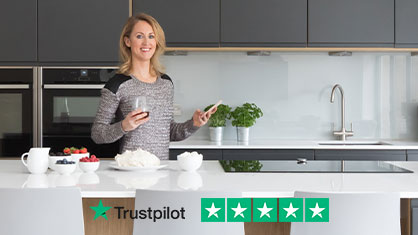 Have fun creating your wishlist, get a free 3D design & quote and talk about Finance Options. We'll give you an amazing experience.
Book now
View our free brochures, magazines and offers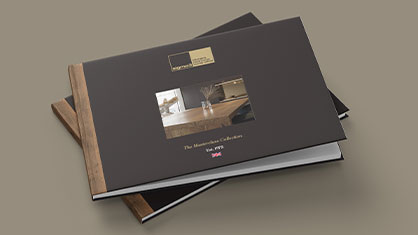 Explore ALL our kitchen and bedroom ranges, plus get exclusive access to our latest offers.
View our brochures
We are here to help you on your kitchen journey