Kitchen Ideas and Inspiration
Step inside this open-plan kitchen living room in central London
Published on 20 Oct 2022
We swung by Ellie's stylish open-plan kitchen living room in central London and chatted with her about her Sigma 3 experience.
Ellie and Tom's open-plan apartment showcases modern city style and practicality, but this wasn't always the case.
The apartment, which sits within a 150-year-old Victorian building, was in dire need of some TLC, but eager to take on their first home renovation, the couple jumped straight into the challenge.
When it came to the kitchen, the space was virtually unusable and a far cry from Tom and Ellie's style preference.
So, during the 2020 lockdown, Ellie and Tom moved back to their hometown Swansea where they began their kitchen research. Whilst exploring various kitchen styles, colours and storage options, they stumbled upon Sigma 3 Kitchens.
At our Swansea showroom, the couple discovered a modern kitchen display that was precisely what they were looking for. So, they started creating their perfect open-plan kitchen with the help of kitchen designer Tom Warzycha.
What was the brief?
The goal was to create a kitchen that complemented Ellie and Tom's fast-paced lives. Working busy careers in central London meant little time to care for the kitchen, so a sturdy kitchen that could withstand the impact of the couple's on-the-go lives was a must.
The style of the kitchen was equally important. The couple had worked hard to create a beautiful open-plan space, and the kitchen needed to flow into the living area seamlessly.
The design process
With the help of kitchen designer Tom, the couple explored the best options for their open-plan kitchen living room.
After discovering our selection of low-maintenance wrapped door options, Ellie and Tom opted for our H Line Sutton range. This not only provided the couple with an easy-to-care-for kitchen, but it also achieved the sleek, minimal look they were seeking.
To prevent the space from looking clinical, they incorporated warming wood cabinetry using our Ligna range.
To make the best use of the tall ceilings, an extra cabinet row was added on top. This also provided Ellie and Tom with enough storage to ensure the open-plan kitchen living room remained uncluttered with clean work surfaces.
The outcome
This stunning transformation shows just how much potential lies in even the most rundown spaces.
The kitchen utilizes every inch of space and works effortlessly with the rest of the space.
Ellie explained that her favourite feature is the life-like wood grain finish of the Ligna doors.
Are you ready to start your kitchen journey?
If Ellie and Tom's open-plan kitchen living room has you feeling inspired, get the ball rolling today. Book your free design consultation today.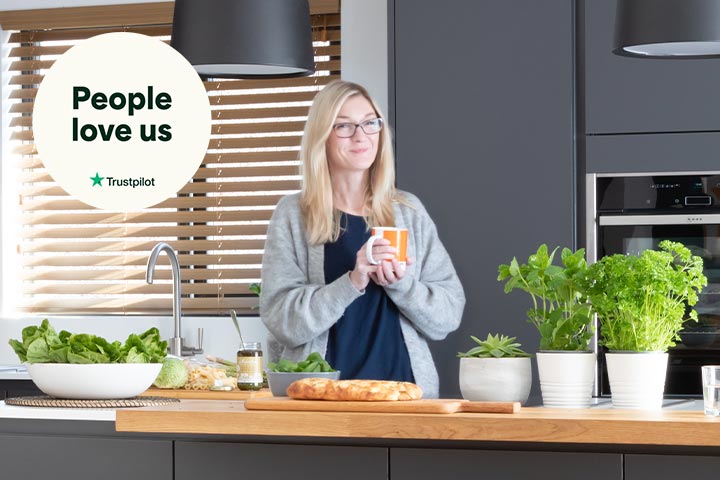 Book
Your Free

Design Consultation

Talk to a Design Consultant at your local showroom to get invaluable advice and a personalised 3D design and quote for your dream kitchen.

Book Now

Not ready to talk to us just yet?
Start your journey by exploring our free brochures, magazines & offers.
Visit our beautiful showrooms