Kitchen Ideas and Inspiration
Get ready to fall in love with this grey and blue kitchen
Published on 30 May 2022
We caught up with Lesley, who gave us the lowdown on her grey and blue kitchen.
Lesley and her partner Carol adore their beautiful home of 14 years, situated on the outskirts of Newport. However, the beloved home held one minor issue – an unsocial layout.
The couple loved having friends and family around, so having a kitchen unfit for entertaining became an issue. So, they embarked on a kitchen extension project.
The added extension flowed seamlessly into the lounge area, allowing guests to easily socialise with whoever is prepping in the kitchen.
All that was missing was the kitchen. Having owned a Sigma 3 Kitchen in their previous home, Lesley and Carol always had Sigma 3 in Cardiff at the forefront of their minds.
After scouting out the competition, Lesley and Carol stuck with their guns and chose Sigma 3. From there, the couple met with kitchen designer Alice and began creating their grey and blue kitchen.
What was the brief?
A large kitchen island in a contrasting colour to the rest of the space was a must-have feature for the couple.
Naturally, much time, effort and money had gone into the project. So, the kitchen had to be perfect. Lesley explained that they also wanted to stick to a budget, having already spent on the house.
The design process
Our shaker kitchen range Hatfield was perfect to create the beautiful classic look that Lesley was seeking. Our warm grey finish, Highland Stone, was chosen for the wall and base cabinets. They opted for a blue kitchen island in our rich Inkwell finish to achieve the striking contrast they desired.
The outcome
The clever layout and design of the completed grey and blue kitchen have given Lesley and Carol the entertaining space they'd envisaged.
Not only does the grey and blue kitchen look fantastic, it truly works in harmony with their lifestyle. The social layout allows whoever is cooking at the hob to look out onto both the lounge and dining table.
Lesley explained that when friends and family walk into the kitchen, they say, "wow".
Has Lesley's grey and blue kitchen inspired your own kitchen project?
Whatever your style, budget and lifestyle requirements, our expert designers can help. Book your FREE, no-obligation design consultation today.
Not ready to speak with us? View our beautiful kitchen brochures for our full range of colours, storage features and ranges.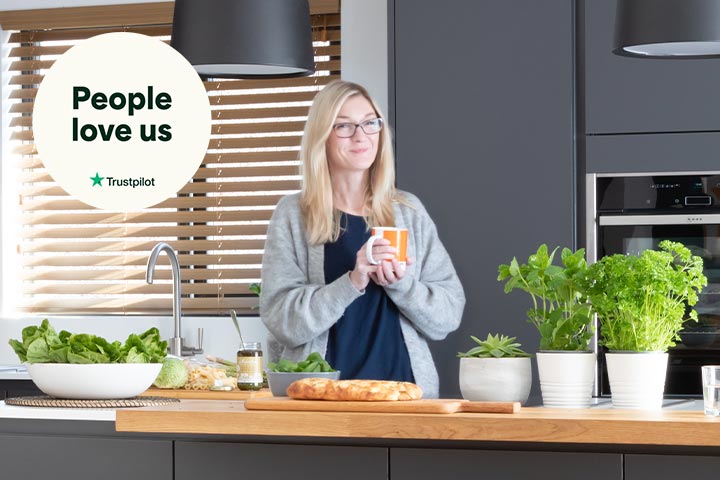 Book
Your Free

Design Consultation

Talk to a Design Consultant at your local showroom to get invaluable advice and a personalised 3D design and quote for your dream kitchen.

Book Now

Not ready to talk to us just yet?
Start your journey by exploring our free brochures, magazines & offers.
Visit our beautiful showrooms