Kitchen Ideas and Inspiration
Modern kitchen remodel with astonishing views
Published on 03 Nov 2022
If this beautiful modern kitchen remodel doesn't entice you, the picturesque views certainly will...
Last year, sisters Cath and Liz embarked on a huge renovation project which would see them transform their grandmother's cottage into a beautiful holiday rental.
The project began in May 2021 when Cath and Liz extended the property to make place for the kitchen remodel.
The charming property lies amongst the picturesque Bwlch countryside, so they wanted to pay homage to the breathtaking panoramic views. The new extension, commissioned by RMJ Homes ltd, featured a balcony, patio, and floor-to-ceiling windows to showcase the surrounding Welsh countryside. The next step was to find the perfect kitchen to fill the space.
After visiting several kitchen showrooms, Cath and Liz popped by our Abergavenny showroom and spoke with designer Emma.
Impressed with Emma's knowledge and the beautiful kitchen displays, the duo began planning the perfect kitchen for their holiday rental.
What was the brief?
Liz and Cath hoped the kitchen would be used for many family occasions and friend get-togethers. So, they needed a durable kitchen that would withstand the demands of large group gatherings.
Together, Emma and RMJ Homes worked to create a modern kitchen extension that worked seamlessly with the cottage's original features. So, the sisters felt a modern kitchen would be in keeping with the renovation.
The design process
Emma talked through our wrapped door options which would provide Cath and Liz with a sturdy, chip-resistant finish perfect for a busy holiday let.
To enhance the modern look of the extension, the sisters opted for the smooth finish and sleek lines of our Sutton range in contemporary colours.
The kitchen needed to be a social space. So, a large kitchen island with room for seating was incorporated into the design.
The outcome
The installed kitchen provides the holiday let with an easy-to-use space perfect for socialising. The clever layout and large windows allow whoever is in the kitchen to submerse themselves continuously in the country scenery.
Liz explained, "We've used the kitchen ourselves for family occasions and are impressed with the standard. My favourite feature is the island. It works well for preparing food, and you can sit there and admire the views."
Are you ready to start your kitchen journey?
If Liz and Cath's kitchen remodel, story has inspired you, visit one of our showrooms and meet with one of our expert kitchen designers today.
Not ready to speak with us? Order a free kitchen brochure and view our entire collection of kitchens, storage features, colours and more.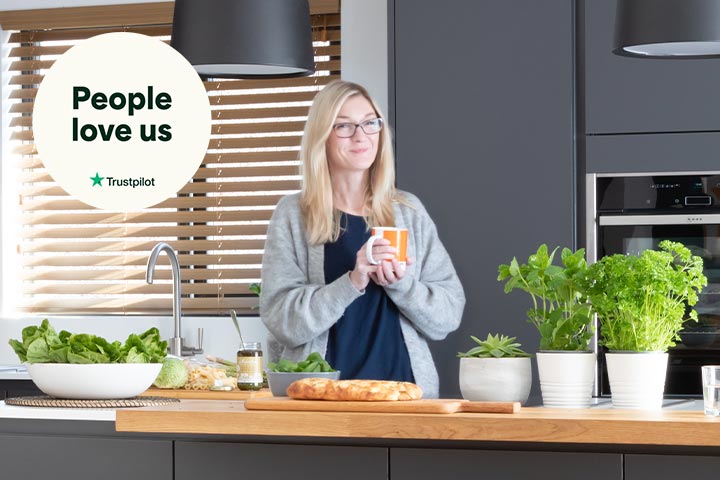 Book
Your Free

Design Consultation

Talk to a Design Consultant at your local showroom to get invaluable advice and a personalised 3D design and quote for your dream kitchen.

Book Now

Not ready to talk to us just yet?
Start your journey by exploring our free brochures, magazines & offers.
Visit our beautiful showrooms