Kitchen Ideas and Inspiration
Kirstie's dream open plan kitchen
Published on 08 Aug 2022
We dropped by Kirstie's beautiful Cardiff home and spoke with her about her beautiful open plan kitchen.
The Farrell family's beautiful open plan kitchen allows the family to socialise and host with ease, but this wasn't always the case.
Before the installation of their open plan kitchen, the layout was unrecognisable. Last year, Kirstie and Jimmy decided to knock down the wall that separated their living and kitchen space so they could create a sociable open plan kitchen living room.
What was the brief?
Kirstie had a clear vision for her open plan kitchen. Whilst she wanted a neutral scheme, she didn't the colours to be "too grey" or "too beige".
The family home had never had a kitchen island, so this was a must-have feature, especially seeing as the room was to now merge into the living space.
Kirstie explained that she wanted a style that was contemporary but also trend-proof with hints of traditional touches.
The design process
Kitchen designer Holly provided her expertise and helped the Farrell's choose the perfect range for their open plan kitchen. The couple loved the collection of grained shaker kitchen doors available, and eventually opted for the Wimbourne range.
Heritage Grey was chosen for the finish. This provided Kirstie with a greige, warm look that worked well with the wider open plan kitchen space. For traditional touches, the couple chose brushed gold cup and knob handles and a brushed gold instant hot water tap.
A Velabin was then incorporated into the design of the island, preventing any eye-sore bins from hindering the look of the open plan kitchen.
The outcome
Kirstie explained that the new open plan kitchen "has made life so much easier". Now, the family can entertain guests seamlessly and keep the kitchen organised with ease.
Planning your own open plan kitchen?
Has Kirstie's open plan kitchen inspired your own kitchen project? Book a FREE design consultation today. Appointments are no obligation and our helpful designers can provide you with helpful advice.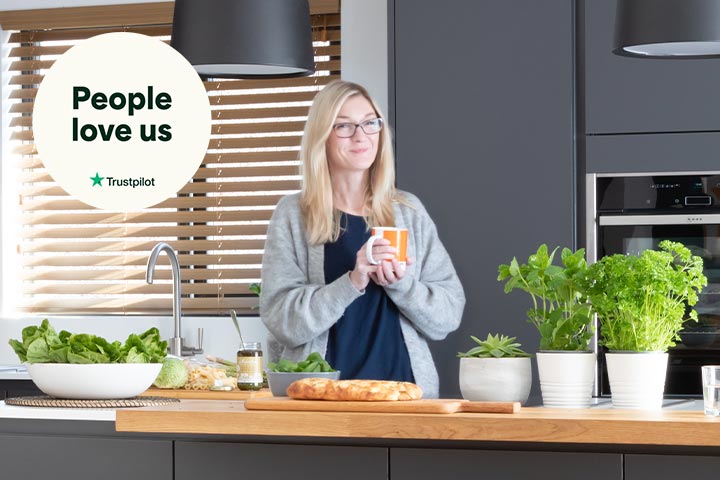 Book
Your Free

Design Consultation

Talk to a Design Consultant at your local showroom to get invaluable advice and a personalised 3D design and quote for your dream kitchen.

Book Now

Not ready to talk to us just yet?
Start your journey by exploring our free brochures, magazines & offers.
Visit our beautiful showrooms