Kitchen Ideas and Inspiration
A dark blue kitchen with the WOW factor
Published on 06 Dec 2022
With the help of kitchen designer Rasa, the Graves family transformed their rundown 60s cooking space into a modern dark blue kitchen.
When Kirsty and her family moved into their home in Woking, there was plenty of work to do.
The house had not been refurbished since the 60s when it was built, and with two young children, they needed a space fit for family life. So, the family moved into a van on their drive whilst their home renovation took place.
Once the bedrooms, lounge and other rooms were refurbished, it was time to revamp the kitchen.
When Kirsty began her kitchen research, she hadn't the faintest idea what kitchen style she wanted. But, after stumbling upon Sigma 3's collection of dark blue kitchen cabinets, it was love a first sight.
The family wasted no time – they visited Sigma's Esher kitchen showroom, sat down with Rasa and a cup of coffee and began planning the dark blue kitchen.
What was the brief?
The new kitchen would live in a bright, ample space where light is plentiful; neutrals would simply get lost. So, a stand-out colour was a must.
Whilst Kirsty wanted to incorporate bold-coloured cabinets; she also wanted to keep the look minimalistic.
The kitchen space opened into a lounge and dining area, so it was also important that each area flowed seamlessly into the next.
Three young children also meant that adequate storage was crucial to maintain a clean-looking space.
The design process
Rasa achieved the minimalistic statement design that Kirsty sought by combing handleless cabinets with a bold kitchen finish. Rasa then incorporated a gold splashback and handle rails that complemented and stood out against the dark blue kitchen cabinets.
Extra deep drawers and a SpaceTower larder unit were added to accommodate the family's storage requirements. In addition, The Connery drinks cabinet was added, which Kirsty described as "a dash of luxury."
The outcome
Kirsty described her new kitchen as "a social hub". The large island provides a space where anyone can sit whilst whoever is working in the kitchen. In addition, the island hob overlooks the living and dining areas, so Kirsty can watch over her children when need be.
Kirsty explained that she loves how The Connery cabinet looks beautiful and serves a very practical purpose too; it connects and zones the kitchen from other areas of the room.
Has Kirsty's dark blue kitchen inspired you?
If you're looking for a modern dark blue kitchen just like Kirsty's or perhaps something a little different, our expert kitchen designers can help you create the perfect kitchen. So book your FREE design consultation today and get the ball rolling.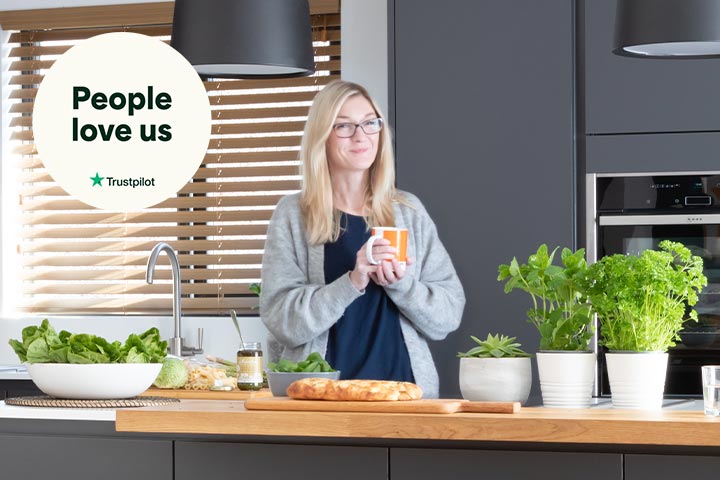 Book
Your Free

Design Consultation

Talk to a Design Consultant at your local showroom to get invaluable advice and a personalised 3D design and quote for your dream kitchen.

Book Now

Not ready to talk to us just yet?
Start your journey by exploring our free brochures, magazines & offers.
Visit our beautiful showrooms