Kitchen Ideas & Inspiration
Goodbye clutter, hello eclectic kitchen
Case Studies, Esher, Ideas & Inspiration / 14 Apr 2021
After spending a decade in a tattered old kitchen, the Evans family decided it was time for a revamp.
Believe it or not, Helena Evans had never heard of Sigma 3 Kitchens. One day, whilst scrolling through social media, Helena stumbled on a photograph of her dream kitchen. Curious to see more, she visited our Facebook page and realized her plan for her eclectic kitchen.
Helena, her husband and three children, have lived in their lovely Surrey home for 11 years. The family had a long renovation list to get through since moving into the house, and when the time came to revamp the kitchen, they wanted to make sure it was perfect.
After spending her days browsing through Pinterest, magazines and brochures, it was safe to say that Helena had a real clear vision for her new kitchen, so she took the first steps in her kitchen journey and headed to our Esher kitchen showroom.
What was the brief?
To create a striking contrast against the cottagey look of the house, Helena wanted to incorporate a handleless design with gloss kitchen doors.
The previous kitchen lacked appropriate storage for the abundance of gluten-free products in the house, and this caused the space to look cluttered. So needless to say, quality storage was a must.
The design process
Esher kitchen designer Susan understood the vision the family's vision. She listened carefully to their requirements and came up with ideas that would help the kitchen function well.
To keep the abundance of bread, cereal, and biscuits organized, they decided to incorporate the SpaceTower from The Signature Collection, a larder unit perfect for separating their gluten-free products from the rest.
LineaPlus drawers were added to the kitchen's design to store crockery and chopping boards, keeping the worksurfaces crystal clean.
Classic features such as open shelving and exposed brick walls were kept in the design to provide the eclectic look Helena desired.
The outcome
After waving goodbye to clutter and worn down units, the kitchen has fast become the family's favourite room in the house. The whole family spend more time than ever before in the kitchen and the children have realized their love of cooking. The entire household lingers after meals just so they can sit and admire their beloved new kitchen.
Are you ready to start your kitchen journey with us?
Has Helena's story inspired you to take the first steps in your kitchen journey? Book a free design appointment online today.
Not ready to speak with us? View our beautiful brochures for more kitchen ideas.
Book your free design consultation online today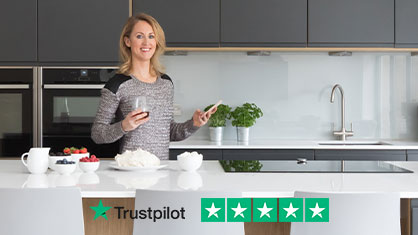 Have fun creating your wishlist, get a free 3D design & quote and talk about Finance Options. We'll give you an amazing experience.
Book now
View our free brochures, magazines and offers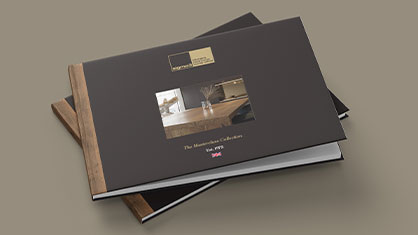 Explore ALL our kitchen and bedroom ranges, plus get exclusive access to our latest offers.
View our brochures
We are here to help you on your kitchen journey