Kitchen Ideas and Inspiration
Lowri's picturesque grey and blue kitchen
Published on 23 Jan 2023
Lowri's grey and blue kitchen is a perfect example of practical beauty.
Living in a newly converted chapel with several young children came with challenges for the Clement family.
Not only did the ground floor layout restrict and isolate the household, but the kitchen lacked the storage required for a large family.
So last year, the family embarked on a renovation journey that would see the ground floor transformed into one sizeable, multipurpose room.
The impressive room featured a beautiful dining area and lounge area; it just needed the perfect kitchen to complement and meet the standards of the project.
Following recommendations from friends and family, Lowri visited Sigma 3 Kitchens in Swansea and met with designer Ryan Thomas who helped the family achieve their perfect grey and blue kitchen.
What was the brief?
Lowri explained that they wanted to be sympathetic to the age of the converted chapel, so a traditional style of kitchen was a must.
Plenty of storage was of utmost importance to accommodate a large young family.
The design process
Lowri and the family opted for our Solva range, a painted natural wood shaker kitchen that complimented the rest of the home.
To make it distinct from the previous kitchen, they opted for grey kitchen cabinets with a blue kitchen island.
Along with plenty of wall and base cabinets, designer Ryan added drawers to the kitchen island to accommodate the household's storage requirements. Not only this, Ryan was able to utilise space under the stairway to create a bespoke pantry. In addition, Magnaspace pull-out larders were added to the base cabinets for easy access to frequently used items.
The outcome
Lowri expressed that the new grey and blue kitchen has wholly transformed family life. Now, not only can the family be together in the same room, but the abundance of storage makes for a highly practical kitchen.
Are you ready to start your dream kitchen journey?
Whether you're searching for a grey and blue kitchen like Lowri's or something completely different, a showroom visit can help you find ideas for your kitchen project. Book a FREE design appointment today.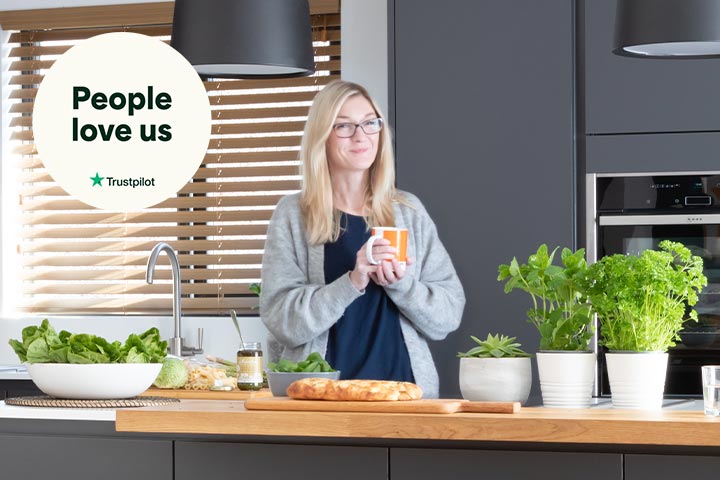 Book
Your Free

Design Consultation

Talk to a Design Consultant at your local showroom to get invaluable advice and a personalised 3D design and quote for your dream kitchen.

Book Now

Not ready to talk to us just yet?
Start your journey by exploring our free brochures, magazines & offers.
Visit our beautiful showrooms