1975
Brian Lakin, the CEO and Founder of Sigma 3 Kitchens, began making kitchens out of an old farm building for friends and family. It all started in Barry, south Wales.
1976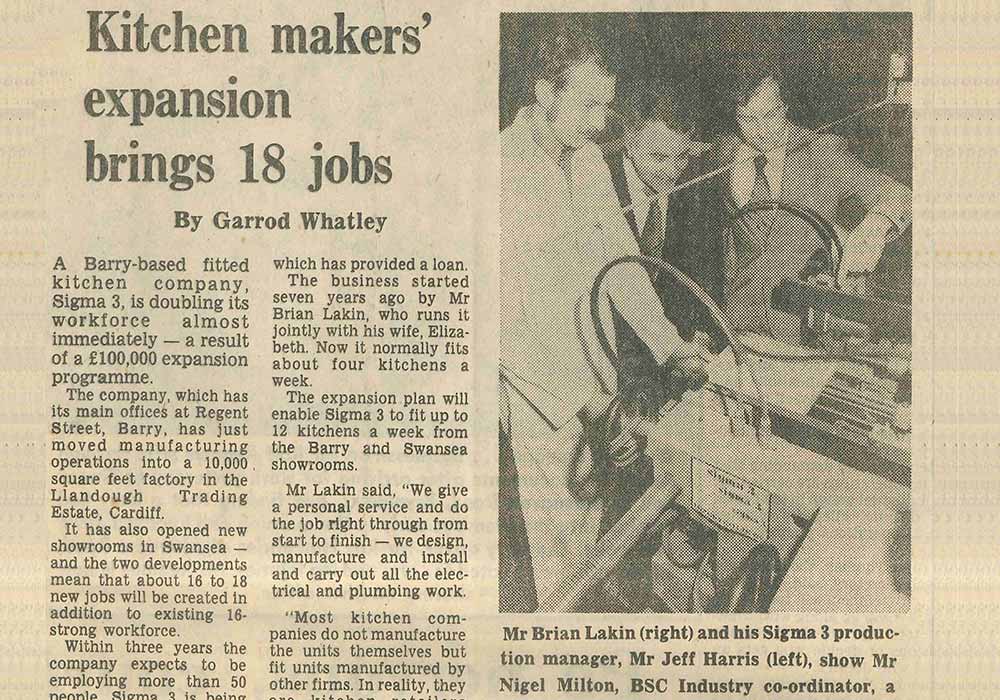 After realising the demand for quality kitchens, Brian and his wife, Elizabeth opened Sigma 3 Kitchen's first showroom in Barry, just a few miles from where the business started.
1982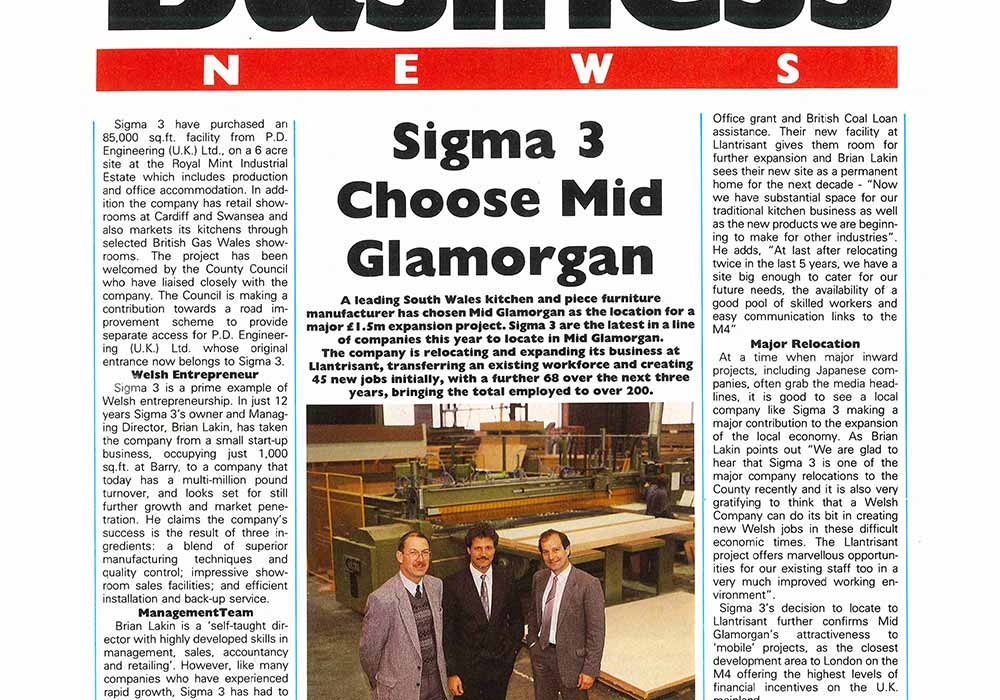 In 1982 we took on new staff, opened another new showroom in Swansea, and moved our manufacturing operations into a new 10,000 sq ft factory in Llandough, Cardiff.
1987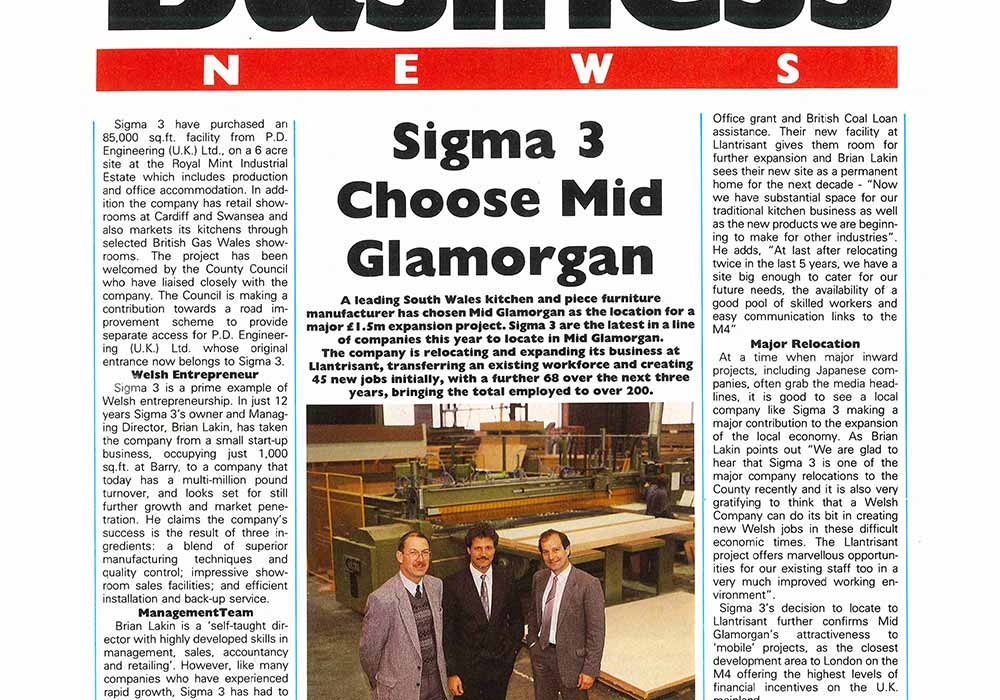 Kitchen demand continued to grow and we needed a larger space to accommodate the growing business. So, we bought our current manufacturing site in Llantrisant in 1987, immediately creating 45 new jobs in the area and 68 new jobs over the next 3 years.
1995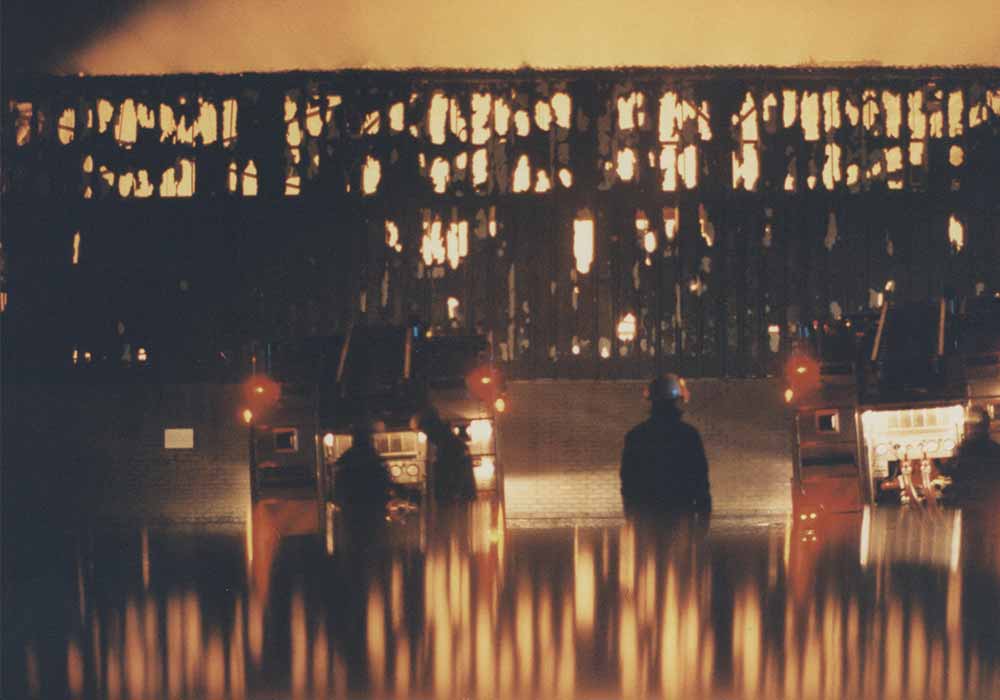 The night of the 27th January 1995 will live long in our memory. An electrical fault caused a huge fire to engulf our factory in Llantrisant, leaving it entirely burnt down within a very traumatic 24 hours. There was never any question of giving in - we had customer orders to fulfil and a loyal, dedicated workforce with families to support. Within days we found a temporary factory and were thrilled to make our first delivery just 8 days after the fire.
1996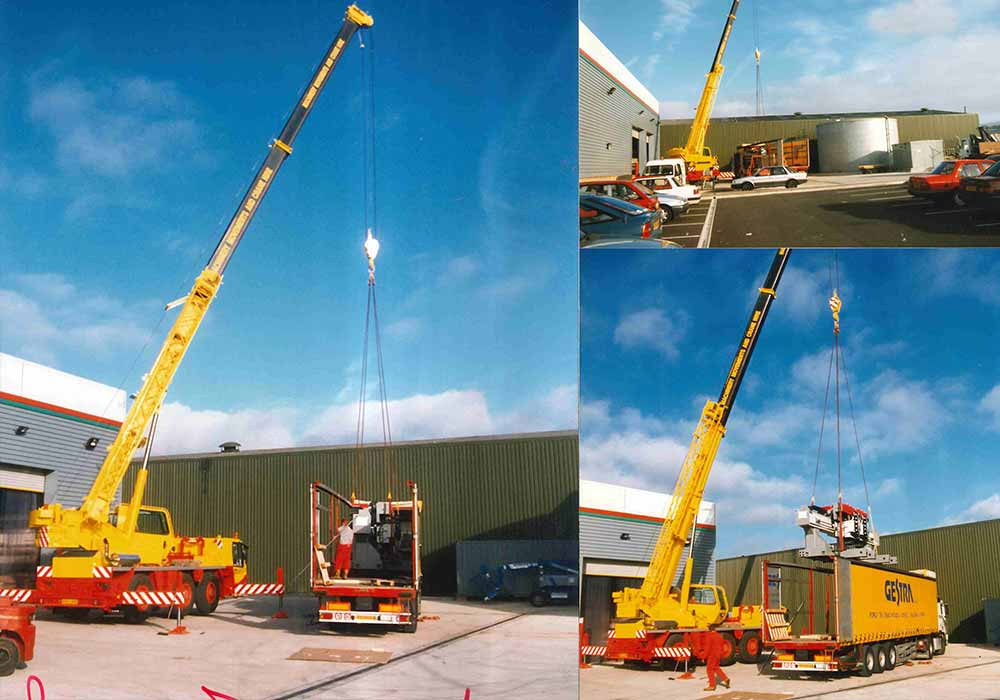 We rebuilt our factory during the year and moved in over Christmas to start production in January 1996. It was 12 months we'll never forget. The following year, in 1997, we then opened our Newport and Warton showrooms.
2003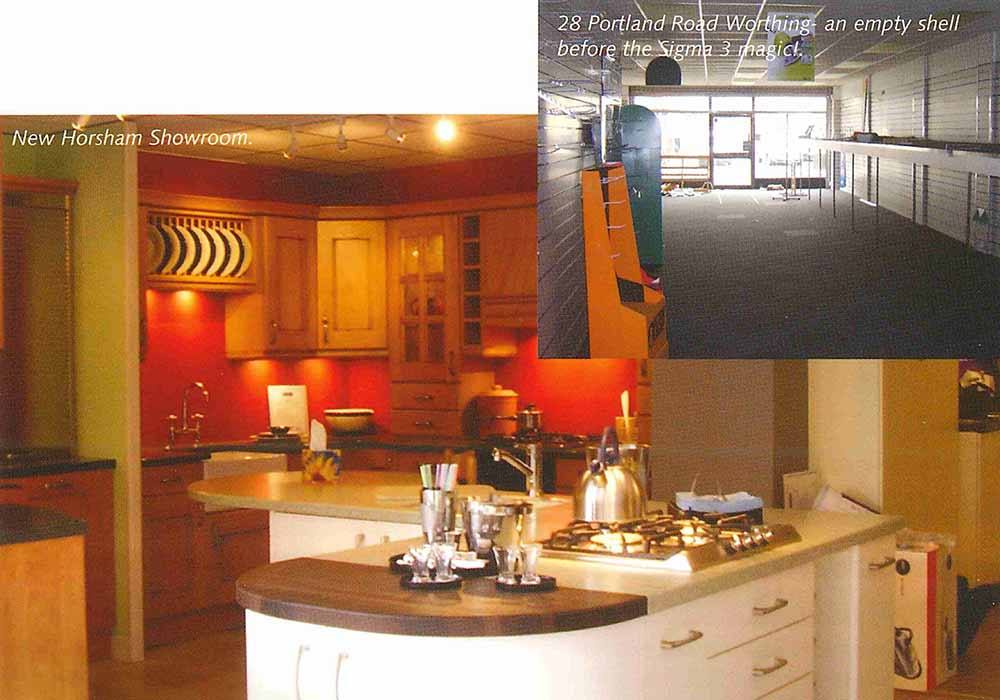 In 2003, we bought County Kitchens and opened even more new showrooms in Surrey and Sussex.
2015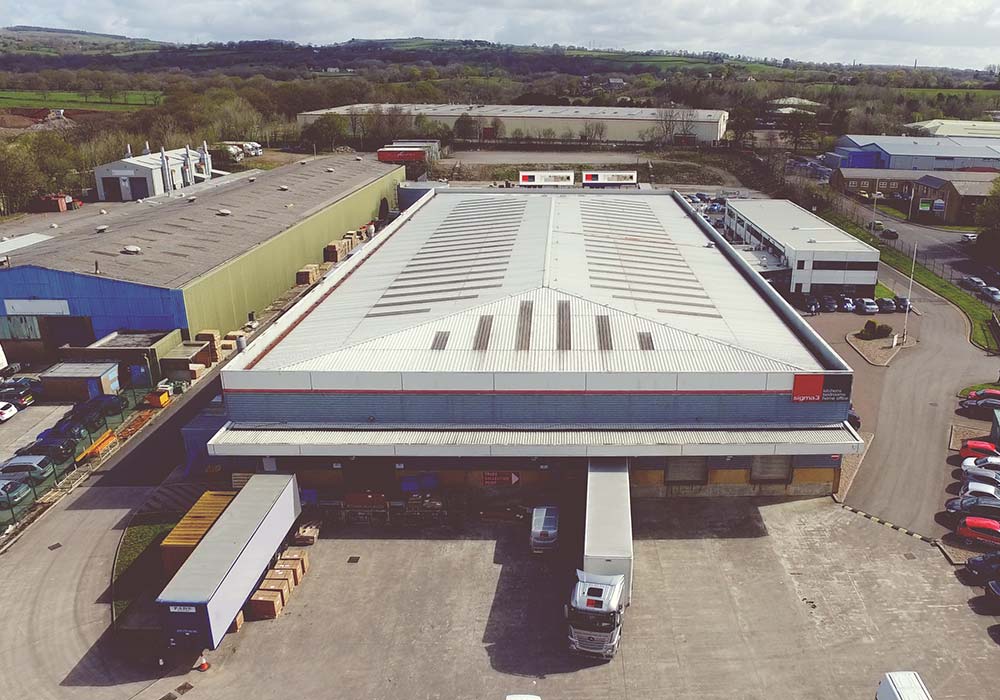 In 2015 we invested £1.6m into expanding and modernising our factory, increasing our output to 1,500 cabinets per week, and making it more environmentally friendly.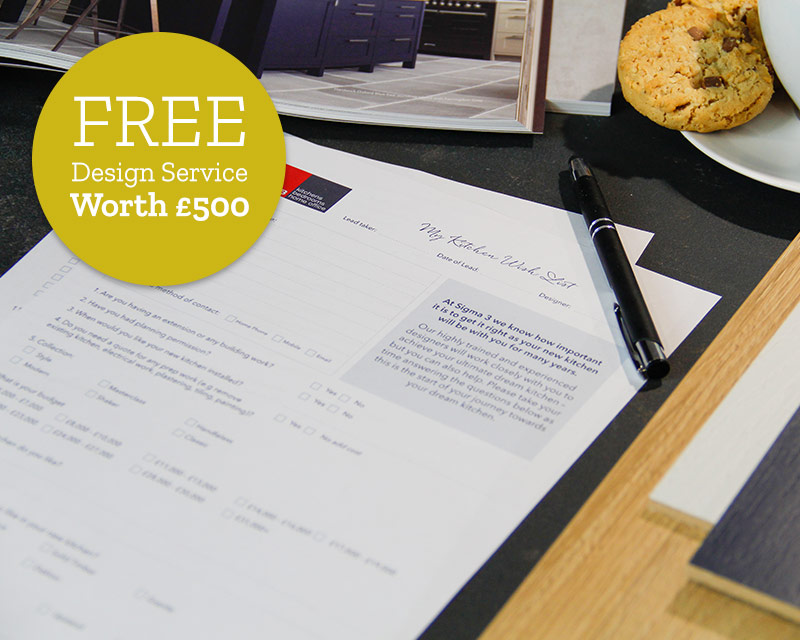 Start your journey with a FREE design appointment
Meet a designer in one of our beautiful showrooms - we can create a fitted kitchen that matches your requirements in terms of design, function and budget.
Book A Free Design Appointment
Visit one of our beautiful showrooms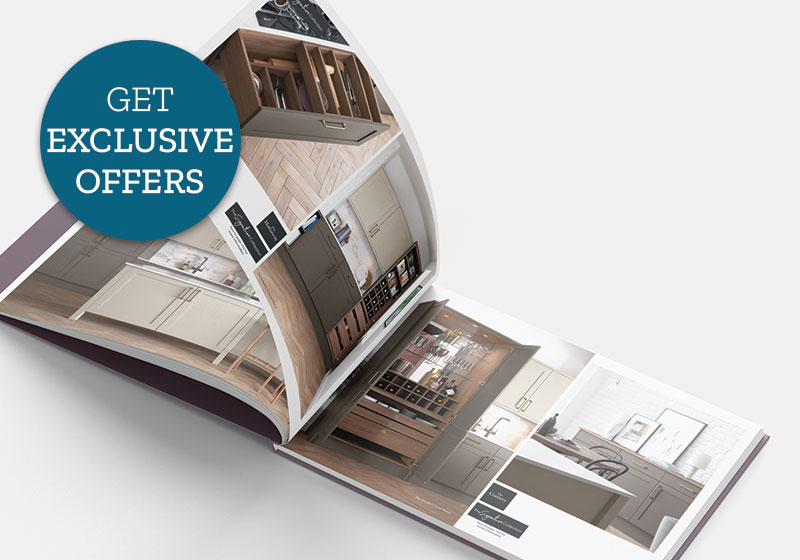 Not ready to visit us just yet?
Then why not take a look at our beautiful selection of free brochures - you'll be able to get your copies in the post, and also get access to exclusive offers!
View Our Free Brochures