Shaker Kitchen Design Ideas
FIND your DREAM
A shaker kitchen is the perfect blend of modern and classic design, so if you're torn between the two then this kitchen could be the perfect solution. Below is a small education on the shaker kitchen and how to really make it your own.
If you're ready to start a journey to your dream kitchen, then talk a designer about our shaker kitchens.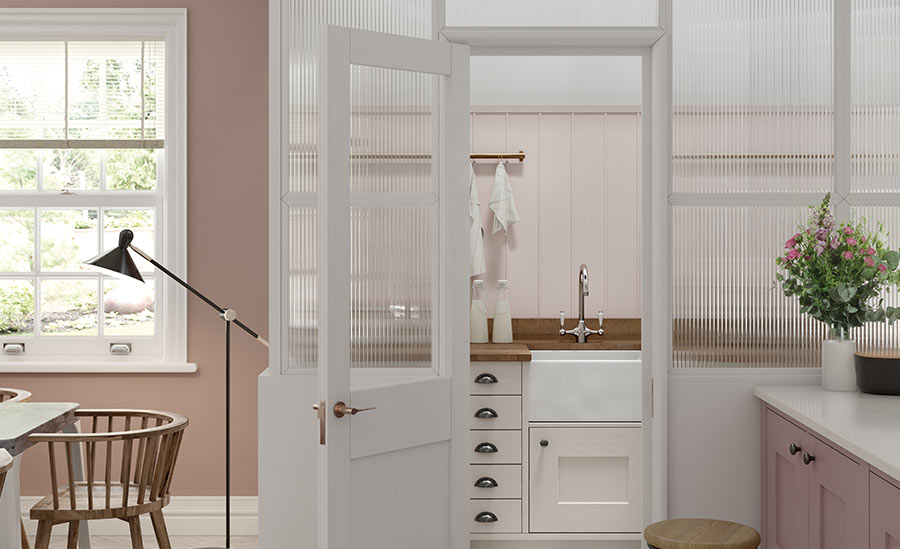 Use a traditional palette
If you really want to stick to the true roots of the Shaker kitchen design then stick to pale and neural, with a complimentary palette of warm yellow, red, blues and greens. With this in mind you might consider our vibrant palette to add an accent to your neutral design; it provides you with a choice of some beautiful colours that will suit your shaker kitchen perfectly.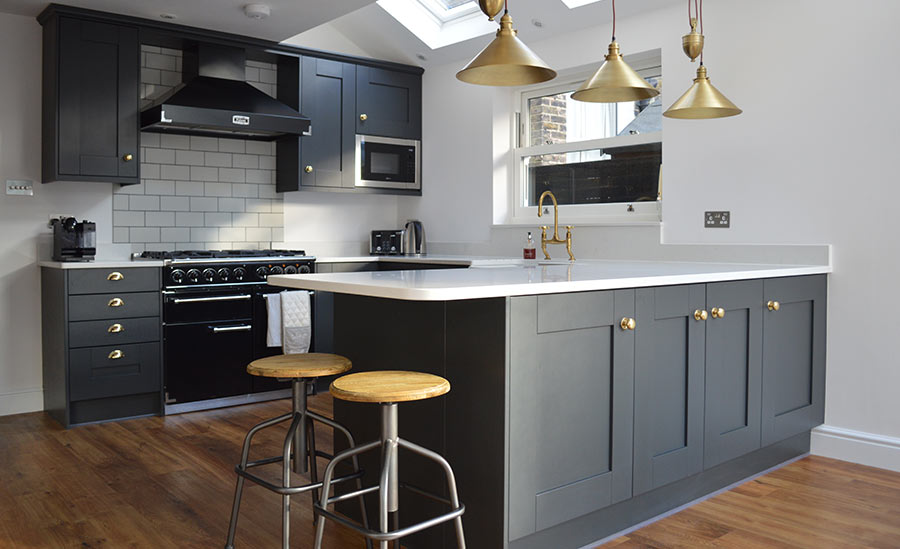 Maximise your space
Ensuring that you maximise your space is essential for any kitchen. To do this many incorporate the 'working triangle' as a starting point, which involves the placement of your hob, sink and fridge in a logical flow – making life easier and more straight forward during cooking. Another element to consider when planning your shaker kitchen is how to include elements that best organise things to suit your lifestyle - for example, smaller families might prefer a breakfast bar rather than a full dining area.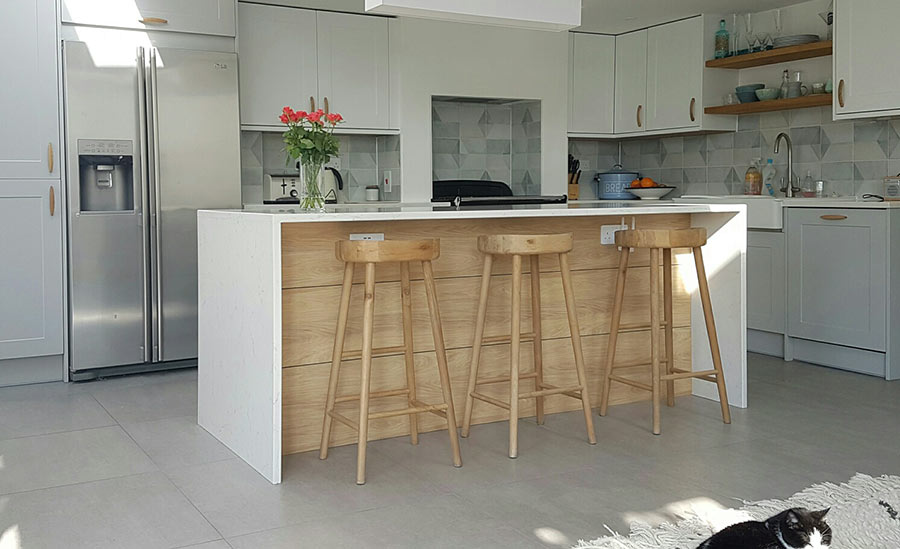 Incorporate rustic charm
Incorporating wooden elements into your kitchen can lend itself very well to the more traditional side of the shaker kitchen. Wooden cabinets can add warmth to a kitchen, especially when paired with neutral tones (for example our gorgeous Scots Grey shade). Other wooden elements to add to your space could include: stools, wicker baskets or even a wooden worktop.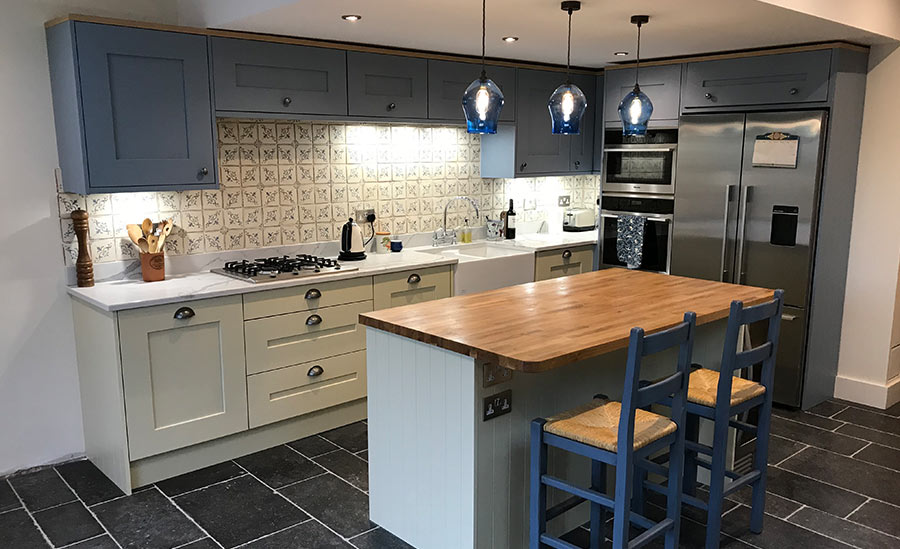 Go for a painted door
Using painted doors is a beautiful way of making a shaker kitchen look more up to date and current. We have plenty of painted door options in a wide range of colours. Our new neutral shades, Highland Stone and Farringdon Grey are particularly gorgeous and will definitely warm up the tone of your room. In addition to this have a look at our neutral palette, a favourite of our customers when it comes to the shaker kitchen.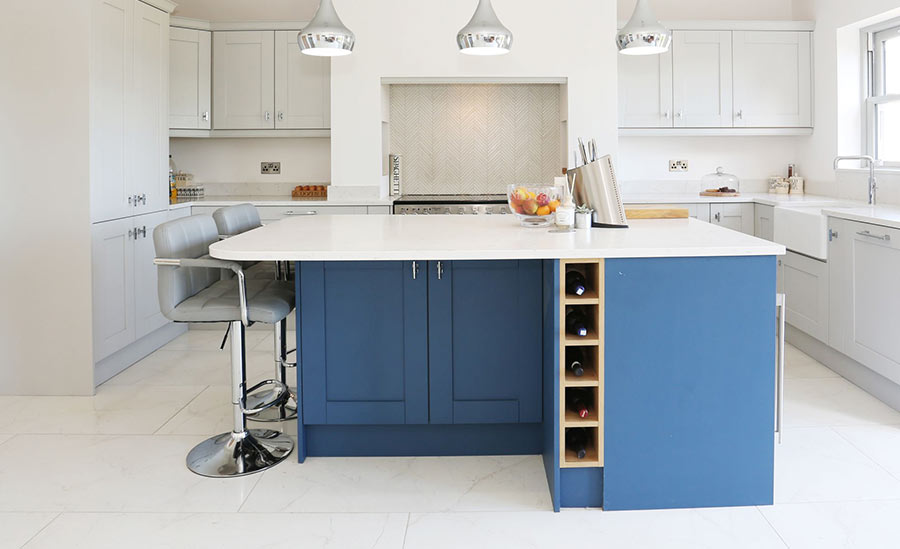 Want to stand out from the crowd?
Then why not consider some 'fresh' colours in order to mix things up. The perfect example is our Coastal palette, including smooth blue shades that allow you to stray a little from tradition. Other ways of including colour in your shaker design could be through wallpaper, cooking utensils, furniture or other forms of decoration. Using textures and soft furnishings is a wonderful alternative way of injecting interest and personality into your space. Some functional kitchen textiles, such as tea towels and aprons are subtle choices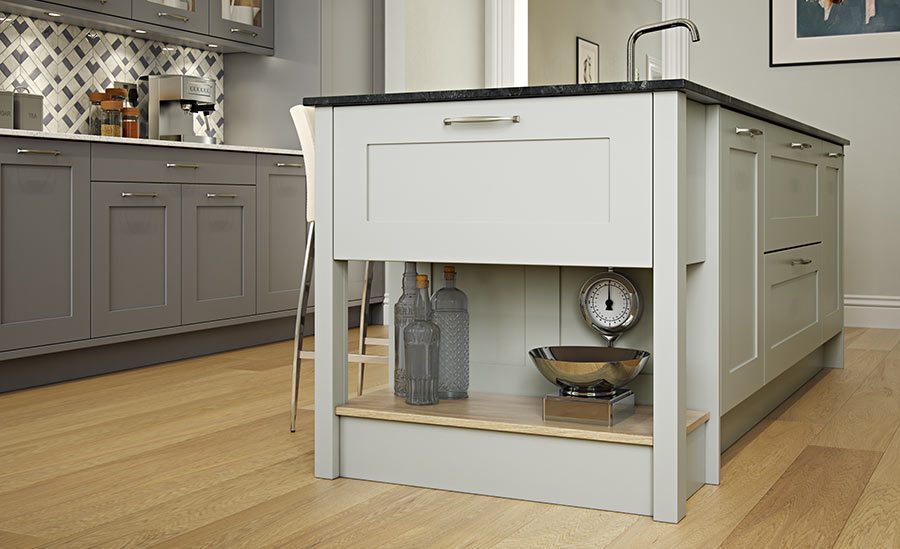 Shaker storage
There are plenty of solutions to ensure that you have the perfect storage for your space. A beautiful corner larder ties in wonderfully to a shaker kitchen. Personalise it by adding elements such as a spice rack, different shelving and maybe even some pull out baskets. Open storage is also a great way of adding some rustic charm to your space. Consider some sparingly decorated shelves to add to a simplistic look. Our Chef's table is a great example of open storage, a useful little space to place books, or some stylish kitchen wear.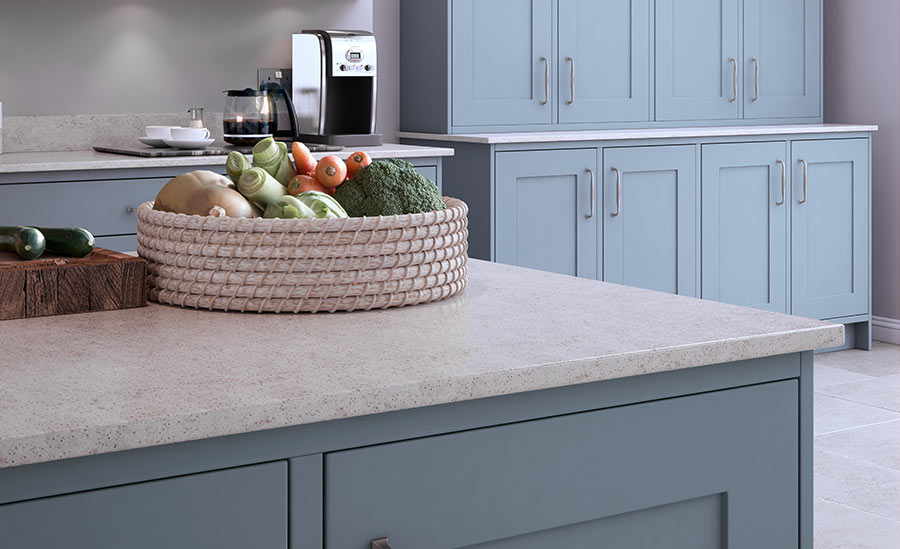 Get the inframe look
Acheive that bespoke Inframe look with our unique, specially designed Inframe system. Finish the timeless shaker design off with our Marlborough range specific features, such as a classic mantle and chef's tables.
Start a journey to your very own dream kitchen.
Book a free, no-obligation design appointment at your nearest Sigma 3 showroom online today.