Kitchen Ideas & Inspiration
Pauline
Pauline Wood was on a mission to make her dark and gloomy kitchen lighter and more practical and enlisted the help of Sigma 3...
Pauline and her husband have lived in their home for over 30 years and their old kitchen was worn and in need of a revamp.
The previous kitchen was a dark maroon colour and the couple decided it was time to switch to a lighter colour to brighten up the space.
After attending various different kitchen showrooms, the Wood's felt that Sigma 3 was the best option for them. Pauline explained; "I decided on Sigma 3 because we looked at other companies and it seemed that some of the companies just wanted to fit their product into your requirements rather than listen to your design needs. I was very impressed to find that Susan listened to our requirements and was able to take everything I wanted into the design.
They opted for our super smooth, silk finish Sutton range in our light shade Highland Stone.
Along with her desire for a bright, airy kitchen, Pauline had some very particular design requirements. In her old kitchen, she was unable to reach the window handles, so Susan created a design that reduced the width of the cupboards that sat underneath the windows, allowing easier access to the windows.
The Wood's also had some other particular design requirements for the other resident of the house - Hobnob.
Hobnob loves to sit on the window ledge and watch birds outside. Pauline said that the design of her new kitchen also accommodates for him to, allowing him to look out of the window with ease.
Another problem that the couple faced was that they often clashed and got in each other's way in the kitchen due to its size and layout. Susan considered this in the design and positioned the sink, fridge and oven in practical positions to enable easy flow in the kitchen.
The couple also wanted to incorporate new features to their kitchen to improve it's practicality. They opted for a Magnaspace pull out larder to maximise storage.
Pauline's favourite part of the new kitchen is the fact that it's light and airy. The light colours, shiny work surfaces and metallic handles allow for natural light to bounce around the room, brightening up the space.
Pauline said; "I was very happy that I chose Sigma 3 and that's absolutely genuine. I'm happy that I was talked through the process, I was happy that the design met my needs and I've recommended Sigma 3 to a friend who's actually gone through an installation process and she's really happy as well."
We're delighted that we were able to create and install a kitchen that perfectly meets the Wood's needs and requirements. If you're looking to recreate your own kitchen, pop in and have a chat with one of our friendly, experienced designers who can help you.
The design appointment is completely free and there's no commitment to take things further if you decide you don't want to!
Book
your free design consultation

online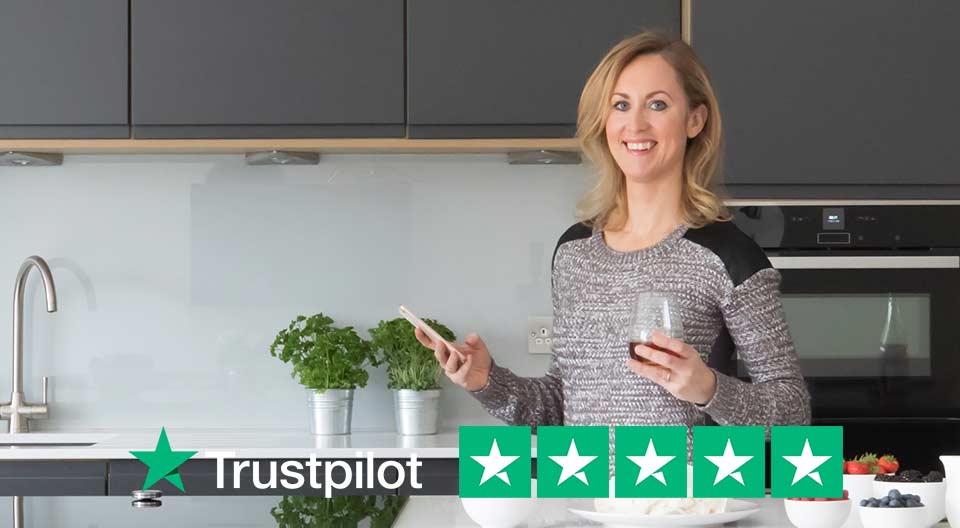 Have fun creating your wishlist, get a free 3D design & quote and talk about Finance Options. We'll give you an amazing experience.
Find even more inspiration in our brochures & magazines
See all our customer stories
Hear about the amazing experience that our customers have with us.