Kitchen Ideas & Inspiration
Mrs and Mr Jenkins' New Modern Kitchen
Case Studies / 05 Dec 2019
Earlier this year, the Jenkins family were on the hunt for a light, modern kitchen to add to their lovely detached barn house style home in Porthcawl.
From the very beginning of their journey, the Jenkins family had a clear idea about what features they wished to have in their kitchen: a central island, television unit, high level ovens and a larder unit. Mrs Jenkins explained that she had approached several kitchen suppliers, but still hadn't quite found what she was looking for with the designs and products.
That's when she turned to our showroom at Cardiff Culverhouse Cross. She sat with Sigma 3 design consultant Michelle Ford and clued her in on her needs and desires. Mrs Jenkins said:
"The design service was very professional from start to finish The software package was very high tech and the designs produced showed exactly what the kitchen looked like. Any features that I wanted to change were easily undertaken with a few clicks and I was given lots of A3 photos of the design from all angles."
Having been very impressed by our design software package, Mrs Jenkins decided that Sigma 3 she would enlist us to create the kitchen she'd always wanted.
Mrs Jenkins said:
"I was assigned Julian as my installation manager who visited the site on several occasions to ensure smooth installation. I used one of the kitchen fitters from Sigma 3 who again was very professional with the installation. Would highly recommend Sigma 3 to anyone considering a new kitchen."
Nothing makes us happier than knowing we've created a kitchen that our customers adore.
Considering a new kitchen of your own? We've put together some of our favourite features from Mr and Mrs Jenkin's new kitchen for your inspiration…
Kitchen Island and Media Centre
The kitchen island and media centre means this kitchen is a place not just for cooking. We can picture sitting down at this stunning freestanding island and catching up on the news with a morning coffee.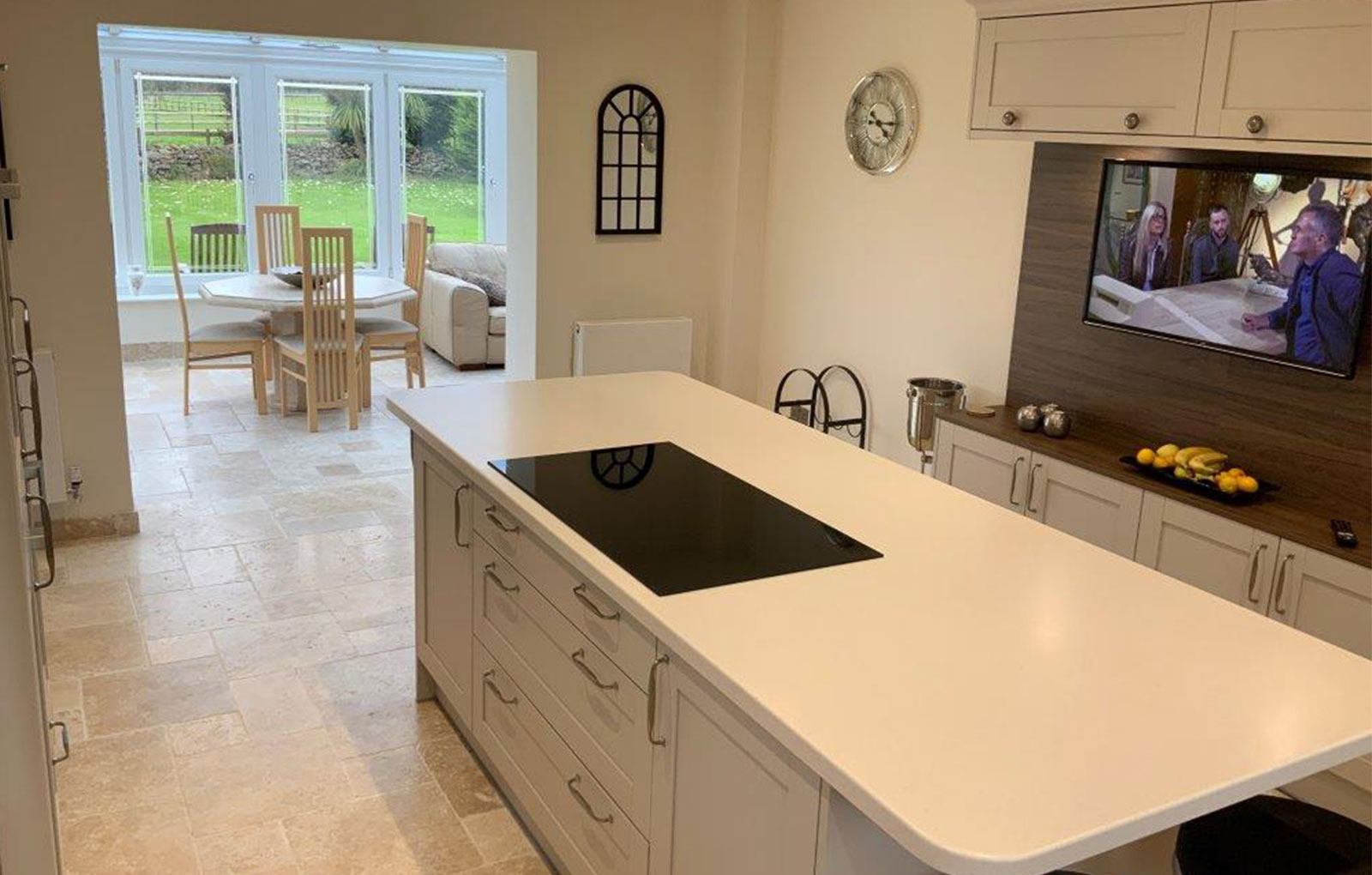 Mirrors
The hanging mirrors not only add a unique, elegant look to this kitchen, they also subtly introduced a new colour to the space. Mirrors are also a great way to make your kitchen look larger as they create the illusion of more space.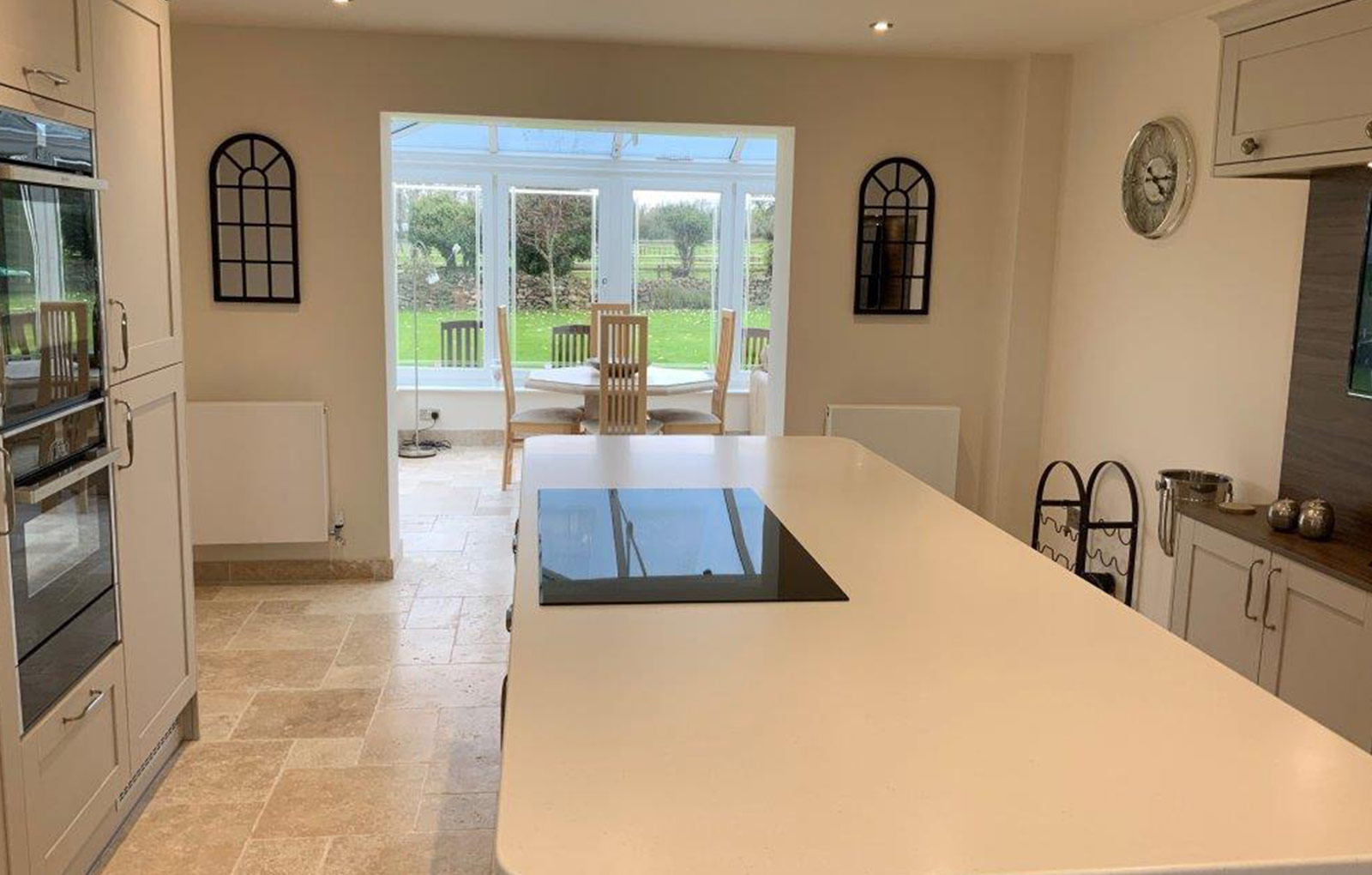 Storage
The Jenkins family made the most of their storage potential with their storage options. They opted for The Hathaway from The Signature Collection. This pantry is a perfect storage feature for their family of 4 as it allows you to organise your storage and access it with ease. It can also be personalised to your requirements, needs and budget.
They also opted for LineaPlus drawers which are the widest and deepest drawers - a perfect option for their busy household.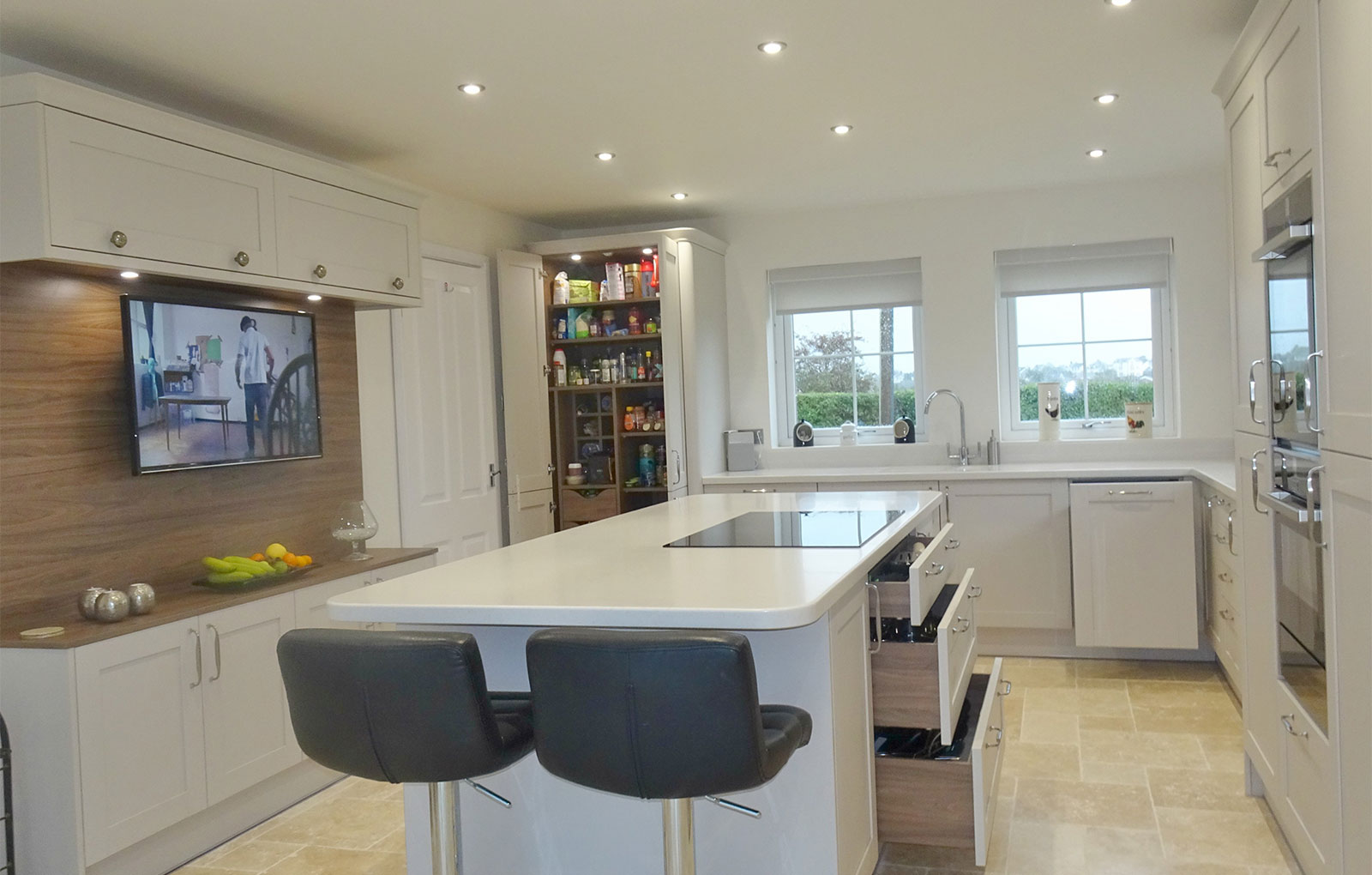 Light
The combination of good natural lighting and neutral colours makes this kitchen extra light and airy. The metallic handles are also a great complement to this kitchen - notice how the light bounces off the metallic handles, creating even more light.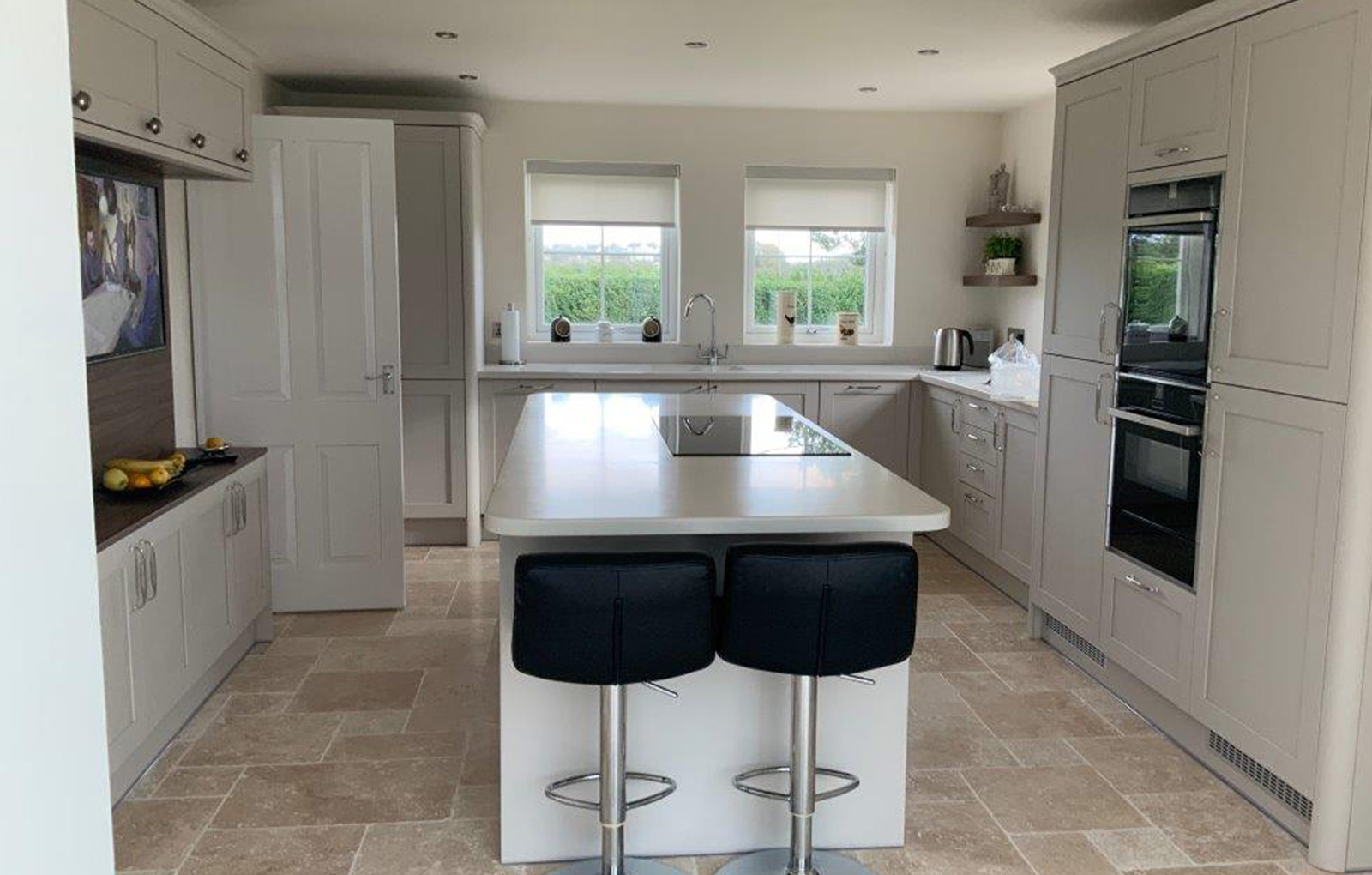 Interiors
Last but certianly not least, we think the interiors are the cherry on top. Afterall, beauty is more than skin deep.
The interiors of The Hathaway pantry and LineaPlus drawers feature our gorgeous Tuscan Walnut.
The Jenkins family also opted for a Tuscan Walnut media centre backdrop. The dark, warm wood tones work perfectly with the lighter colours of the cabinets and drawers.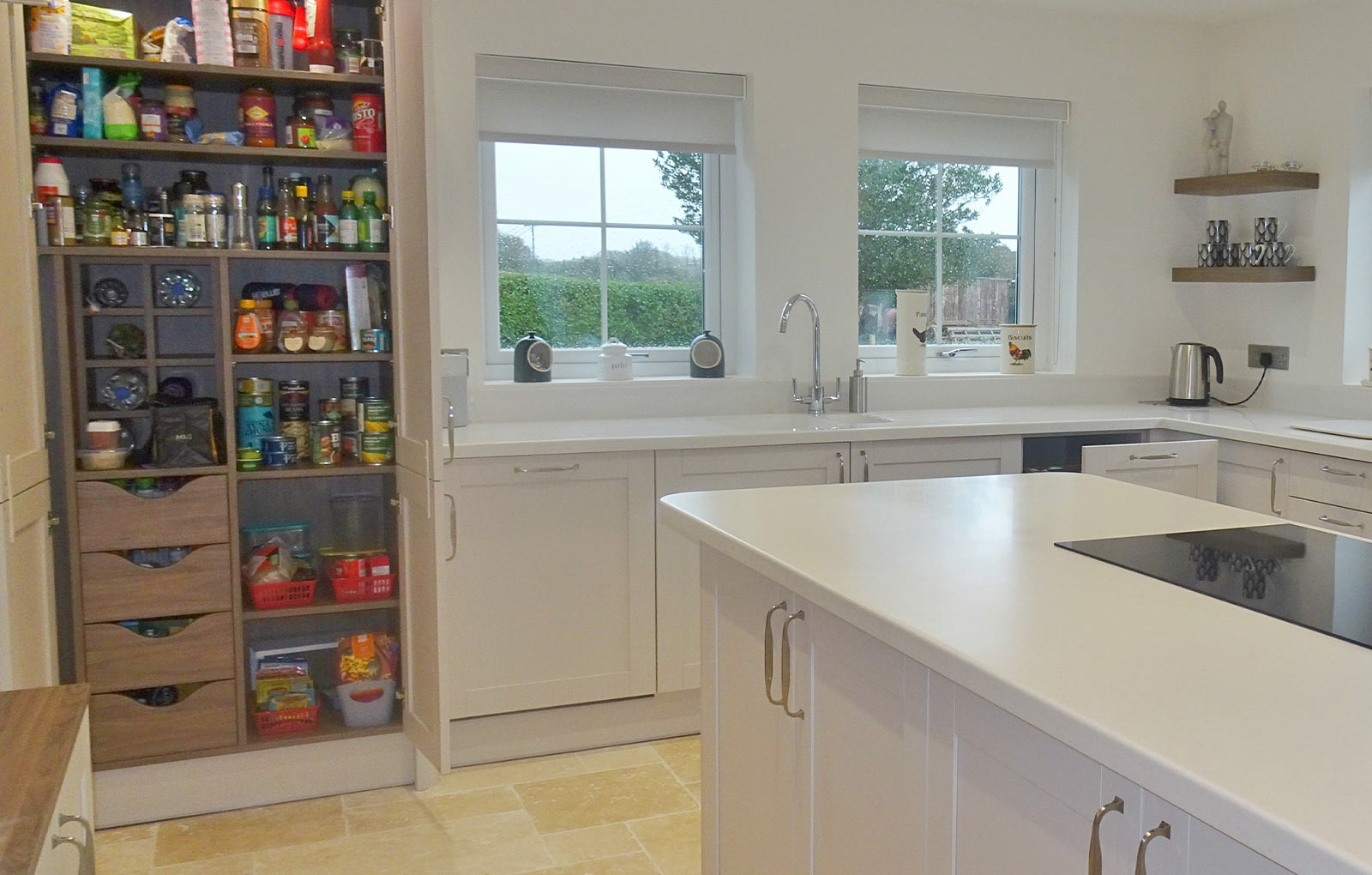 Feeling inspired? Feel free to order one of our free brochures and have a browse or enquire for free at your local showroom!
Book
your free design consultation

online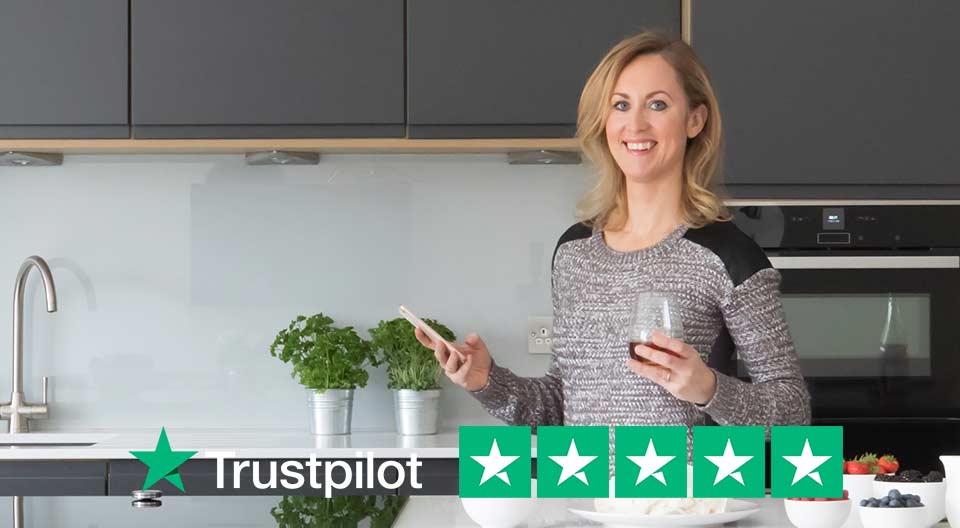 Have fun creating your wishlist, get a free 3D design & quote and talk about Finance Options. We'll give you an amazing experience.
Find even more inspiration in our brochures & magazines
See all our customer stories
Hear about the amazing experience that our customers have with us.