Kitchen Ideas & Inspiration
Kitchen Care Tips
Ideas & Inspiration / 10 Jun 2019
Congratulations if you've purchased a Sigma 3 Kitchen! We fully understand how difficult it is choosing the right kitchen and we want to make sure that it stays looking brand new for many years to come. So, we've come up with the following care and maintenance guidance to ensure that you know what to do when it comes to cleaning and maintaining your new kitchen...
General Care
As with all kitchen furniture the most common problems found is a result of the product being subjected to excessive or prolonged exposure to heat and/or moisture.
Here are some simple instructions that can help prevent heat and moisture damaging your kitchen.
Always ensure that water is not left around your sink area after use as this cause damage to the worktop and could result in the water running onto the doors directly below it, all spillages must be cleaned immediately.
In the unfortunate event that liquid is spilt on your doors, please ensure that you not only wipe their front and back but also the underside of the door as any liquid will sit there and being to attack the door.
Do not open your dishwasher doors during or immediately after the cycle has completed. Please allow the appliance to cool completely before removing any items from it.
Never place any items that generate heat or steam such as kettles, toasters, coffee machines or air fryers directly under your wall units as the heat/steam will cause the doors above to melt or distort. Small appliances such as this should ideally be used away from any wall units or positioned well forward of any units above.
Never allow your oven to cool with the door open as this will cause any adjacent doors or panels to melt or deteriorate.
Never bake or grill with the appliance door open.
When using your hob please ensure that the extractor fan is switched on at all times to allow the steam and heat to be vented out of the room.
If you are using glass cleaner on glazed units, please ensure that the cleaner only comes into contact with the glass as the chemicals within the cleaning product could harm the finish on the door.
Caring for your Kitchen
The showpieces in your kitchen are your doors and accessories and whether you have chosen a painted, vinyl, acrylic or MFC finished door it is critical that these are looked after to ensure their finish and longevity. Different door finishes require different care and cleaning methods. Please ensure that you are fully aware of the finish on your doors prior to cleaning them.
Do not use wax-furniture polish, abrasive or aggressive cleaners, bleach or other hypochlorite (chlorine) based cleaners, multipurpose cleaners, dilutes, acetone, alcohol, solvent or similar products on the door, as this will damage the surface. Additionally wax and polishes leave a residue build up that is difficult to remove.
Here are some cleaning guidelines that should be used...
Remove all cooking splashes immediately with a damp cloth and dust with a clean soft cloth only.
Avoid using harsh cleaning tools such as wire brushes and scouring pads.
Never use any abrasive pads or abrasive cleaners on the furniture.
Spills and condensation on the fascia's/panels should be cleaned and dried immediately.
Dilute 1% soap with 99% warm water and use a damp (not wet) cloth to wipe down the surface.
Use a clean, dry microfiber cloth to dry any surfaces that you've wiped with a damp cloth.
Use this inforgraphic as a guide for maintaining your new kitchen: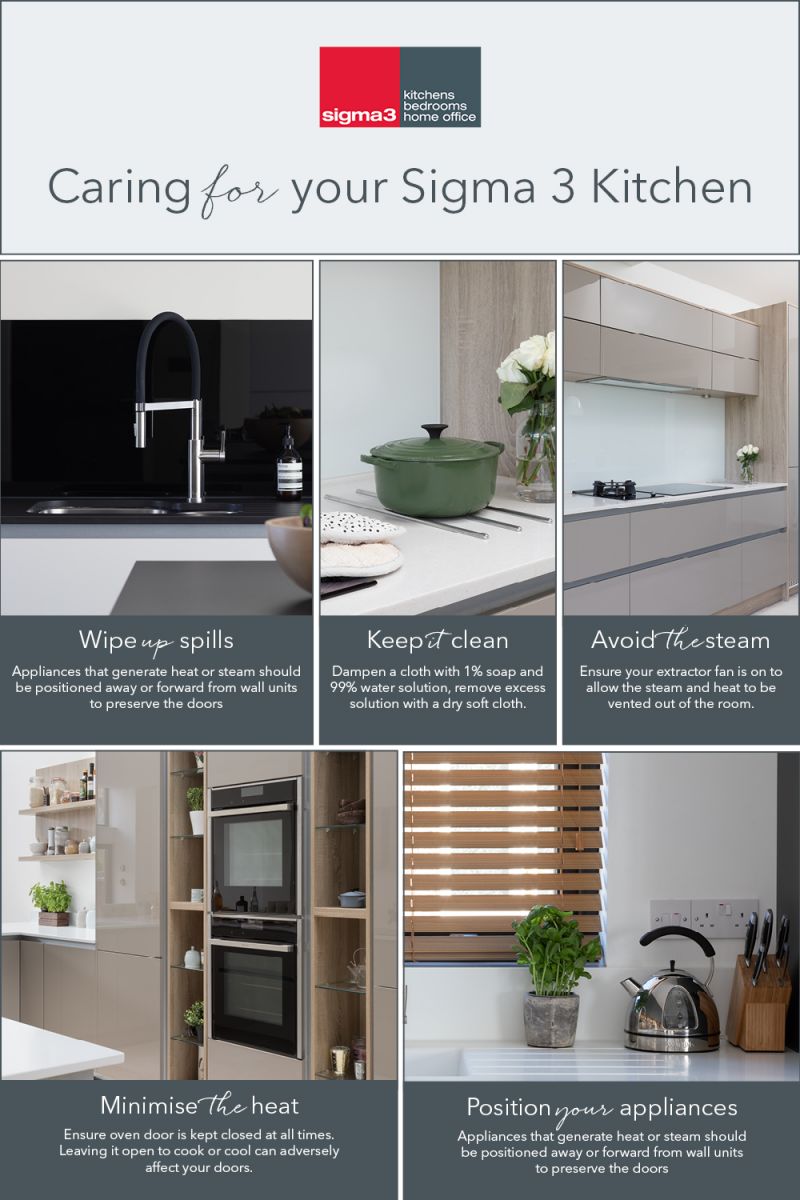 Book
your free design consultation

online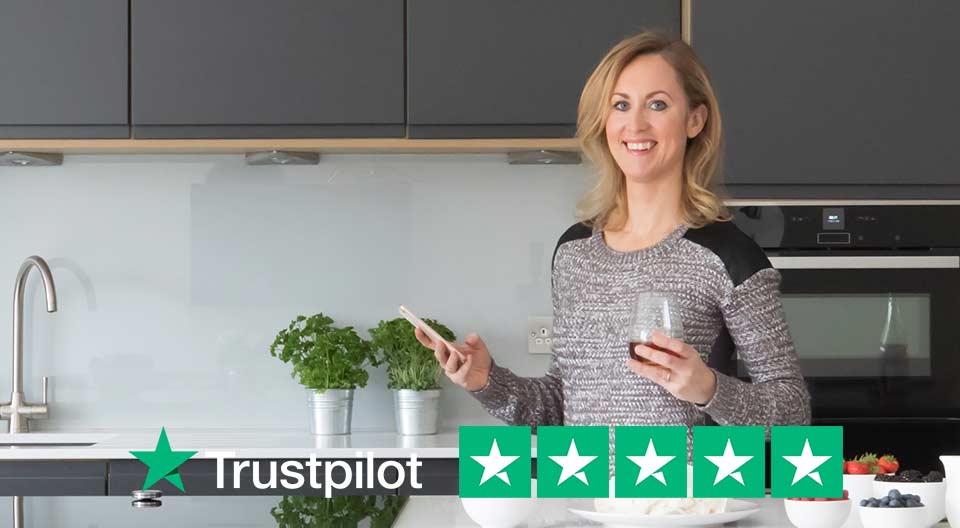 Have fun creating your wishlist, get a free 3D design & quote and talk about Finance Options. We'll give you an amazing experience.
Find even more inspiration in our brochures & magazines
See all our customer stories
Hear about the amazing experience that our customers have with us.