How To Organise Your Kitchen Cupboards
A disorganised kitchen can make mealtimes a stressful experience. Having to spend more time than is needed searching through your cupboards will take all the fun out of cooking.
But it doesn't need to be this way! Organising your kitchen cupboards can take all the hassle away from cooking and allow you to put the enjoyment back into creating a meal.
Here are some of our best kitchen organisation tips, along with how we can help you create a kitchen that is a pleasure to cook in:
1. Organise your pull out pantry
Pull together all your cooking essentials and put them into categories. Then, arrange them so that each shelf contains one category – for example; herbs, spices, baking goods and oils.
A pull out larder is perfect for organising your essential and keeping them within easy reach.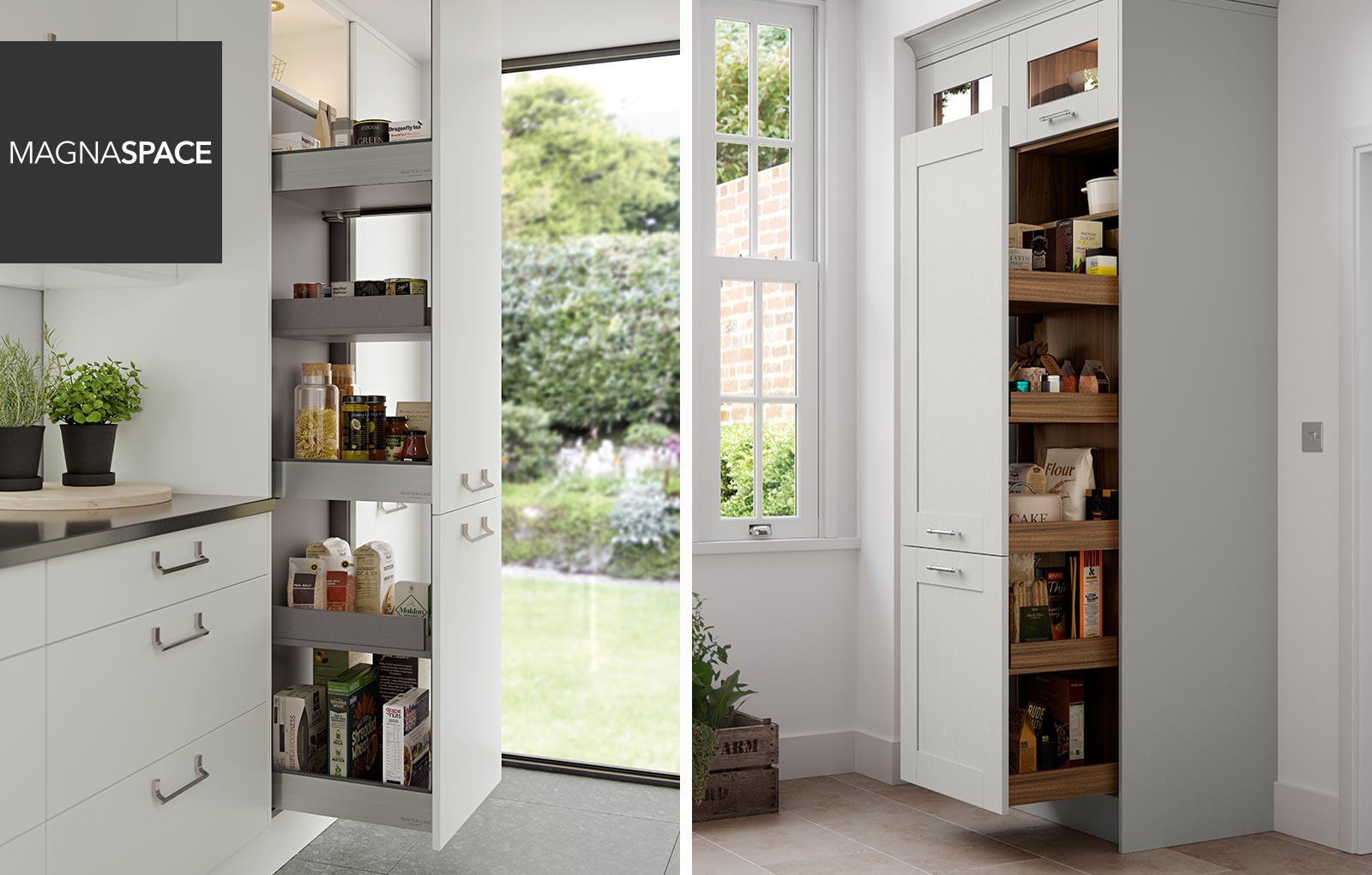 Pictured above is our MagnaSpace pull out larder system, which is available in a wide selection of widths, height and colour options.
2. Zone your space
Create 'zones' in your kitchen based on different activities. Utilise internal drawers to keep all your store cupboard essentials in one, easy to reach space so you can pull out the item you need straight away.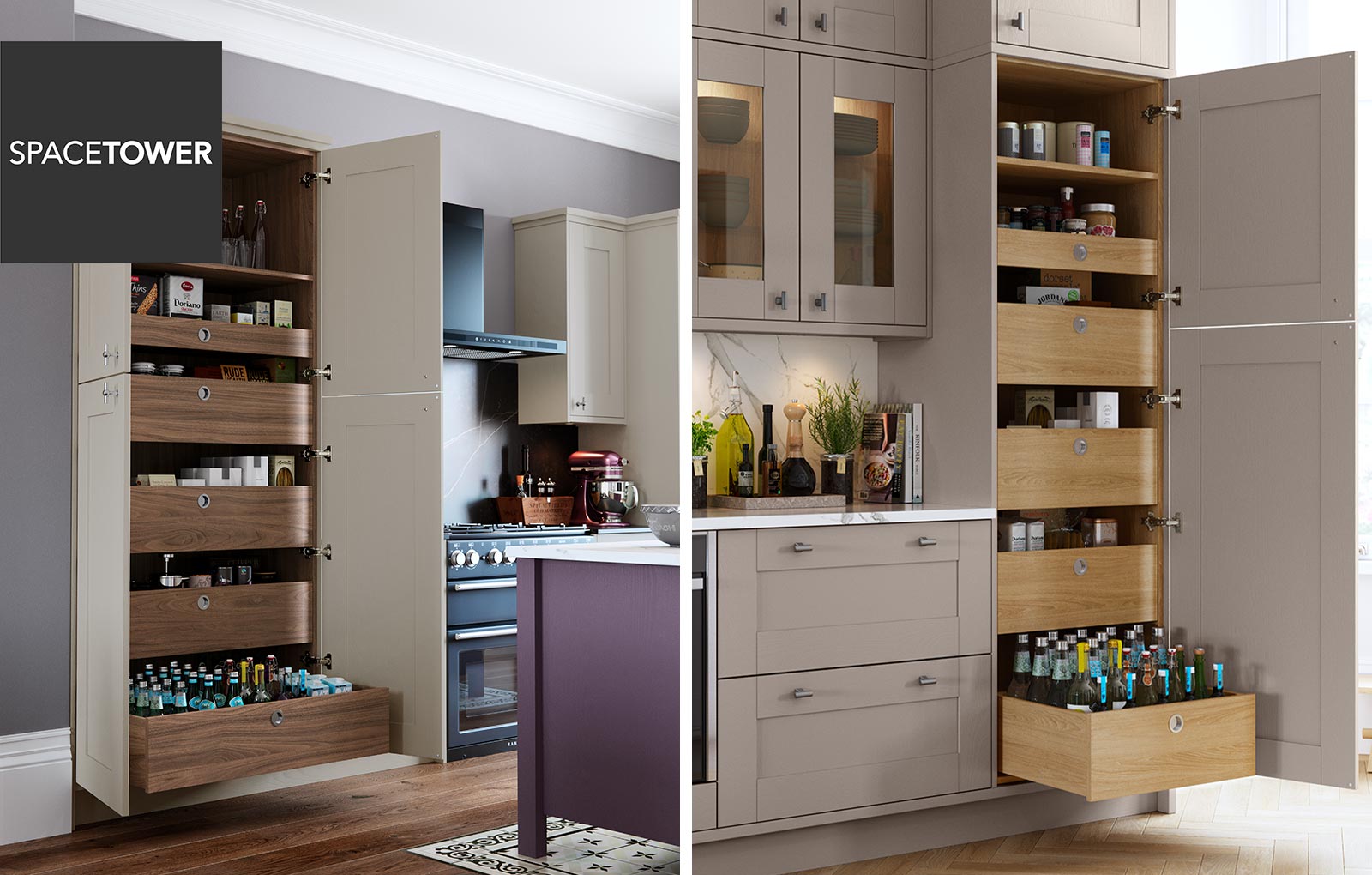 The SpaceTower pull out larder unit (pictured above) unit is perfect for keeping all your essential items close to hand.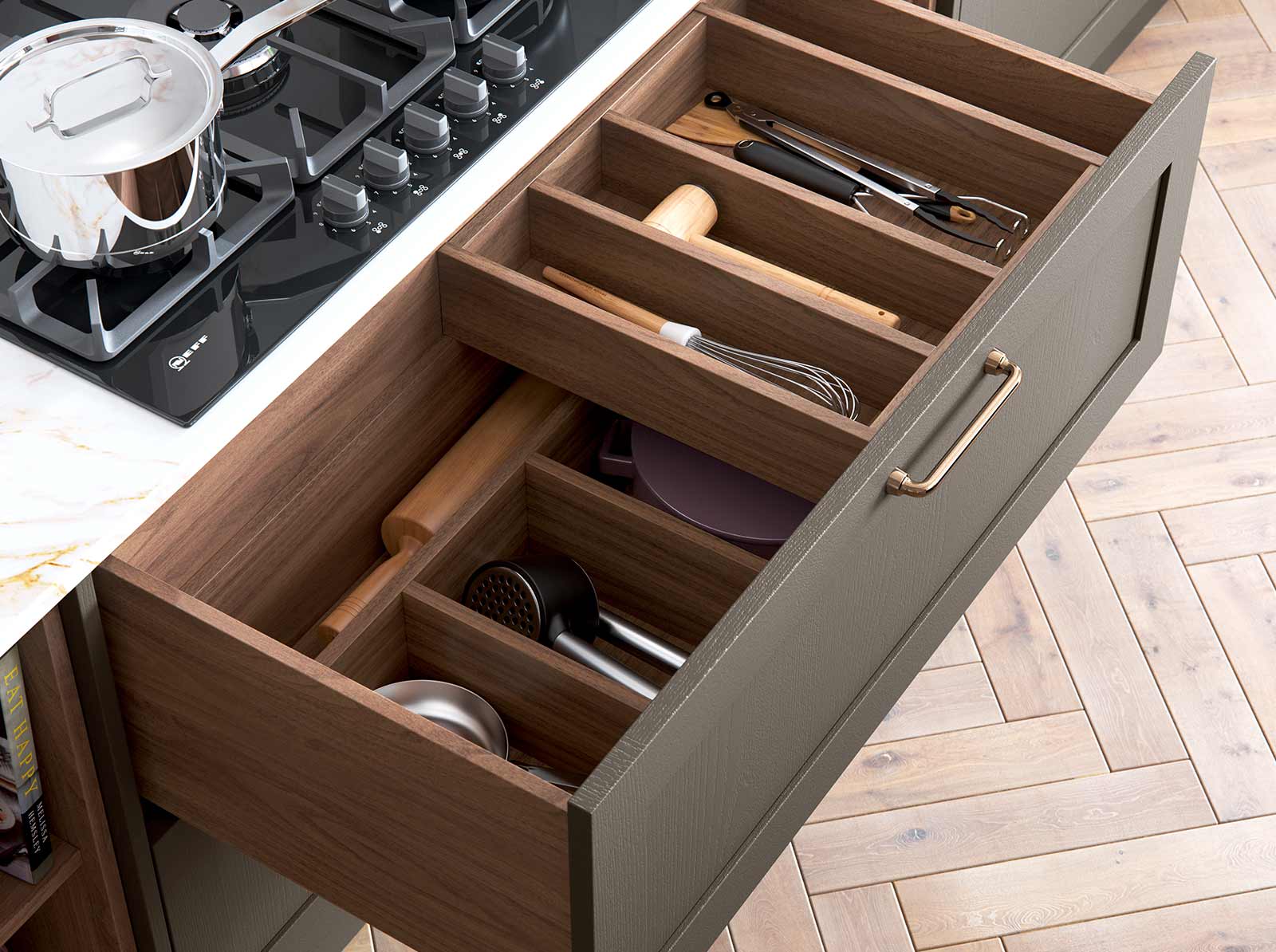 Pictured above is our utensil drawer in Tuscan Walnut, which is fantastic for having all your utensils close to hand while cooking.
3. Utilise drawer compartments
If you throw your items, with no order or system, it's more than likely that it will jam and cause you a large amount of frustration! Instead, why not use compartments to organise your kitchen utensils, gadgets, dry goods and tins?
Our LineaPlus drawers are perfect for this: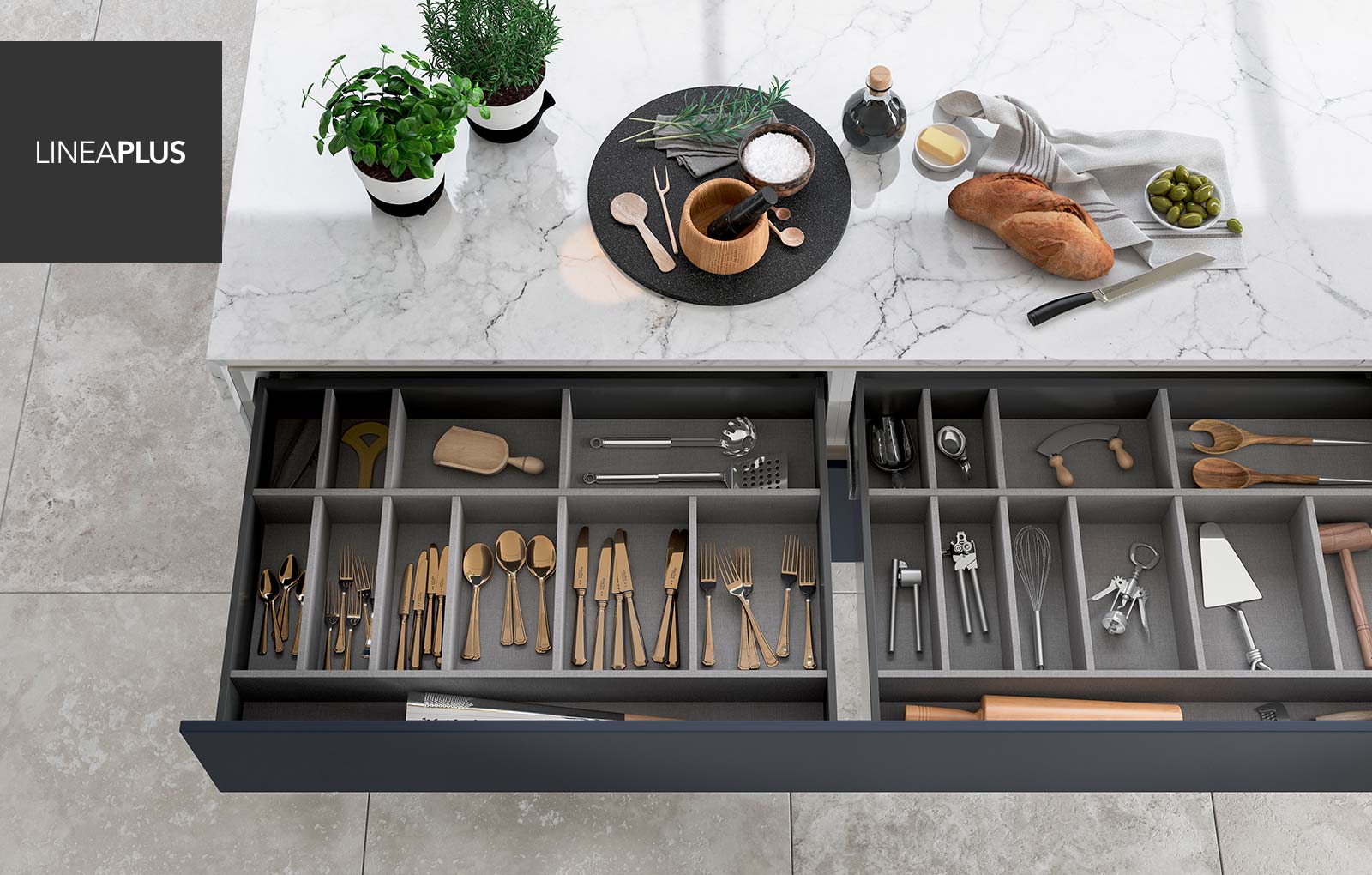 Our LineaPlus kitchen drawers are the widest and deepest on the market – they're super practical and will make life in the kitchen a breeze.
4. Waste not, want not
Recycling is now the norm in every household which is why waste management is an essential part of any kitchen. Having all your different bins, waste bags and cleaning products in one place is ideal.
This is why we launched the VelaBin internal bin system: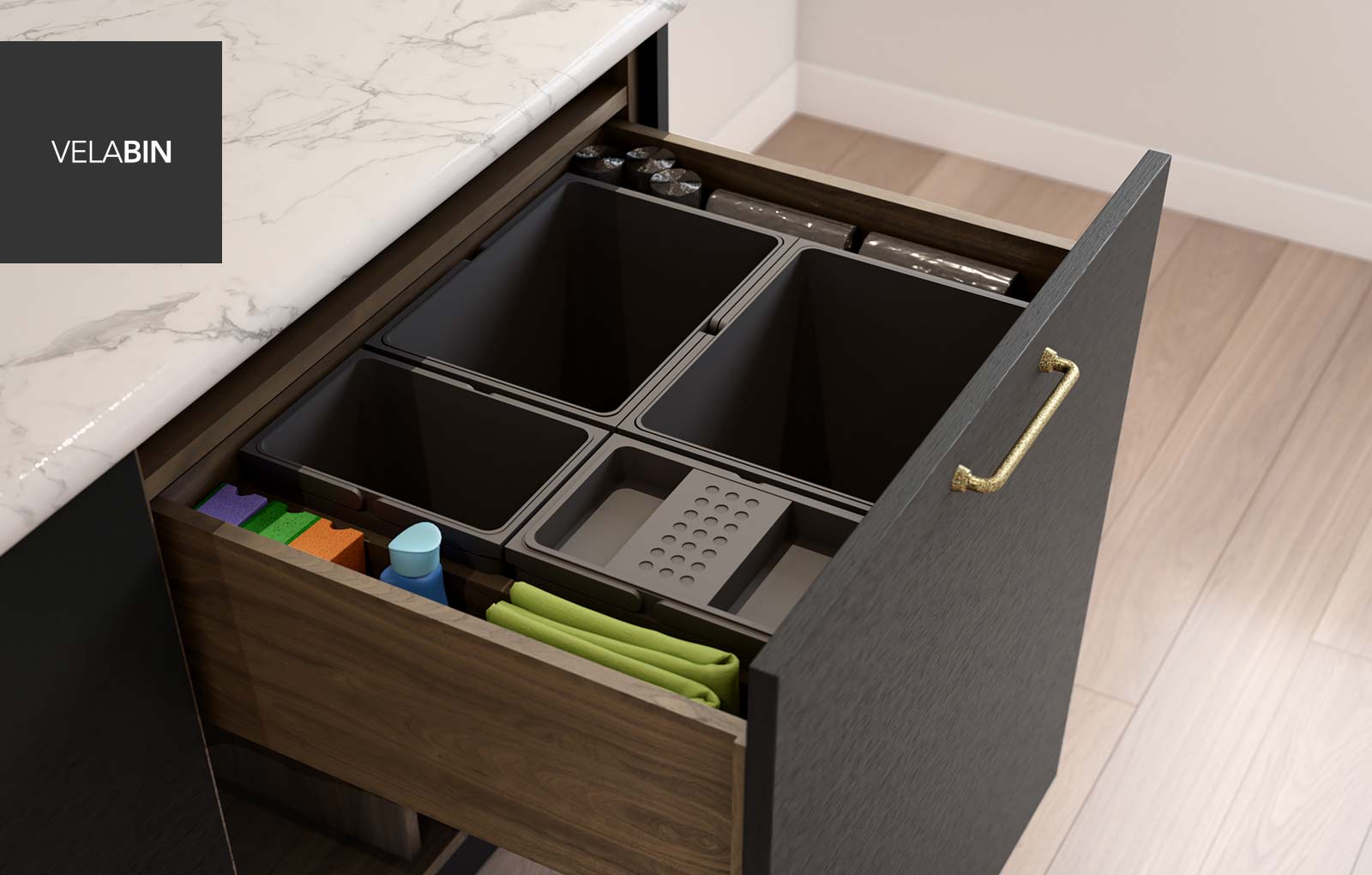 Our integrated kitchen bin is available in 3 different colour options and a range of width options, so there's a VelaBin that's perfect for your kitchen.
Do you want to find out more about The Signature Collection of kitchen storage?
See the full collection in our brochures, along with some amazing advice on what storage options are right for you in the Masterclass Magazine.
Or if you would like to talk to an expert, our designers are availabe to give you some amazing advice as part of your free design consultation.
Feeling inspired?


Book your free design consultation with confidence.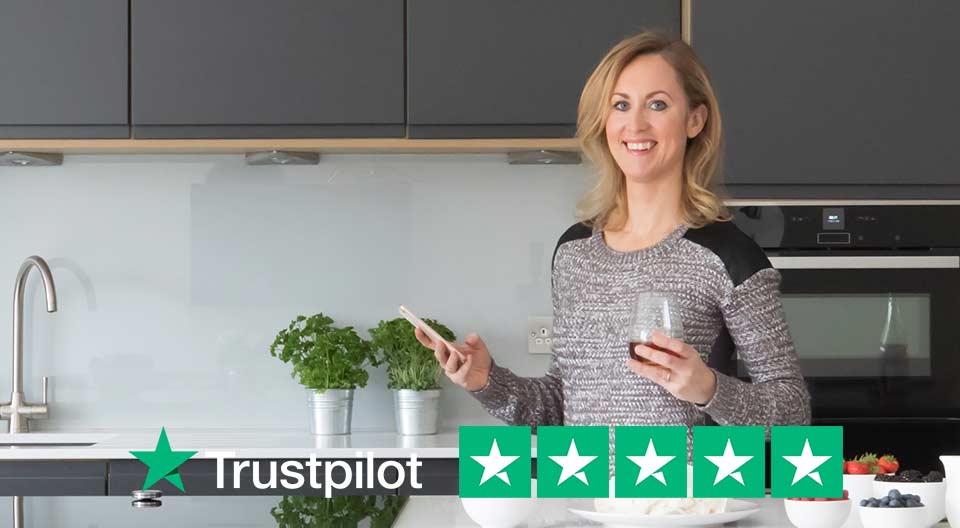 Get a 3D design & quote
Flexible Finance Options
We'll give you an amazing experience
Free Design Package Worth £500
Not ready to visit us just yet? Then take a look at our beautiful selection of brochures.
Are you looking for even more inspiration?
Explore the latest Real Kitchens designed and installed by our expert kitchen designers.
View Real Kitchens