Kitchen Ideas & Inspiration
Aisling's Elegant Grey Shaker Kitchen
We love being able to create kitchens that work in harmony with family life and that's exactly what we did for Aisling McGuire and her family...
Aisling McGuire, her husband and two children have lived in their lovely home in Esher for over 7 years and decided in was time for a change.
The family loved the house when they purchased it but there was one thing they desired that it lacked- a kitchen that they could live in.
The original kitchen was made up of three small rooms but the family decided they'd prefer an open plan kitchen and seating area that would make the kitchen more sociable and allow them to spend more time in there together.
The McGuires began hunting for their new kitchen and visited a number of showrooms, but as soon as they went to our showroom in Esher and saw one of our beautiful displays, Aisling immediately knew that was the kitchen for her.
Aisling's kitchen of choice was a beautifully classic silk painted shaker kitchen from our Marlborough range in our popular shade Scots Grey.
The couple were assigned to designer Susan to create their kitchen. Susan walked the McGuire's through their kitchen journey and created a design that would work best for the family in terms of practicality and style. Susan carefully created a design that would make best use of the space.
Originally, Aisling had a different vision of how her kitchen would pan out, but when she saw the CAD design that Susan created, she was excited to get the ball rolling. To make family life easier in terms of storage, they opted for a SpaceTower larder unit for easy access and lots of storage space.
Aisling was worried when she found out that her boiler and pipework that was very prominent in the space could not be moved. However, Susan created a design that disguised the boiler and made it look sleek in the kitchen. Aisling said "I think she did amazing." Aisling explained; "Susan and Lee were fantastic. The builders would ask us where we wanted things like plugs and lights to go and we'd ring them up and ask and they were so responsive and helpful."
Aisling says that her favourite part of her new kitchen is the bay window and sink area. It allows her to look across to her children in the dining area whilst she's working or gaze out the window.
What was once just a small room for cooking has become the heart of the home for the family and the room in the house where the family spend most of their time. Aisling said; "It's been amazing for us, before we would never stay in the kitchen because the space was smaller. We'd eat and leave but now we probably spend most of our day in the kitchen. It's like we've found a new room in our house because we didn't use the kitchen to the extent that we now use it. We're practically here everyday, all the time."
We love hearing about how happy our customers are with their Sigma 3 experience. If you want to begin your kitchen journey, pop by your nearest showroom and have a chat with one of our friendly, dedicated designers. The design appointment is completely free and there's no commitment to take things further.
Book
your free design consultation

online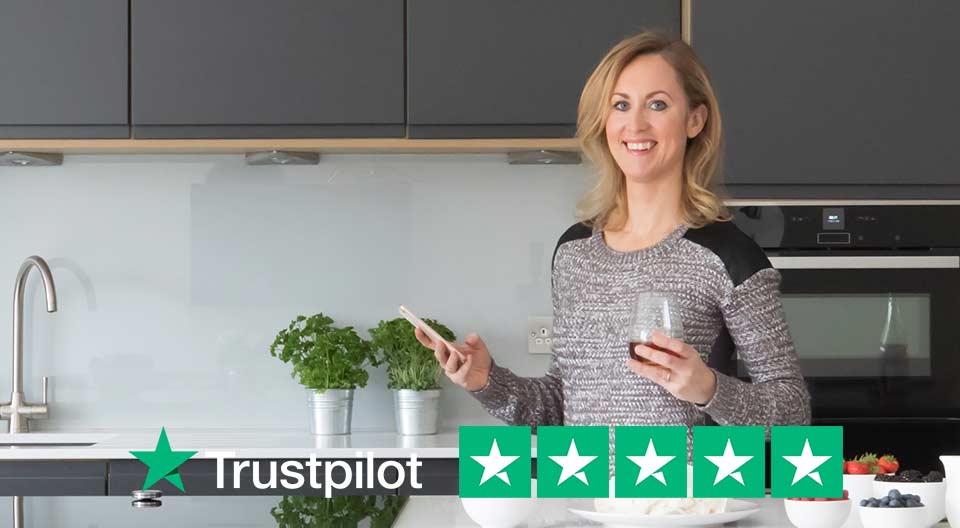 Have fun creating your wishlist, get a free 3D design & quote and talk about Finance Options. We'll give you an amazing experience.
Find even more inspiration in our brochures & magazines
See all our customer stories
Hear about the amazing experience that our customers have with us.